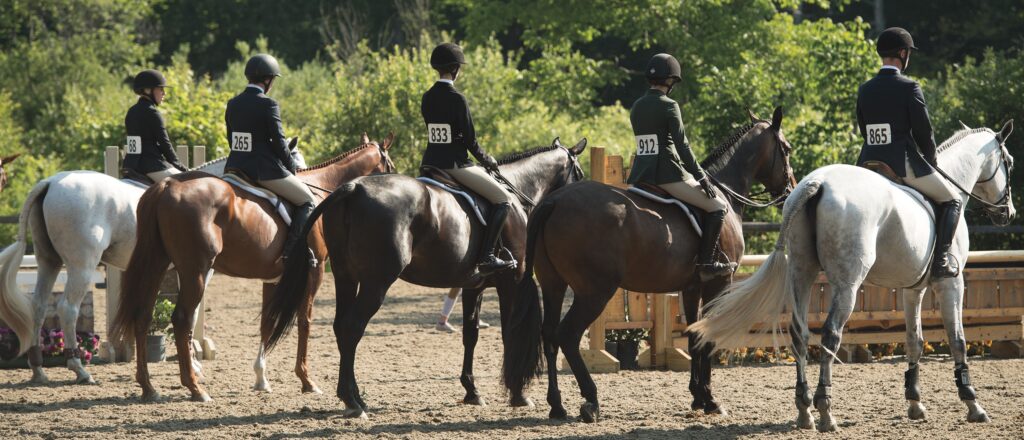 As the calendar flips to August, some of us experience a few flips of the stomach—or full-blown cases of The Butterflies! That's because for riders who show, the time for regional championships and medal finals draws near.
If you've qualified for your year-end competition, congratulations from the Team at Dover Saddlery! Qualifying is a major accomplishment about which you can be proud. To help you calm your show nerves and give yourself a confidence boost, here's our favorite tip for putting your best foot forward in competition: check the fit of your show coat.
A beautifully fitted show jacket does more for your appearance than any other aspect of your personal turnout. Your coat helps hide flaws and enhances your silhouette in support of excellent rider marks.
To double-check the fit of your existing coat or find a new coat that flatters your body:

Try the coat on over the show shirt, breech and the type of sports bra, if you wear one, that you wear in competition. These garments will affect the way a coat falls on your body.  

Check the shoulder fit first. Shoulder seams should line up with the edges of your shoulders.

Fit the torso second. The fabric of the coat should lie flat across your back, lapels should lie flat on your chest, and closed buttons should not create puckering down the front. Some coats have a hidden zipper under the button placket, and this can create your smoothest look. The waistline of the coat should appear to sit at your natural waist; change your breech to one with a higher rise if you have trouble achieving your smoothest look at the waist.

Sit in a saddle to see how the coat falls, making sure the hem does not cover your cantle or interfere with your seat.

Put your arms in riding position to be sure you can move freely. The sleeves should end at your wrist bones with your arms bent as if to hold reins.
Finding a perfectly fitting show coat off the rack is challenging for most riders. A good tailor can usually alter a riding jacket to create your most elegant look at minimal cost. The body can be taken in and sleeves can usually be lengthened or shortened. Again, start with achieving a good fit in the shoulders.
Most of all, good luck and have fun at your finals!
Do you have a winning show look? Share your photos with us on Instagram and Facebook by tagging @doversaddlery!