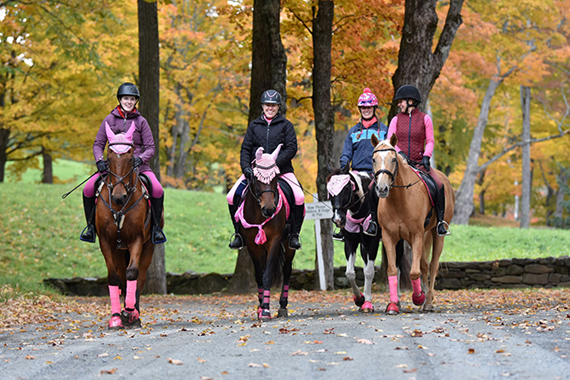 With many women and families in the equestrian community impacted by breast cancer, we at Dover Saddlery are proud to support Susan G. Komen® through sponsorship of the organization's 14th Annual Vermont Ride for the Cure. The horseback ride will take place at the beloved GMHA showgrounds in South Woodstock, Vermont on October 9th. The event is being held in honor of the life and legacy of Ride founder, Lois Steele Whidden, who died of breast cancer in April 2023.
Registered horseback riders at GMHA will enjoy a scenic five- to nine-mile-long trail ride. Riders in other areas can participate in the event virtually by choosing to "Ride Where You Are" and can then also choose their own ride mileage. New this year, cyclists and non-horseback riders can also enjoy virtual participation!
Susan G. Komen leads the way worldwide in spreading awareness about breast cancer, raising funds for research and providing support and guidance for people fighting the disease. Komen's events always celebrate breast cancer survivorship and honor those who have lost their battle with the disease.
Funds raised from the Ride for the Cure will support patients through Komen's Patient Care Center and will help advance cutting-edge research, as well. Anyone impacted by breast cancer can call 1-877-GO-KOMEN to speak to a trained professional who can offer emotional support and patient navigation services. Additionally, qualifying individuals can receive financial assistance or be connected to resources in their communities. Together, we are fueling the best science, boldest community and biggest impact in the fight against breast cancer.
To register for Ride for the Cure at GMHA or your own location, or to donate to the cause, click here. Thank you for your consideration—your participation gets us closer to the cure.