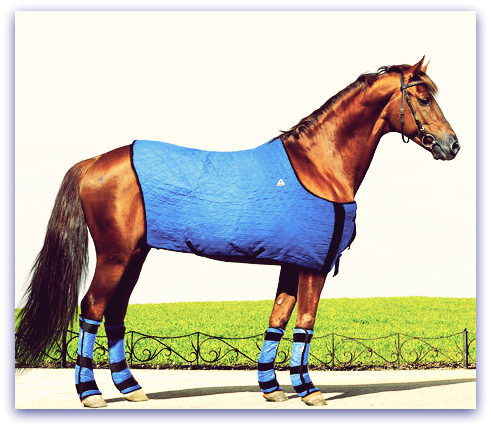 The peak of summer has arrived, and with it comes high temperatures and often humidity. It can be hard to stay motivated to work with your equine partner on a sweltering day, and often in extreme heat a day off is a good idea. If it's just too hot, and health is a concern, trade ring work for a leisurely trail ride or a horse "spa day" and give your horse a thorough bath. If you do decide to ride though, there is a multitude of ways to help keep both you and your horse cool during the process.
Cooling Help for Humans
Gloves – The idea of putting on gloves when it's not cold is a bit strange, but not for most riders. Many of us wear gloves while in the saddle, as well as during chores around the barn. Gloves can be cool and allow air flow though. The Kool Flow Gloves by SSG have a mesh backing, which makes them a perfect summer glove, and are styled to be suitable for schooling and showing.
Shirt – Wearing a top that's made specifically for exercising while you ride is ideal. One option is Cool Blast Riding Sport shirts, which are made of IceFil® fabric. This fabric changes perspiration to a cooling refrigerant to help lower your body temperature. Moisture wicking, quick-dry technology combined with air circulation will keep you comfortable in the saddle and around the barn.
Jacket – Summer season is also show season, so inevitably you are going to have to put a show coat on in hot weather. Make the best of adding layers by wearing a show coat that offers exceptional breathability. Layers of PowerMesh open cell fabric are featured in the Fits® Zephyr coat, which appears as an opaque fabric, but actually is layers of mesh in areas it's needed most. This is an exceptionally lightweight jacket, which makes it ideal for summer competitions.
Tights – Your legs are doing a lot of work while you're riding, so making sure you keep them cool is important. The TuffRider® Ventilated Schooling Tights are perfect for hot summer days. Ventilated stretch fabric the runs the length of the leg and across the back allows air in to keep you cool, while wicking moisture away. These tights are tough enough to hold up to barn abuse, but lightweight enough that you never feel like your lower body is hot.
Socks – A common oversight, socks can provide a great deal of warmth, and therefore should be adjusted in hot summer months. A sock with moisture-wicking properties to keep your skin feeling dry, like the Tredstep Pure Ultracool Socks, will help your feet feel cool while you're running around the barn and pressing into your stirrups.
Cooling Vest – If you're someone who runs hot and likes a bit of extra help to keep cool, the HyperKewl Evaporative Cooling Vest may be for you. Dip this vest in water for a few minutes, squeeze out the excess, and put it on for 5-10 hours of cooling relief.
Cooling Help for Horses
Cooling Blanket – Just like the cooling vest for you, there is an equine counterpart. Submerge the cooling blanket in water, squeeze out, and put on your horse for 4-6 hours of cooling relief from the heat. As any horse blanket should be, this is very durable and obviously lightweight.
Cooling Leg Wraps – Match that blanket with HyperKewl leg wraps for full body cooling. Like most leg wraps, these are easy to secure with three Velcro straps.
Saddle Pad – The sweatiest part of your horse is always under the saddle and saddle pad. Help keep that area cool with a lightweight saddle pad that wicks moisture away. The Lettia Coolmax® ICE pad is designed specifically for this purpose and summer riding. As a bonus it comes in beautiful, bright summer colors!
Electrolytes – Supplementing regular water in the summer is a smart idea. Adding electrolytes, such as Apple Elite, to your horse's diet will provide minerals and nutrients lost through sweating, and keep your horse hydrated by encouraging them to drink.
There are many other products designed to keep you cool that are perfect for hot weather riding as well. Aside from using the right equipment, make sure you give your horse proper breaks during exercise in hot weather, and pay attention to how humidity is affecting both of your breathing. Cooling out properly afterwards, and giving your horse a nice, cool rinse off after working will ensure you both enjoy the summer without melting away.