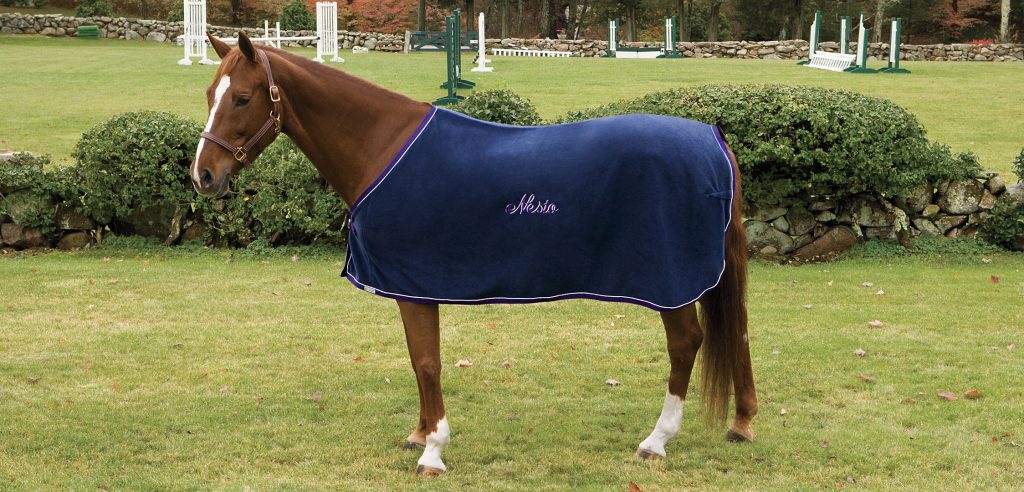 For a sport so thoroughly steeped in its traditions, heritage and culture, a monogram (or another form of personalization) is the perfect embellishment for any equestrian. From a subtle touch with initials on a show shirt cuff to a boldly displayed logo on a tack trunk or your barn name on a gear bag, a beautifully produced personalization makes an elegant statement, exhibits ownership and enhances refinement. Monograms can range from a single initial, a traditional three-letter design, a custom logo or barn name, horse's name or rider's name.
"It's special to be part of this sport, to be part of a barn family, to be among riders who take pride in showcasing their horse's breed, name, or their own initials on a long-standing and beloved piece of riding apparel or equipment. I especially love adding a monogram to a gift! The wide variety of thread colors and font styles really allow you to create a personalized finish to any product. The perfect present for a special show season or even schooling at home. I think a personalized accent represents a piece of a rider's journey. It's a true gift and something special to have or share."
—Whitney Keeley, Dover Saddlery, Creative Director & Rider

Riders choose personalizations with a distinct sense of pride—pride of ownership identifying gear and tack, pride of place identifying barn, show stable or farm and, in some cases, pride of breed, identifying their horse's type. Personalization serves a functional purpose: to identify the owner and, more importantly, to allow the owner to show their distinctive style.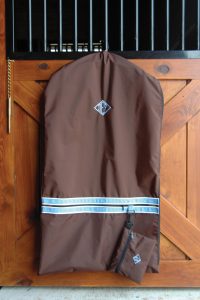 Riders are especially lucky to have so many unique opportunities to add personalization! Embroidered monograms from elegant to whimsical can be created to display on horse and rider clothing. Customized logos are a spirited way to highlight your barn or stable and inspire team camaraderie. Stylish stable décor incorporating director's chairs, tack trunks and stall drapes with coordinated logos/monograms makes an eye-catching and striking display in a home or at shows. Here are a few distinguishing ways to add your singular style to your equestrian kit with monograms.
Embroider an initial or name on all their gear bags (boot bags, helmet bags, garment bags) as a smart detail and for ease of identification. Choose your embroidery color to match your logo, complement your horse's color or assert your personal style.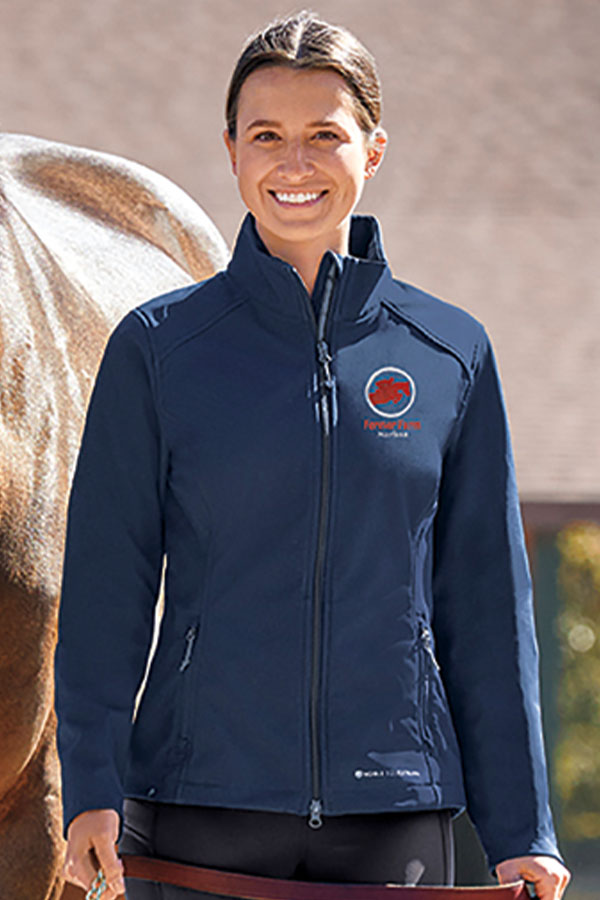 Professional stable and trainers may have jackets, quarter-zips, shirts and other items embroidered to promote their organization and to ensure that their representing riders present a polished uniform look, both at home and on the road
"My trainer and all her students have jackets with her logo on the center back. We all love wearing her branding at a show or clinic to support her business. It's also fun to wear them even at the home barn—it's a cool feeling to be part of a team."
—Liz Russell, Dover Saddlery, Senior Writer & Rider
Add your horse's name to its dress sheets and coolers. It delivers a sophisticated impression around the show grounds or during transport and ensures that your horse's items are completely unique. Breed logos are another way to make a bold statement
Monogram saddle pads, polo wraps and stable bandages to further enhance your distinguished style and clearly identify your tack.
Another truly striking personalization addition is to include engraved nameplates on your horse's tack, or stall. Our gleaming brass or German silver plates lend a polished note beautifully engraved in your choice of classic lettering. Or choose a smart leather bracelet to accessorize your look with your name, the name of your horse or barn. With so many personalization options to choose from and so many ways to mix and match those options, you can create your own look and elevate your presence at any event, show, competition or just at home in the barn. Discover how today!
To learn more about Personalization, click here.
Shop all personalizable products here.
Have you ordered a customized product for you or your horse? Share your photos with us on Instagram and Facebook by tagging @doversaddlery!