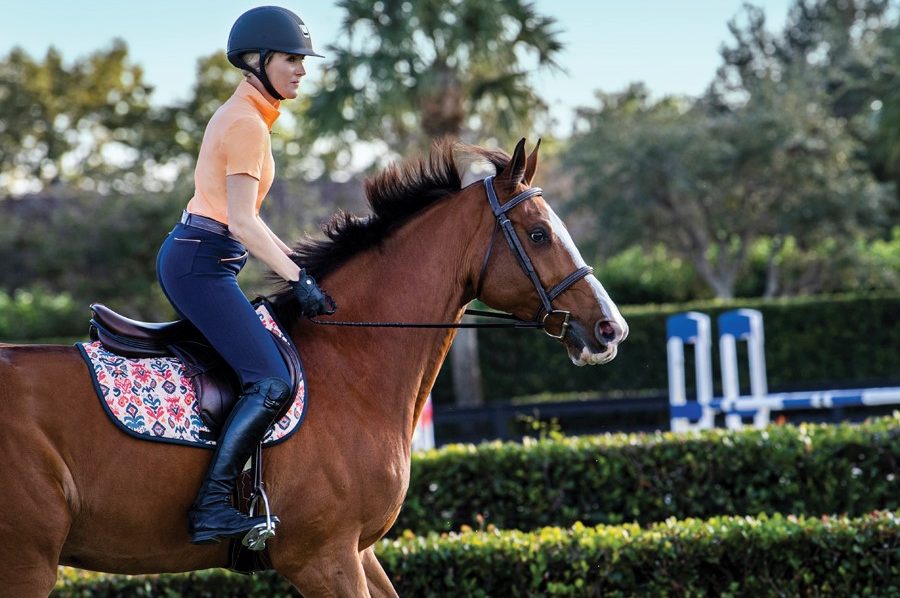 What is schooling apparel, and why do you want it? Loosely defined, we refer to the class of riding clothes not intended for competition as schooling apparel. It encompasses knee-patch and full-seat breeches, quarter-zip or polo shirts, plus lightweight, streamlined jackets and vests. Why is this clothing desirable for riders as opposed to t-shirts, jeans, any old tight or jacket? The answer is multifaceted: hardworking performance materials, rider-specific design features and equestrian tradition.
Hardworking Materials
Most of the breeches and riding shirts you'll find today are made from performance fabrics. These fabrics are constructed or treated to provide breathability, meaning your body heat vapors can escape, and you're less likely to overheat.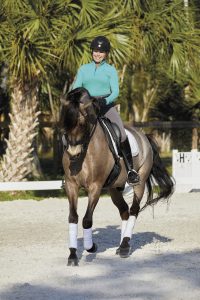 Moisture-wicking action achieved through natural fiber content, a funnel-like weave or a chemical treatment means the fabric moves wetness away from you and the inner surface of the fabric to the outer surface for evaporation. You stay drier, and the fabric never feels heavy or wet. Cooling technology, an enhancement to moisture wicking, actively converts perspiration to a refrigerant while creating a cooling sensation on your skin.
Performance fabrics also promote your athleticism and freedom of movement. They contain some form of elastic fibers, or built-in stretch is achieved through fabric construction so the item can move with your body rather than restrict it.
Lastly, while all fabrics provide some degree of protection from ultraviolet rays, performance fabrics often have an ultraviolet protection factor (UPF) rating clearly stating how much sun coverage it will provide. What does UPF50 mean? It indicates that 1/50th of UV rays can penetrate the fabric to reach your skin.
Rider-Specific Design Features
While breeches, with their grippy knee patches and full seats, are quite obviously made to keep you in the tack, riding shirts, vests and jackets have design features that once you experience, you won't want to ride without.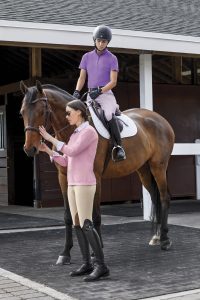 Riding shirts are typically made to provide a streamlined, figure-flattering fit. The fit is more than just attractive—it's practical. It helps maintain a profile that enables a trainer to clearly see your riding position, and it lies smoothly under a sweater, vest or jacket with no uncomfortable bulk to encumber your riding. Many riding shirts, including polo shirts, have curved or dropped back hems to keep you covered as you move whether the hem is untucked or tucked into your waistband. Zippered plackets on the fronts of many shirts offer quick and easy adjustable ventilation.
Riding vest and jackets also support your in-saddle silhouette with many having a fitted cut, an adjustable waist or a back-waist belt detail. A two-way front zipper, a back riding vent or rear gussets make sitting in the saddle most comfortable. These features allow your outerwear to clear your saddle rather than riding up or catching under your seat. Jackets often have a removable hood or a snap to secure the hood to the back panel to prevent it from flapping.
Equestrian Traditions
Horse sports are steeped in tradition with an emphasis on polished turnout for horse and rider. One tradition is for riders to dress neatly and smartly when schooling at competitions, participating in riding clinics or taking lessons. Avid riders respect themselves and uphold the heritage of their sport by presenting a clean appearance with attention to detail. Shirts are tucked in, belt loops are threaded with belt, boots are polished, breeches are free of stains—and every piece fits well.
These days, dressing like a professional rider doesn't mean you can't wear bright colors or head-turning prints. Plenty of styles for schooling and training are available to please every rider, from the fashion-forward, to those who love bold color, to those who appreciate the most classic looks. The key is to choose items that fit and flatter your shape and your riding position and to wear colors and prints with pride.
To expand your equestrian wardrobe, browse our selection of schooling apparel here.
Do you have favorite schooling outfit? Share your photos with us on Instagram and Facebook by tagging @doversaddlery!