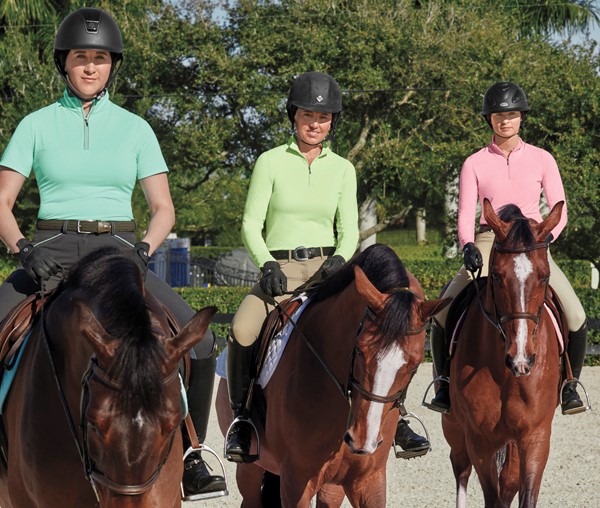 Summer riding is here! We equestrians love our long days at the barn, outdoor training sessions, attending shows, and simply enjoying sunshine with our horses. Particularly for those of us in the Northern regions of the United States, summer is a time of adventure with our horses and for soaking up sunlight for as long as possible, every day, right up until the sun sets. This is the way it has always been in the equestrian lifestyle, and we wouldn't trade it for anything.
As we go about keeping our horses healthy and strong, we too have to keep ourselves healthy. An outdoor lifestyle with plenty of fresh air and exercise is a proven way to stay strong. Unfortunately, being outside means we're exposed to damaging ultraviolet (UV) radiation from the sun. It's a major cause of skin cancer, which is now the most commonly diagnosed cancer in the U.S. The good news is we live in a world of technological advancements in fabrics that can protect us from the sun and its UV rays.
The newest in UPF (ultraviolet protection factor) sun protective clothing acts like sunscreen for the areas it covers and is the perfect choice for our active lifestyle. That's why we love our sun shirts! The coverage goes along with us as we ride, graze our horses, or work around the barnyard.
UPF is the rating system used for apparel, and SPF (sun protection factor) is the rating system used for sunscreen. SPF protects against UVB rays, and UPF-rated fabrics protect against both UVA and UVB rays. The higher the rating on a sun shirt (or other garment), the higher level of overall sun protection it provides.
A UPF rating of 15 or 20 is considered good, 25-35 very good and 40+ is considered excellent at preventing UV transmission through the fabric to the skin. Average apparel fabrics are rated UPF 5-15 and are not considered UV protection. For a long day riding outside, you need to find a shirt rated higher than UPF 15.
Sun shirts come in an assortment of styles and colors to please every taste. The most popular sun shirts have long sleeves, stand collars to shield the back of the neck and quarter zippers for adjustable ventilation. V-neck styles, short sleeve shirts and those with extra details such as ruching or raglan sleeves are also available.
In addition to the UPF rating, many sun shirts offer features to maximize comfort, such as cooling technology, mesh inserts, quick-dry capabilities or moisture wicking to pull perspiration away from skin—all while maintaining the integrity of the UPF of the fabric. Many have high elastane content to ensure your ability to move freely, and naturally, most are lightweight.
Dover Saddlery CoolBlast® 100: Our Favorite Way to Block UV Rays & Stay Cool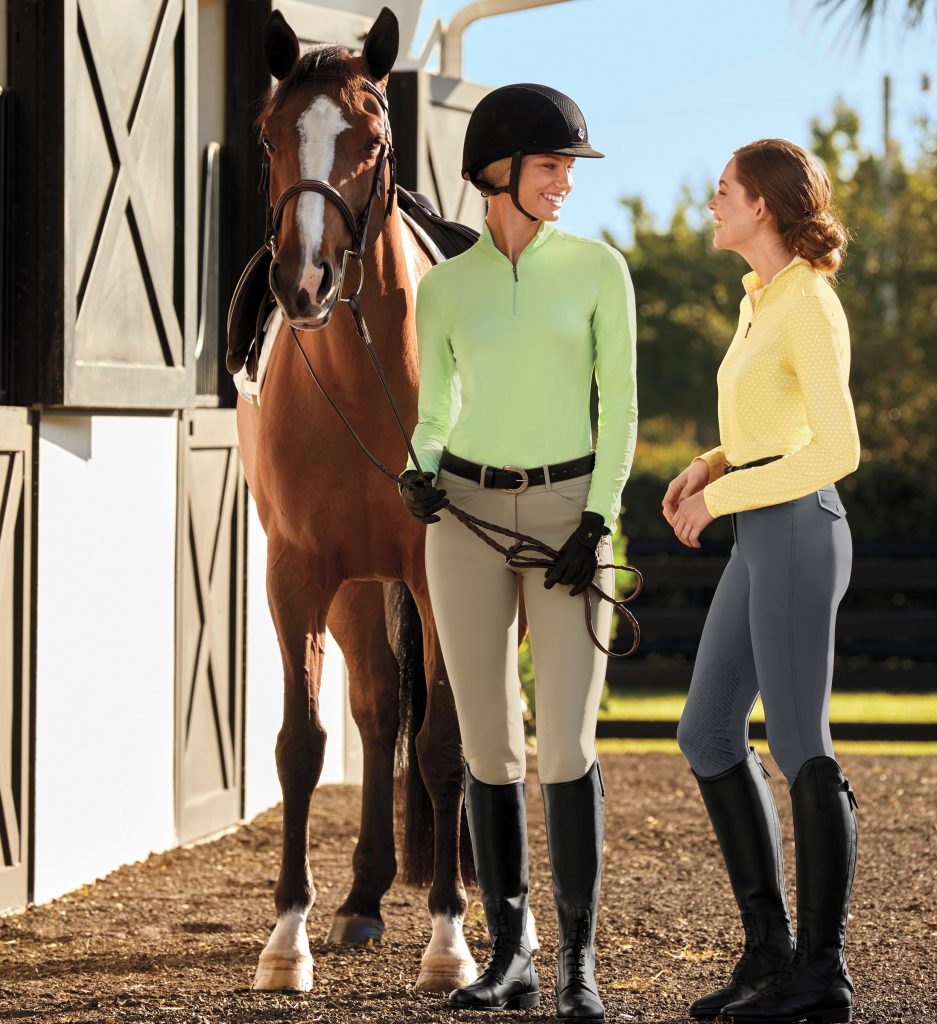 We developed the CoolBlast 100 Collection of riding shirts using the most superior cooling fabric on the market! Not only do we love to ride in these sun shirts, they've proven to be best sellers, so we know our customers love them, too.
CoolBlast 100 fabric provides UPF 100, meaning it blocks 99.89% UVA and 99.93% UVB rays. Rapid, permanent cooling properties built into the fabric outperform others in wicking moisture and converting it to a cooling energy to keep your skin dry. The fabric is also extremely breathable, stretchy, quick-drying and so lightweight we forget we're wearing long sleeves.
As a final note: Remember to apply sunscreen to areas not covered by UPF-rated clothing, wear sunglasses to protect your eyes and be mindful of UV exposure on cloudy days as well as sunny days. Most of all, enjoy many great summer rides!
Do you have a favorite sun shirt to ride in? Share your photos with us on Instagram and Facebook by tagging @doversaddlery!