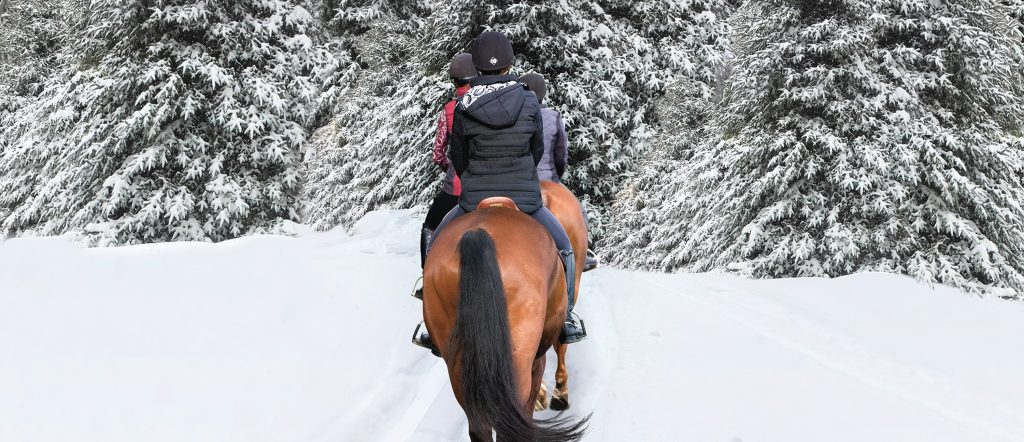 Wherever in the United States you're riding this winter, chances are you'll run into some chilly weather, even if it's just in early mornings or late evenings. You'll want options for staying cozy, and we're willing to bet you'd like to look nice when you pull on or peel off your layers!
Here at Dover Saddlery®, our team of riders develop casual and formal ladies' riding apparel throughout the year, season after season, from shirts, vests and jackets to breeches, socks and gloves. This month, we've voted in three key pieces as the new stars of our own winter riding wardrobes. Each item meets specific needs for cold days at the stable, for lessons or clinics, and for versatility in our equestrian lifestyle. We start with a base layer, add a mid-layer and finally, outerwear. We hope you enjoy them. And if you're looking for a great gift idea for a favorite rider, each is guaranteed to please!
Dover Saddlery HeatBlast™ Long Sleeve Shirt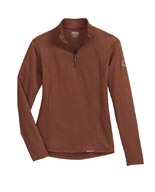 As a base layer, we made sure this one ticks off every wish on a rider's list. Next to skin, HeatBlast fabric feels so soft you could sleep in it. It's made with thermoregulating yarns, which means it helps you stay warm in cold weather and comfortable when temperatures rise.
Adding to that, the HeatBlast Shirt provides the breathability to help prevent overheating and the extreme stretch to let you move freely. Especially important as a base layer, it wicks perspiration from your skin to prevent dampness that causes chills.
The cut of this riding top is timeless, flattering and sporty, including princess seaming, a slightly dropped back hem, the always-popular zip placket and classic mock collar. It's offered in three gorgeous colors and in ladies' sizes XS through XL.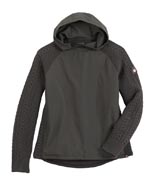 Next up for adding core warmth? Our hybrid pullover offers a twist on two classics: a cable-knit sweater and a hooded jacket. We made the body to insulate your core with a lightweight layer of fill. The water- and wind-repellent outer means those water-bucket splashes and gusty breezes won't ruin your day. And if a shower or cold blast pops up, the integrated hood repels water and wind, too.
Beautiful cable-knit sleeves and side panels feel cozy while adding breathability and stretch. With thumbhole cuffs, even your wrists stay warm! The Athens Sweater comes in two attractive colors and in ladies' sizes XXS through XL.
Dover Saddlery Franconia Parka
This fully waterproofed jacket tops our winter-favorites list because we put every feature we want as riders into its design. For starters, we want to stay dry and warm—but still look feminine wherever we go. Franconia's tapered, drawcord waist and discreet, side-entry pockets maintain a flattering shape.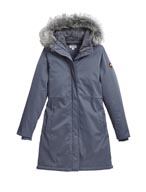 The hood, which is lined and trimmed with removable faux fur, has adjustments to let you make it smaller or larger and ensure your full visibility. The durable outer with taped seams keeps all elements out.
Faux fur also lines the top of this riding parka to boost warmth. The longer hemline gives you coverage while you're standing around the ring or barn, yet it converts for ease of riding with side-seam zippers and a magnetic riding slit. Because the magnets separate and click back together quickly, using the rear riding slit couldn't be easier.
Other features to love about the Franconia Parka? The full adjustability of a two-way front zipper, a quilted lower lining that glides over your saddle, and a storm flap and inner cuffs that seal out drafts. It's offered in two irresistible colors and in ladies' sizes XS through XL.
As our fellow riders, we hope you'll find that every feature we love about our products also benefits your riding. Relish in their comfort, quality and practicality in the saddle—and everywhere our equestrian lifestyles take us.
Check out the full collection of schooling attire and outerwear for women, children and men here!
Already have your own favorites? Share them on Instagram and Facebook by tagging @doversaddlery.