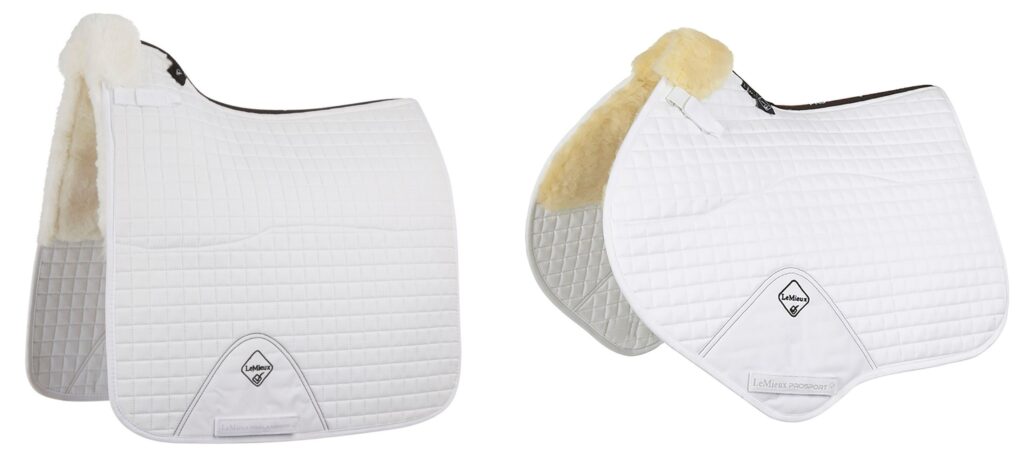 While most horses can wear any saddle pad their rider places on their backs, some horses aren't so lucky. They experience the agonies of extra-sensitive skin, seasonal hives, allergies to manmade textiles, seasonal or year-round hair rubs, abrasions from friction, thin hair, excessive sweating under a saddle or a host of other challenges, including collagen bumps and fungal issues in follicles.
If you ride one of these horses, a Merino+ Half-Lined Dressage Square or Close Contact Square could be the solution to your horse's troubles. Merino+ pads have proven so beneficial to horses that we've come to think of them as the Unsung Hero of pads.
A Thoughtful Approach to Wool Fleece
Across disciplines, natural wool is known to be the best option for a horse's back. It offers softness and cushioning, superior breathability, helps maintain temperature and regulates moisture. It also naturally controls the breeding of bacteria and viruses and helps prevent bruising, scarring, chaffing and pressure sores.
The problem with traditional wool fleece pads is the hide hidden inside them. Even with the best care, the hide eventually becomes warped, misshapen or brittle. LeMieux took a thoughtful approach to solving longevity issues experienced with traditional sheepskin fleece pads; with the Merino+ line, no hides are involved. The pads use top-quality WoolMark accredited Australian merino wool and beautifully engineered fabrics. The resulting saddle pads remain soft and withstand daily wear and machine washing.
With Merino+ pads, lambswool is removed from skin and integrated with a unique backing fabric that expands and contracts while retaining its inherent stretch. This fabric aids wicking and moisture control, with each fiber holding up to 30% its weight. The effect of this fabric alone helps keep a horse's back cooler and drier, and temperature variations are minimized. Add to this all the natural benefits of merino wool, and you've got an amazing saddle pad.
Cushioning & Shock Absorption
The consistent density of springy Merino+ wool fleece provides a perfect fit against a horse's back in every ride. Its soft surface and resilient nature let the fleece mold to a horse's contours without adding bulk. The fibers help absorb impact, distribute pressure and provide cushioning.
Hypoallergenic & Gentle on Skin
The lambswool, dyes and fabrics used in Merino+ pads are tested to human medical standards by a Swiss laboratory, so they work in harmony with even sensitive skin and are far more stable. The fluffy fibers free the horse from saddle-pad friction, naturally resist static and naturally resist odors.
Thermoregulating & Moisture-Wicking
Some folks look at the wool panels and think, "That's going to be hot against my horse." Nothing is further from the truth. Merino wool naturally wicks moisture and promotes airflow. Whether the weather is hot or cold, the wool helps maintain a comfortable climate under the saddle. (Try wearing merino wool socks in summer to prove this point. Your feet won't sweat, and they won't stink at the end of a long day.)
Close Contact Feel
Merino+ fleece is placed in panels only under the saddle. The flaps of the pad aren't lined with fleece, so they feel to a rider just like a "standard" quilted saddle pad. With the fleece panels at the top, most riders with an appropriately fitting saddle have no need to use a half pad.
Quick Drying
The fleece panels dry quickly between rides and after washing. Dirt, hair and dried sweat brushes away. Usually, a freshly laundered pad is ready to use next day.
Other Points to Note
Now that we've covered all the irresistible problem-solving benefits of Merino+ Half-Lined Saddle Pads, we must point out a few more must-have features.
Finer and shorter wool lines the pathway of the spine, providing comfort for spinal processes and allowing airflow. A swept-up wither cut relieves pressure over the shoulders and base of the neck.
LeMieux's signature layered girth-loop system ensures a perfect fit adjustment with every girth on every horse. The top layer acts as a normal girth loop. The inter-locking layer underneath can be used to secure either or both saddle billets in an ideal position.
Timeless style, a classic quilted top, conservative colors and fleece-trimmed withers mean this pad is always appropriate in any ring.
The pads generally require less laundering when used on a groomed horse. Simply brush hair away from the fleece fibers!
LeMieux's Merino+ Half-Lined Dressage Square fits most dressage saddles perfectly and creates an elegant look worthy of competition. The Half-Lined Close Contact Square suits most jump saddles and includes the iconic, swept-up back to avoid interference with the rider's legs over fences.
Shop the LeMieux Merino+ Half-Lined Close Contact Square
Shop the LeMieux Merino+ Half-Lined Dressage Square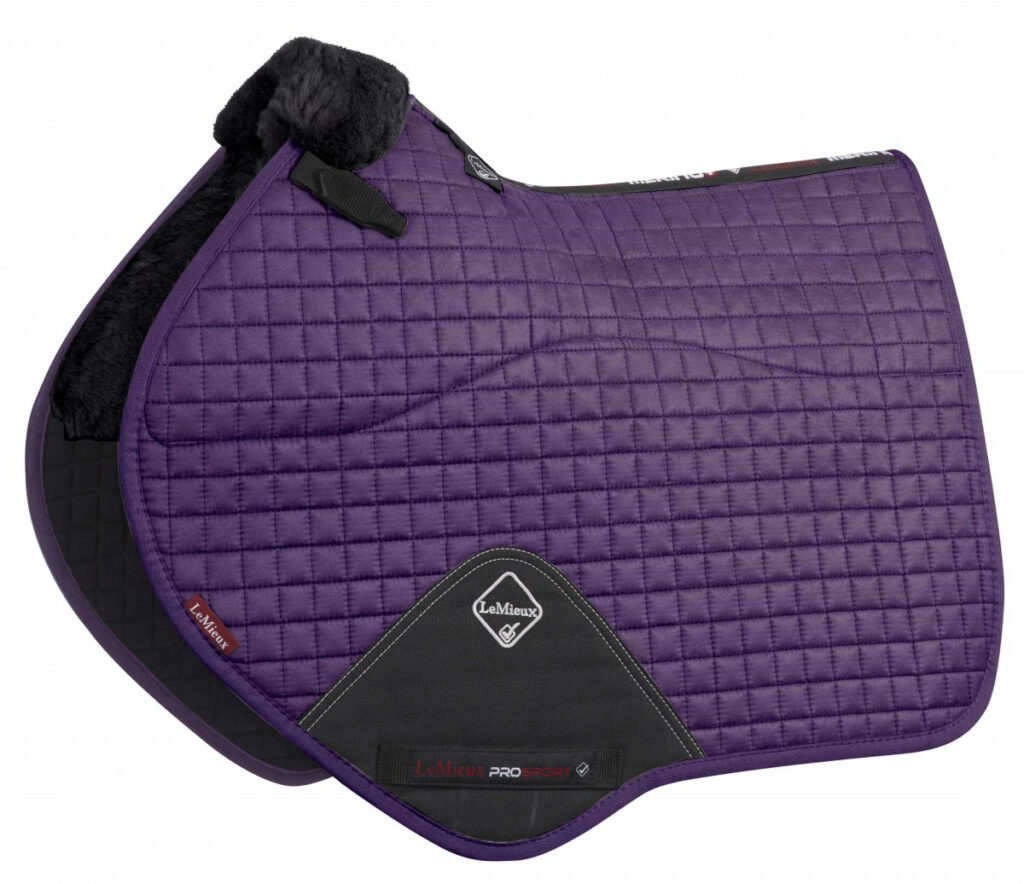 Already have a LeMieux Merino+ Pad? Share your photos with us on Instagram and Facebook by tagging @doversaddlery!