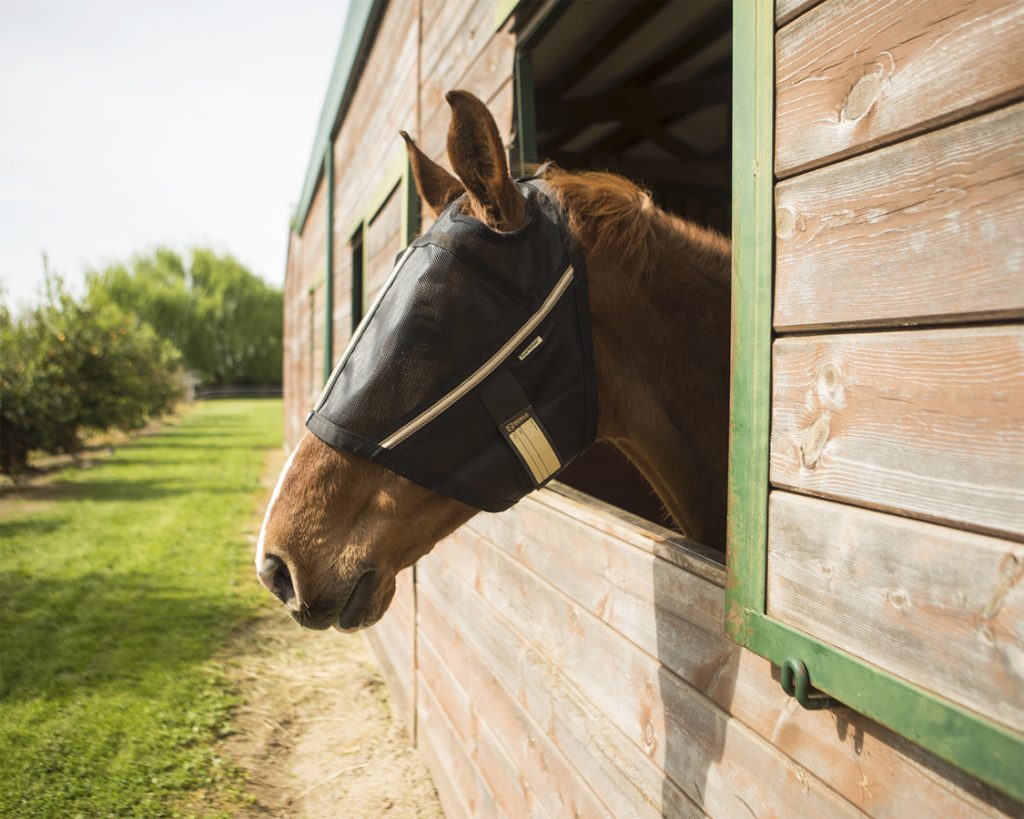 The Fly Mask: A Must for Every Horse
It's May and we're embracing spring! Being outside and around the barn in this wonderful season brings a sense of joy. We look forward to long summer days riding, showing, grooming and just being with our horses. But… flies and other biting insects are enjoying the warm weather too, and they are as annoying as ever.
No matter which types of flies you're dealing with—face flies, stable flies, horse flies, deer flies, black flies, even mosquitoes—your horse will appreciate help keeping them away from their face. A fly mask is an essential piece of equipment that not only repels insects, but helps protect against disease, provides protection to the eyes against harmful ultraviolet rays, protects sensitive skin and ultimately helps alleviate related anxiety and discomfort.
Disease Prevention: Flies and insects bite! Bites pose a problem as they can transmit disease, cause itching and create open wounds that can get infected. Flies love any moisture-rich areas on a horses' body, especially the delicate face. Eye excretions, small wounds, scratches and cuts on faces are prime attractants for flies and infections.
UV Protection/Cooling Technology: Horses are sensitive to bright light, just like humans. Horses with light colored faces and pink skin are especially susceptible to sunburns. Choosing a fly mask with UV protection will alleviate harsh light, block some of the damaging UV rays and provide shade for sensitive eyes. Some masks have nose pieces that extend for extra protection, and some have new cooling technologies for those long hot days.
Sensitive Skin: The skin around the face is some of the most sensitive skin on your horse. Some horses have very sensitive skin or skin that is susceptible to hives or other allergic reactions. A fly mask can help prevent these issues before they become a problem.
Anxiety: We've all experienced anxiety as we enjoy a picnic only to then be chased by a deer fly or a buzzing bee. We run and swat and generally try to get away. Our horses do that too, with constant head shaking and pacing, so we must help them out. The ongoing anxiety of having flies around the eye area makes horses jittery, uncomfortable and unable to enjoy turnout or focus during training sessions. Flies that are constantly obstructing vision increase stress levels and keep your horse in a constant state of distress.
Mask Styles
Without Ears: If introducing a fly mask to your horse for the first time, an earless mask may be the design to try. It will offer protection to the eyes and skin around the eyes and let your horse learn to appreciate that coverage.
With Ears: If your horse doesn't mind having their ears covered, a mask with ear covers is the best bet for full protection. Just make sure the fit is not restrictive on the ears so they can rotate freely.
Masks for Riding: Some masks are designed to be worn over a bridle to provide coverage while riding. Typically made of extra-fine, lightweight mesh, this type of mask is a great solution for reducing or eliminating head tossing. Fly bonnets, fly veils, fly hoods and ear bonnets, a single design with many names, are a close-fitting alternative to a full fly mask for riding. These fit under a bridle to provide coverage for your horse's ears during work without covering the horse's eyes.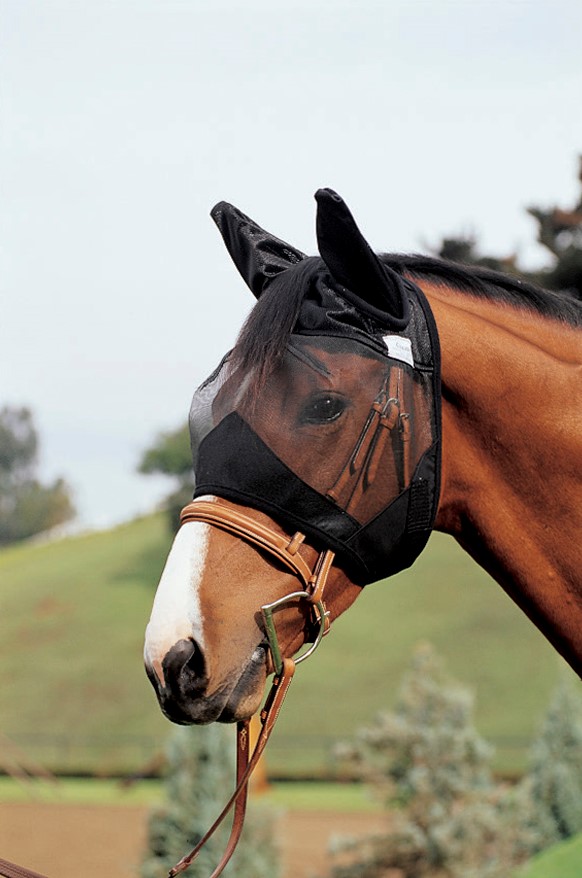 Masks with Fringe: Fringe on a fly mask is not just for show; fringe simply shoos away flies just like a horse's tail will.
When to Use a Mask
While ideal for turnout, a standard mask will limit your horse's vision and depth perception slightly and should not be used for riding. The mask should be taken off a few times every day so you can check for dirt and debris and make sure there are no chafed areas or eye problems. Do not leave masks on at night unless recommended by a veterinarian.
Fitting a Mask
A fly mask must not be too tight or too loose. Your horse should be able to blink without hitting any area of the mask. Look through the mask as your horse moves around and make sure eyelashes are not touching. Your horse should also be able to move their ears freely, and they should not be rubbing on the mask.
Mask Maintenance
Cleanliness of your horse's mask is essential. Using a mask to keep disease away will not help if the mask is dirty. A dirty mask will increase the likelihood of an infection from mud, dust, or sweat embedded into the fleece lining or mesh. A good rule of thumb is to keep two masks on hand, so you have one while the other is being washed and dried.
To browse our entire collection of fly protection, click here.
Does your horse have a favorite fly mask? Share your photos with us on Instagram and Facebook by tagging @doversaddlery!