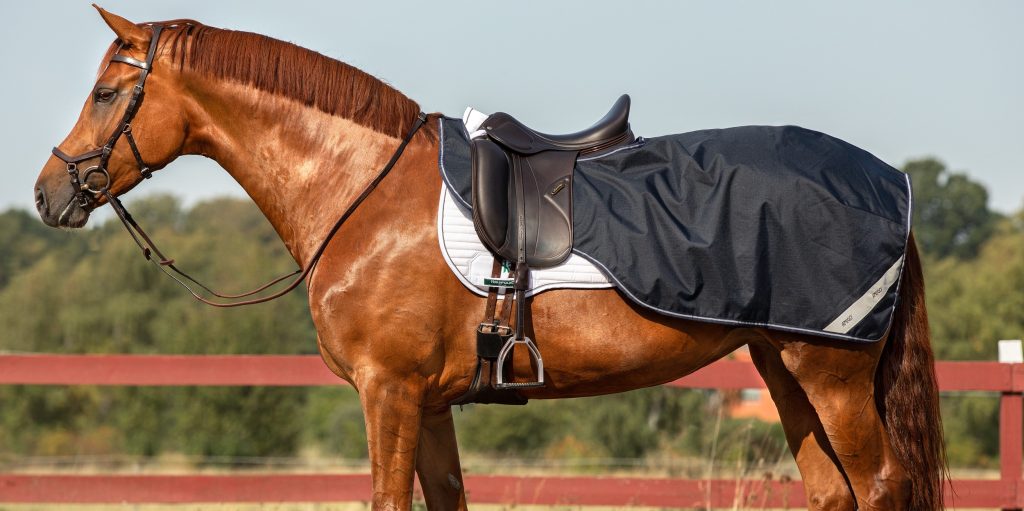 Whether we riders call it a quarter sheet, an exercise rug, a riding blanket or a competition sheet, we're referring to a piece of horse clothing cut to cover a horse's hindquarters. It's an easy way to keep a horse comfortable and the large, crucial muscle mass of the quarters warm and dry when you're riding in cold or inclement weather. Use of an exercise rug is especially helpful for horses that are clipped and always blanketed.
Most quarter sheets are made of insulating, moisture-wicking and breathable synthetic fleece fabric or traditional wool. Waterproof exercise rugs can be made of a lightweight material, such as nylon, suited to warm and wet riding days. They can also be made with a waterproof top and a fleece-lined bottom layer to offer warmth perfect for chilly, damp weather. Easy to remove from the saddle, these sheets fasten at the front with hook-and-loop and stay put in back with the help of a tail cord.
Depending on the horse's physical condition, whether he or she is clipped, how strenuous the ride will be and the ambient temperature, an exercise rug can be worn by a horse during a warmup phase of a workout and replaced at the end to prevent hot muscles from getting chilled. Or, it can be worn throughout a ride, especially if the horse is working outside or walking on a trail.
A cutout design typically provides space for the rider's seat and saddle and allows the sheet to be worn over or under the rider's thighs. Contouring along the hemline is designed to permit direct contact between the rider's lower legs and the horse's barrel. For fun, exercise rugs come in a variety of colors and can be custom made.

Sizing Quarter Sheets
Manufacturers vary in sizing for quarter sheets, but generally, all are offered in small, medium, large or extra-large, with standard blanket size ranges falling into these categories. You'll need to refer to size chart recommendations to determine appropriate sizing for your desired quarter sheet.
When the rug is on your horse, you simply need to make sure it is roomy enough to allow your horse to move naturally without restriction. Conversely, it should not be so large and loose as to allow shifting or have excess dangling fabric that could become caught on an object.
Shop our entire selection of quarter sheets and exercise rugs here.
Do you and your horse have a favorite quarter sheet to ride in? Share your photos with us on Instagram and Facebook by tagging @doversaddlery!