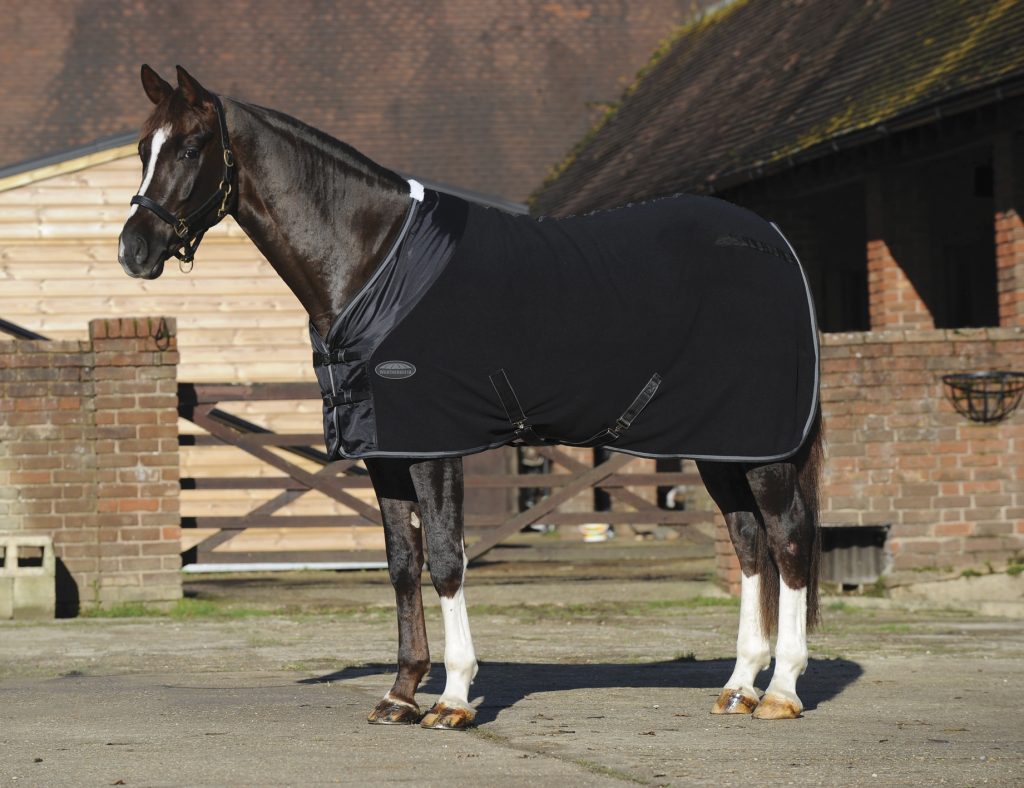 As the month of October ushers in lower temperatures, we horse owners and riders dig out the coolers we packed away last spring—or consider shopping for a fresh one! Coolers are a time-tested means of caring for our hot or sweaty horses properly after a workout in cool or brisk weather.
A cooler keeps a horse's warm muscles and wet skin protected from uncomfortable chills that could otherwise cause muscle stiffness or overall make a horse susceptible to illness. Covered, the freshly worked muscles can recover gradually from exertion while the cooler wicks moisture away from the horse and helps hair and skin dry most efficiently. A cooler can also be helpful in warming and drying a horse after a bath or a rain shower when temperatures turn a bit brisk.
Commonly made of wool or synthetic fleece fabrics, coolers come at a variety of price points and in a variety of styles and colors from the most basic to those with prints, plaids, contrast trims, embroidery, or brand decorations. Some models feature advanced technical fabrics to increase efficiency and provide rapid cooling—perfect for riders on a tight timeline. A simple cooler can become an amazing one when you add your own personal monogram with your horse's name, stable name, or your initials.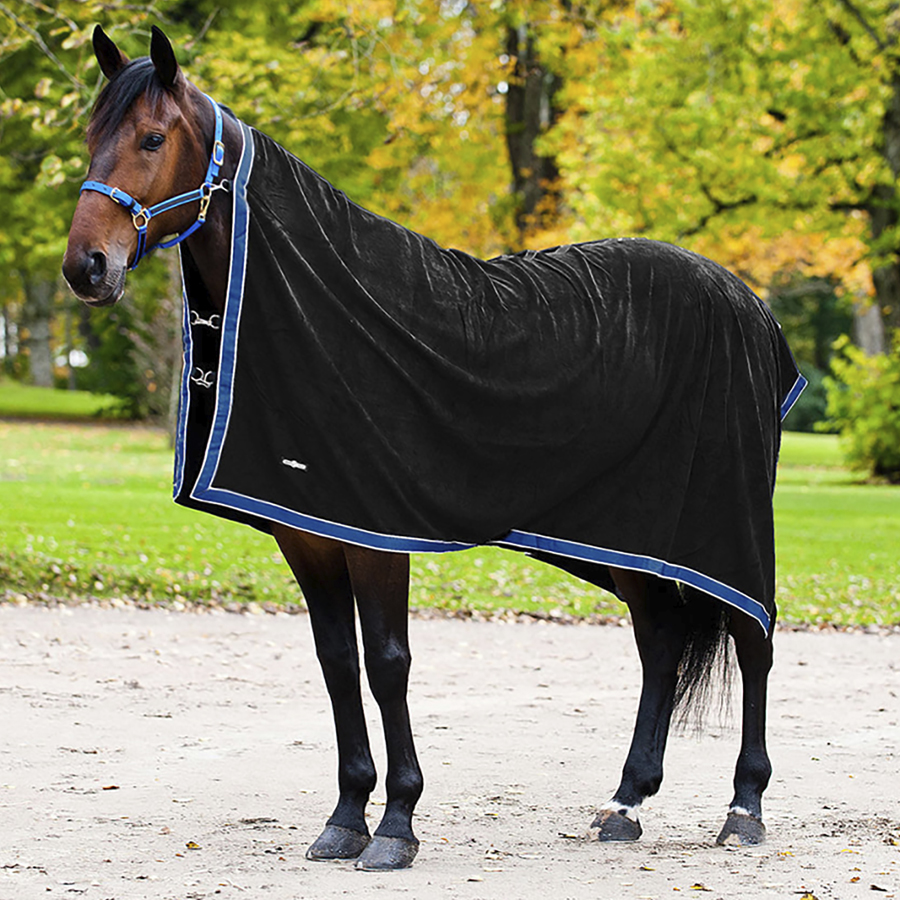 The original American Cooler style is a large rectangular piece of wool with colored bindings and that may have ties at the neck or brow and tail straps. This type of cooler drapes over the horse entirely, from jawline to tail. American style coolers can still be seen today, usually as a treasured vintage item prized by its owner for ease of use and efficiency. It should be worn by a horse that is being walked, handled or very closely monitored, as it can slide and entangle a stabled horse if it rolls in the cooler.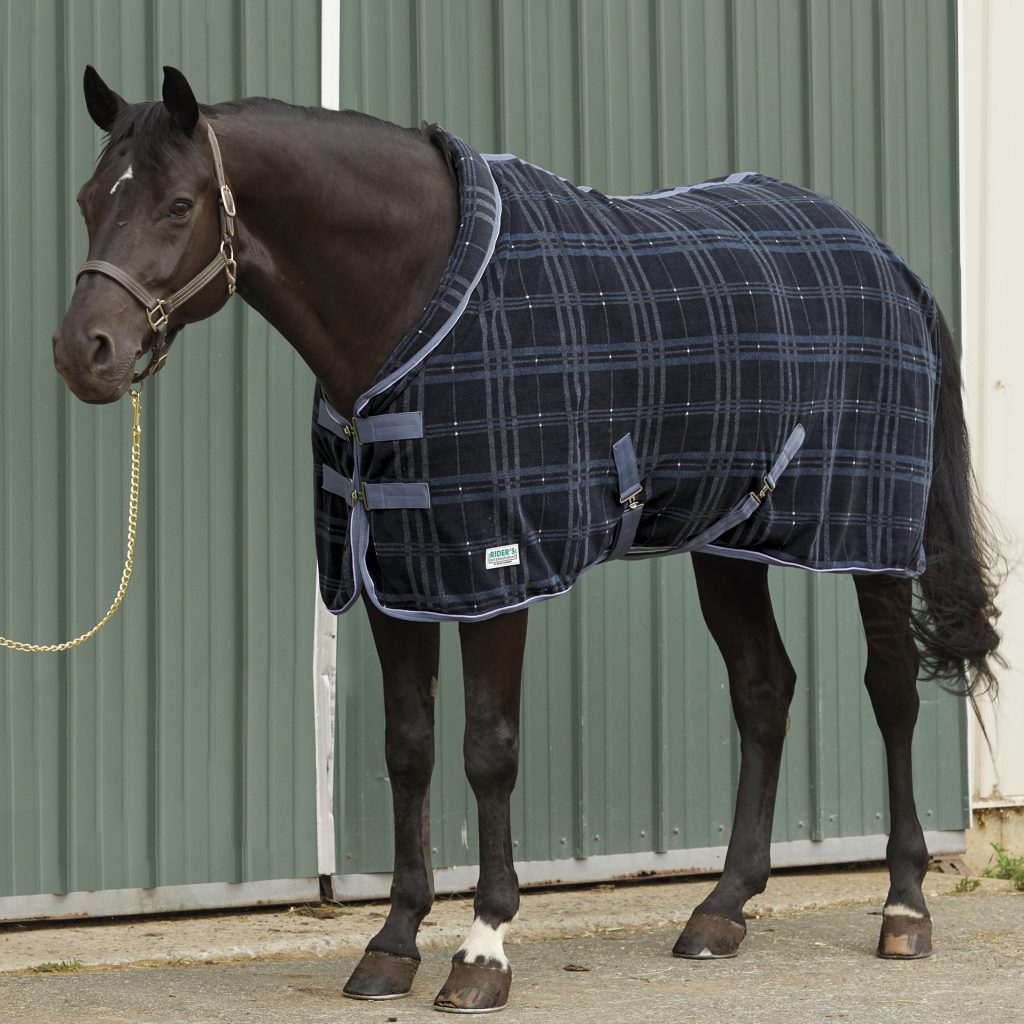 Most commonly, coolers today are more fitted styles cut like a stable sheet, leaving the neck exposed. Others fit right up the neck to the jawline and secure along the under-neck with hook-and-loop fastenings. This type of cooler can be left on a horse that is stalled and unattended if it secures at the front, belly and has a tail cord. A fitted cooler can also be used in cold weather as a base layer under a blanket.
Remove & Replace
Just as important as getting a cooler onto a horse promptly is removing it promptly when you see a dew-like coating formed along the top surface of the cooler. A saturated cooler can no longer wick moisture and prevent drafts. Sometimes, a very wet or sweaty horse will require one or two changes of coolers during the cooling and drying process, so it is always good to have an extra, dry cooler on hand.
---
Browse our entire selection of horse coolers and anti-sweat sheets here.
Do you have a favorite cooler? Share your photos with us on Instagram and Facebook by tagging @doversaddlery!