Welcome March, the month when some folks embark on home spring-cleaning frenzies. Around here, our idea of spring cleaning focuses on tack. Spring marks a perfect time to thoroughly inspect and recondition your horse's leather tack, whether you've competed in warm places all winter, continued training despite frigid temps, or simply enjoyed downtime with your horse.
If you're like us, signs of wear or gradual decline in leather condition are easy to ignore in busy daily riding routines, and repairs are easy to postpone. These issues can be addressed best now, with ample time for repair or replacement, before local riding activities gain full swing. As added benefits, reconditioned tack is more comfortable for your horse to wear, safer for both of you, and it supports a maximum return on your investment.
Inspect All Tack
Just as your skin suffers abrasions and dryness from irritants such as sand and sweat, your leather does, too. Regular use can degrade leather even if you diligently wipe away grime as recommended after every ride. Saddles and bridles that have been stored improperly can dry out, grow mold and mildew or be compromised by rodents, sunlight, varying temperatures, and other environmental factors.
Look closely at each piece of your horse's leather tack for areas under pressure during use or where sweat or saliva may collect, such as:
Reins and cheek pieces where they attach to bit rings.
Saddle billets where they buckle to the girth.
Stirrup leathers where irons and buckles cause creases.
Girths along the full length, from buckles to elastic inserts to linings.
Halters where hardware meets leather.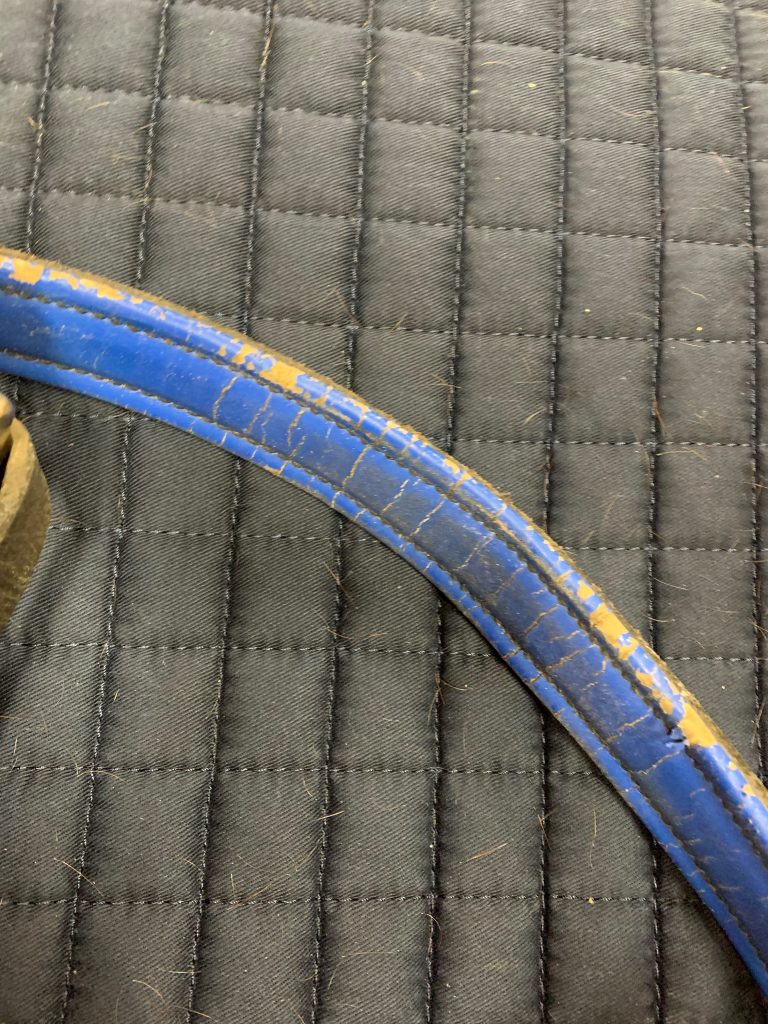 Any cracked or torn leather may break at the worst time—during a ride or while handling a horse. These areas indicate hazard and necessitate repair or replacement. Check that all stitching is tight and intact; loose stitching on stirrup leathers, saddles or girths also poses risk.
Inspect and touch any surface that lies directly against your horse, such as girth linings or padding in bridles and halters. Although not an immediate safety hazard, any item that feels rough should be budgeted for replacement or repair to protect your horse's skin from chafing and to ensure optimal comfort.
Note: Some leatherwork professionals won't repair reins, girths or stirrup leathers as a safety precaution. Saddle billet straps are replaceable, and some bridle and halter repairs are worth the expense. Generally, bridle parts and reins are readily replaceable at any budget to eliminate the need for repair.
Clean & Condition
When you're satisfied with the quality of your tack, give it a thorough once-over using your favorite leather cleaner. Now is the time to take apart a bridle, martingale or breastplate and remove grunge from creases. Warm water and a soft toothbrush can help you get grime out of crevices. Turn your saddle upside down and clean all nooks and crannies. Once the leather is dry, follow up with a nourishing leather conditioner or leather balm.
Browse our entire selection of leather care products here.
Do you have an example of extreme tack wear? Share your photos with us on Instagram and Facebook by tagging @doversaddlery!