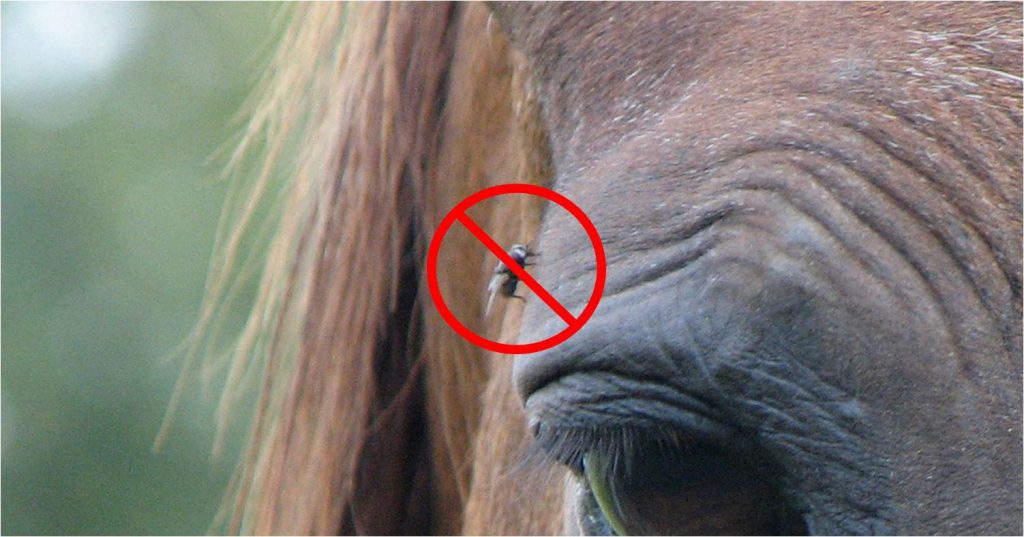 With the arrival of spring comes the arrival of biting stable flies, nuisance house flies and other insects around the barn. Nice weather doesn't necessarily mean you and your horse have to suffer the presence of flies. With just a few simple, preventative steps, you can drastically limit the fly population around your horses and their environment before they start to become a problem.
Remove Manure – With the rough winter that has been seen across much of the country, manure removal or management has been hard. If your manure pile has expanded beyond its normal area, make arrangements to have it moved away from your property. Some manure without shavings mixed in (such as that picked from paddocks) can be spread across fields for fertilization or composted and used by gardening or farming facilities.
Fill In and Level Paddocks – As snow melts and spring rains arrive, paddocks can get pretty torn up. Try to maintain paddock conditions as much as possible, filling in with appropriate footing (soil, sand, stone dust) as needed to help prevent puddles and standing water from collecting. Also take a look at other areas near the barn where standing water may gather, such as downspouts from drains. Standing water attracts stable flies and insects, so cutting down on areas where water can collect will help keep insect populations down as well.
 Encourage Air Flow – Make sure to swap any glass on barn windows back to screens or leave open to allow air to flow through stalls. Leaving barn doors open as much as possible will also help air flow through your barn. Aisle guards can be used to help ensure horses are secured while barn doors are open. Stall fans and industrial fans in barn aisles that are approved for outdoor use can also help to move air on humid or extra warm days. Constant air flow keeps things from becoming stagnant and cuts down on stable flies.
Utilize Fly Predators – Fly predators are small, non-pestering tiny wasps that naturally control biting stable fly populations as well as house flies. Miniscule fly predators will not sting, bite or pester horses, humans or other animals. They feed on biting flies when they are in their cocoon stage. Just spread the fly predator eggs near manure areas, like the manure pile, in paddocks or near water troughs outside and ensure they will not be removed (such as stall areas that are cleaned daily, for example).
Stock up on Fly Protection – No matter how much preparation is done, it is
impossible to eliminate stable flies entirely from an area with horses. Make sure you have a lightweight, comfortable fly sheet, like the Rider's International Stretch Micro Mesh Fly Sheet, to protect your horse. This fly sheet will keep biting flies away from your horse's skin, while also keeping him protected from dust and coat-fading sun rays. A fly mask, fly boots and fly spray will also help to keep pesky stable flies away from your horse.
Have an Equine Spa Day – Stable flies are attracted to dirt and dust. Giving your horse a quality bath once the weather allows will help to make them less appealing to biting flies while sprucing them up for spring. Make sure you have all the bathing supplies you'll need on hand so you're ready when the next warm day hits.
Preparing now for the arrival of spring stable flies will help to ensure your horse is comfortable, calm and enjoying his time outside without flies circling around him.
How do you keep flies at bay around your barn? Let us know in the comments!