Most of us know a horse that absolutely hates bugs. Even the sight of a bug has him stomping, flinching, and swishing his tail all day long. Some horses, such as Thoroughbreds, have very sensitive skin and get easily irritated by flies and other insects in turnout. A susceptible horse like this may need the complete coverage of a fly sheet, fly mask, fly boots and fly spray, or any combination of these, to stay comfortable. Does this sound like your horse? Check out a few of our suggestions for products that go beyond your everyday fly spray and can help you and your horse beat the bugs this summer.
Horseware's Amigo® Evolution Fly Sheet offers excellent protection from flies and the sun's harmful rays. This fly sheet comes in a bright aqua and orange color combination, two colors that naturally deter flies. Most insects cannot perceive the colors orange or aqua because their vision centers on different sections of the electromagnetic spectrum. Use of this science-based color technology offers natural fly protection for your horse, and the lightweight polyester net material makes it perfect for those hot summer days outside.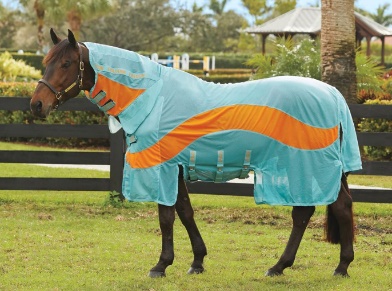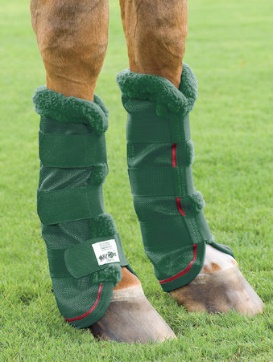 Dover Saddlery® Fly Wraps are perfect for keeping your horse's legs free from pests. They are made of a lightweight mesh to keep your horse cool, with soft shearling bindings to prevent rubs. They also have double binding at the bottom to keep dirt out. These wraps can stay on constantly for 24-hour fly protection, and they come in a set of four. It is always a good idea to remove these boots daily to check your horse's legs and to readjust for an ideal fit.
Fly Masks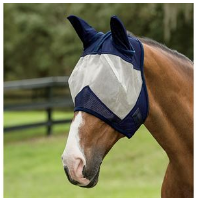 You can't go wrong with a fly mask. Depending on how much coverage your horse needs, there are many different meshes that provide varied levels of UV protection and visibility for your horse. The Rider's International® by Dover Saddlery® Soft Mesh Fly Mask has heavy, durable mesh to protect your horse's face, and soft mesh lined with fleece to protect his ears. This fly mask also comes in cool colors to express your horse's unique personality!
Visit www.DoverSaddlery.com for a complete product offering of fly protection and gear. Whether you need a long nose fly mask, a full coverage fly sheet, or fly traps for around the barn, you can find it all in our expansive Fly Control selection here.