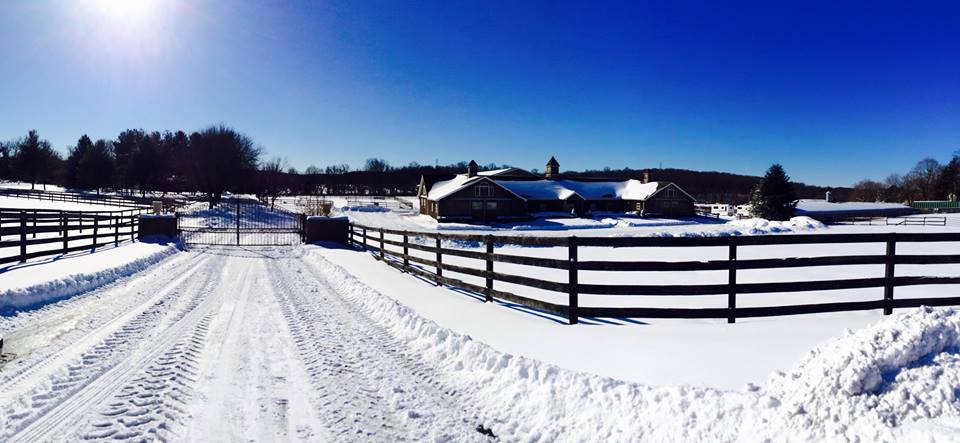 While you are enjoying the perfect fall riding weather, it's hard to think about winter's fast approach. With the cold weather of winter comes frozen water buckets and hoses, blanket changes, difficulty getting water to the paddocks, hard ground and of course the likelihood of lots of snow removal. But fear not! With our selection of tricks for outfitting your stable with the right winter barn supplies, winter will be a breeze.
Heated Stall Buckets – Frozen water buckets are a common problem in barns. Replacing regular buckets with Heated Flatback Buckets for the winter months can solve a few issues that arise when water freezes. First, it can help ensure that horses always have accessible water. Horse's are also more likely to drink temperature controlled water rather than frigid water, helping to decrease chances of dehydration. Heated stall buckets will also cut down on time spent breaking apart frozen buckets when dumping and replacing water daily.
Heated Paddock Buckets – If your horse is turned out for any length of time this winter, you'll need to ensure he has access to water in his paddock as well. If you are able to run electricity to your paddocks, the Heated 16 Gallon Bucket is perfect to keep water at an inviting temperature all day long. Even in the coldest temperatures, this bucket works amazingly!
Heated Hoses – Nothing is more disappointing that finding out that your barn hose wasn't properly drained and has frozen overnight. Avoid having to lug buckets to each individual stall this winter by investing in a heated hose. Heated hoses cycle on and off based on the temperature for energy efficiency, and have wires throughout to provide uniform heating and ease of watering.
Water Transport – If your paddocks are too far away from the main barn to use its insulated watering system in the winter, you may find yourself needing to carry buckets out to paddocks to fill waters. Make the job easier on yourself with the H2GO Bag, a water container that fits inside a wheelbarrow for easy transport to paddocks and holds 19 gallons of water. Fill it up with your heated hose in the barn, push it out to the paddocks and cut your watering time in half!
Dog Blankets – Many stables have a barn dog or two that would be missed if they had to stay indoors over the winter months. Keep your barn companion warm this winter with a dog blanket so he can spend more time with you outdoors. The Rider's International Fleece Lined Dog Blanket is one of our favorite choices, with a nylon outer shell to resist the elements and a fleece lining for comfortable warmth.
Hopefully these ideas for winter barn supplies will make your cold season easier to handle. Stock up now before the frigid temperatures hit!