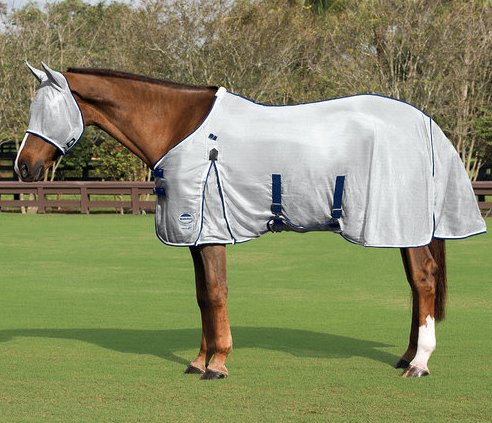 With spring leaving us and summer weather settling in, barnyard insect pests are out in full force. The armies of horse flies, black flies, house flies and all other flies invading your horse's personal space can seem overwhelming and are irritating for both you and your mount. Help keep the summer invasion under control with these fly control tactics.
Keep Stable Grounds Clean:  Removing items of attraction for flies is the first step to insect control around your barn.  Ensure that manure is being removed from stalls and paddocks throughout the day, and that grassy areas around the barn are kept trimmed. For manure that cannot be removed regularly, Fly Predators is a natural way to stop pest flies where they start. Insects are also drawn to standing water as it serves as a breeding ground for mosquitoes and the like, so emptying any unused water tubs overnight can help. Additionally, make sure grain is secured in containers that won't let water in, and will keep feed fresh while keeping bugs out.
Fly Free with Air Flow:  Stagnant or stale air holds in barn scents and moisture, which attract flies. By keeping air circulating throughout your barn, you help to keep a fresh environment where flies and other insects don't see the appeal. Installing some fans throughout your stable can help keep the interior environment more comfortable for everyone.
Shield Your Horse with a Fly Sheet:  A fly sheet can be great armor against flies and other biting insects that pester your horse during turnout. Since flies are typically a problem in summer months, it's important that your fly sheet is lightweight and allows maximum air flow to keep your horse cool while protecting him from flies. Weatherbeeta's Airflow fly sheet does just this and if your horse is particularly sensitive to flies, the detachable neck cover is a great add on to this fly sheet to reduce bites on the neck as well.
Add Additional Armor:  Fly sheets are not the only means of defense. A fly mask like the Airflow by Weaterbeeta, will shield your horse's eyes and ears from nagging insects. Protecting these sensitive and vulnerable areas is important and helps to reduce the stress your horse feels from having to shake off pestering bugs. Additionally, fly leg wraps can lessen continuous stomping while turned out or in a stall.
Spray Them All Away:  Of course the most common and widely used fly control is fly spray. The wide array of fly control products available allows you to choose the perfect product for you, your horse, and what you will be doing. Fly spray should be liberally sprayed on the horse before turnout, before being ridden, and after any bathing or rinsing off so that they have a fresh coating.
Utilizing these strategies should give you a one up on the flies, and will certainly help to make your horse happier. Outfitting your horse in a fly sheet and fly mask has the added benefits of protecting him from the harmful UV sun rays. Avoiding sunburns on light areas of the coat will help keep your horse looking their best all season long. Feeling free from flies is the start to a wonderful summer with your four legged partner.