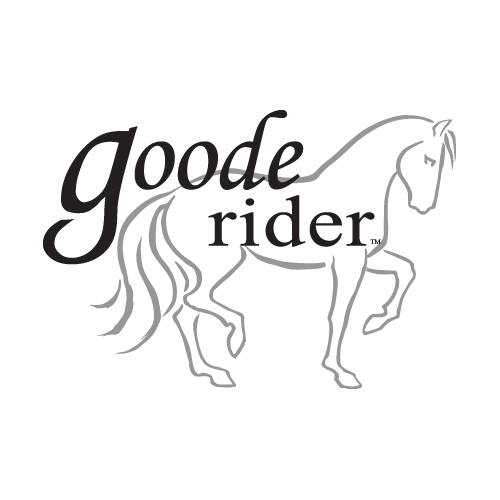 Do you have a "barn section" of your closet? Many of us do. The clothes you don't mind getting a little dirty, the ones meant to wear around the barn for ventilation and protection, and certainly not to be mixed with your good daily wear clothes. But what if you didn't have to separate fashion and function? Goode Rider offers you just that.
Started by two women who were tired of wearing horse-riding clothes that gave no attention to style, Goode Rider focuses on providing clothing that can make the transition from a day spent in the saddle to an evening around town, without sacrificing comfort and functionality. They offer clothing in current fashions with practical features, including four-way stretch material and stain resistance, which we know is necessary at the barn. These exemplary products from the Goode Rider line are a few of our favorites:
Pro Breeches:  Goode Rider's breeches come in a variety of styles designed for women who value style. At first glance, these Goode Rider breeches may look like they are purely for fashion, but you may be surprised when you feel just how comfortable they are, and see how well they hold up to the demands of riding. The microfiber stretch material quickly recovers from whatever abuse you throw at it, keeping you looking great at all times. The low-rise waist flatters your figure, while the reinforced knee patches and Velcro ankle closures make them useful in the saddle.
Elite Shirt: This particular shirt has many of us struggling with whether to wear it to the office or the barn. Looks like a post-work outfit change can be avoided! It is suitable for formal or casual wear, indoors and out, and comes in unique patterns and colors. Sleeve tabs mean that you can wear the sleeves rolled or not, for whichever look you prefer. It's also made of lightweight cotton with knit stretch panels at the sides for unrestricted movement and to keep you cool in warmer weather.
Regal Dressage Show Coat:  As far as the show ring
goes, it's always important to sport your best equine fashion. For dressage, this means a classic, long-sleeve, black show coat, which unfortunately is not always practical. This coat is both stylish and comfortable to wear, with a soft outer shell that moves and breathes with you to keep you cool, no matter what your competition might be doing. The traditional four-button front styling gives you the classic look that the judges expect. No one will realize you are wearing a piece of high-tech clothing with the benefits that modern fabrics provide.
These are just a few of the well designed clothes the Goode Rider brand has to offer. Browse the entire collection of Goode Rider show shirts, breeches, and tops for men and women and you surely won't be disappointed. No one combines fashion and function quite like Goode Rider does.