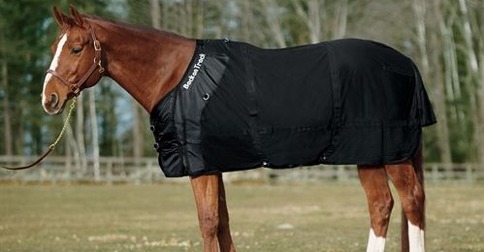 Alternative therapies can do a great deal in gently aiding your horse's wellbeing. One such alternative therapy popular among horse owners is ceramic therapy. Ceramic therapy involves ceramic fibers being interwoven and fused into fabric, which is then used in horse equipment such as wraps, boots, blankets or saddle pads. When the products come into contact with a heat source, such as a horse's leg or back, the ceramic infused fabrics reflect body heat back toward the horse through long-wave infrared radiation. This type of therapy treatment is beneficial for a variety of reasons:
Increased Blood Circulation – It has been proven that blood circulation can be improved through the use of long-wave infrared radiation. For this reason ceramic therapy products can be used to improve the performance by accomplishing the following:

Relieve muscle tension
Aid in injury prevention and recovery by reducing inflammation
Prevent stocking up when stall bound
Decrease warm-up time when used prior to a workout
Keep muscles loose when used after a workout

Ease of Use – Because no power source is needed for ceramic therapy, these products can be used anywhere, often without supervision. Back on Track® Hock Wraps, for example, can be left on overnight while your horse is stalled (after an initial introductory period where the horse can become accustomed to the effects of the therapy).
Washable – Because the ceramic fibers are infused into the fabric, they never wash out, leaving ceramic therapy products always effective through their long life. Due to the heat reflective nature of these products, it should be noted that they should only be air dried and never put in a dryer.
Ready to try the benefits of ceramic therapy on your horse? Check out our line of Back on Track horse products, including wraps, exercise boots, hock boots, polo wraps, quarter sheet, turnout sheet, mesh sheet, back pad and bell boots. Make sure to always follow use instructions and consult your veterinarian before adding any type of treatment to your horse's program.