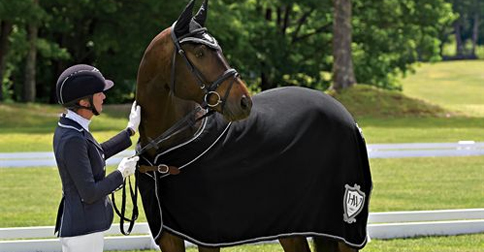 Even on cool or cold days, your horse can become sweaty during a workout. Proper aftercare involves covering him to prevent him from catching a chill and ensuring that he dries completely before he's returned to a stall or paddock. Many anti-sweat sheets and horse coolers are available to do the job effectively, but you might decide to treat your horse to a wool dress sheet. Here are a few of the benefits of wool dress sheets that make them a favorite horse clothing item of ours:
Warmth – Wool is a material that offers just the right amount of warmth. Wool dress sheets are suitable for a range of temperatures, from a cool fall day while you're waiting for your class to start, to a cold winter evening as you walk back to the barn from the ring. Keeping your horse covered with a wool dress sheet will help prevent chills and help keep his muscles warm in the cold.
Style – With a range of patterns, colors and finishing touches, wool dress sheets are a classy and elegant choice. Perfect for the show grounds, but also great for use at home. Our new Plaid Wool Dress Sheet is one example that has pattern options sure to look great on any color horse.
Moisture Wicking Properties – Not only are wool dress sheets beautiful, they are functional in drying your horse as well. Wool is able to pull moisture away from your horse's body to help him dry off and cool out after a workout. When you see moisture on the outside of the sheet, you know the sheet is doing its job.
Trailering Option – If you're taking your horse somewhere on the trailer in cold temperatures, a wool dress sheet can be a great option for him to wear while he travels. It breathes well and will keep him warm until you arrive at your destination.
Customization – Want to make your dress sheet your very own? There are custom wool dress sheets available to make every detail exactly what you want, or you can monogram almost any option for a finished, professional look.
Ready to give your horse all the benefits of a wool dress sheet? Take a look at our range of color, style and size options and select or create the perfect one for your horse to look his best in while staying comfortable.