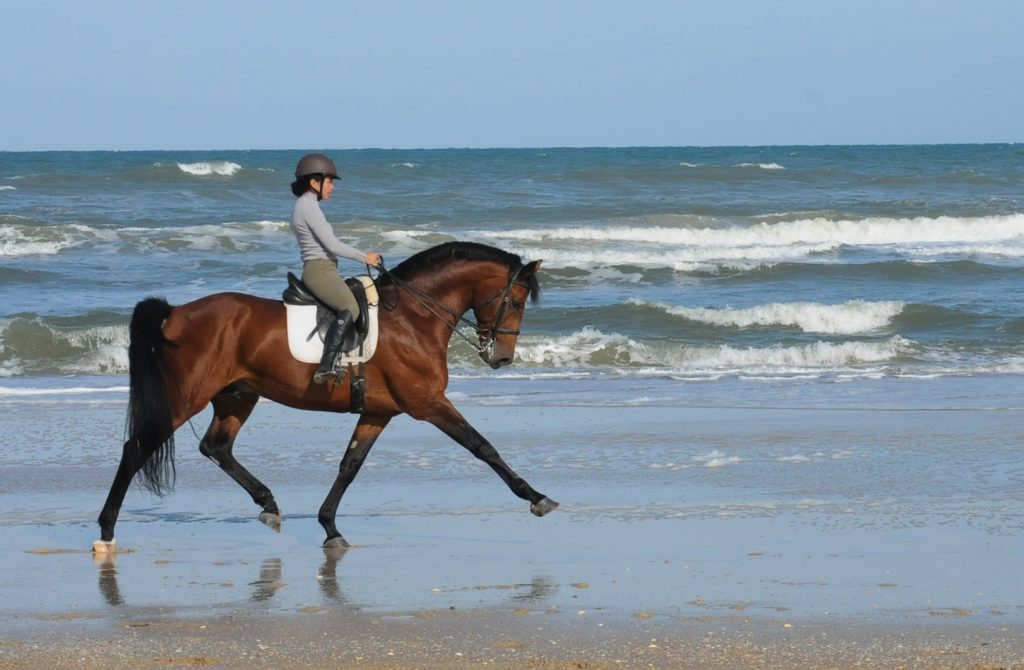 With just a few more weeks of warm weather before it's time pack up your summer riding clothes and stock up on cozier fall schooling layers, we've narrowed down some of our favorite summer activities for equestrians. Enjoy these fun summer ideas with your horse, horse-loving families, and barn friends.
1. Go swimming with your horse
There is nothing better than swimming to cool off on a hot day! Swimming with your horse is even better, especially if you're lucky enough to live near a beach, lake, or pond where it is safe and legal to take your horse for a refreshing dip in the water. And if not, you can always trailer your horse to find the perfect place. We recommend going bareback to protect your tack from any water damage. If you prefer a saddle for the way back, try this Shires Ride-On Waterproof Saddle Cover to keep your saddle dry even if your clothes aren't. Or, browse through Wintec's collection of completely waterproof saddles – just hose it down to clean. Consider bringing an extra pair of rubber reins like the Suffolk® by Dover Saddlery Everyday Rubber Reins. They are durable and budget friendly. But most importantly, the safety of both you and horse should be your first priority. Check out this article from Equus Magazine for more safety tips before taking your horse for a swim.
2. Give your horse a spa day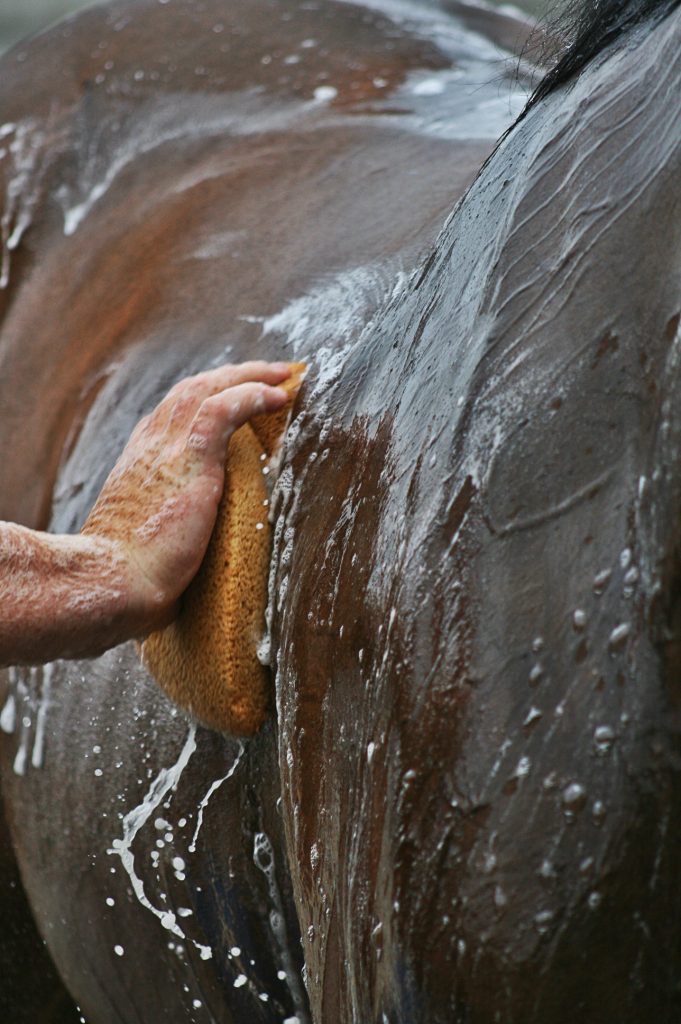 Treat your horse to a much-needed spa day. After long, hot days of schooling, your horse will love a day of pampering to soothe sore muscles and leave them feeling fresh and clean (until they find a nice muddy patch to roll in!) If you've been doing a lot of conditioning work or are coming off of a busy show weekend, we recommend Vetrolin® Liniment. The cooling combination of green soap and essential oils helps to reduce minor stiffness, soreness, and inflammation while stimulating blood flow to fetlocks, knees, and tendons. And, it's easy to use: just dilute with water. For horses who are sensitive during grooming, we love the Roma® Microfiber Wash Mitt. This soft mitt comes in two fun colors and works wet with shampoo as well as dry to wipe away dust or to apply fly spray and sheens. If your horse's coat has buildup from minerals and chemicals from hard water, try Cowboy Magic® Conditioner. Use it on coats and tails to detangle and add shine. Plus, it protects from harmful UV rays. After your horse's bath, help him or her dry quick and stay comfortable with the Centaur® Turbo-Dry™ Sheet. It's made with moisture-wicking fabric that dries three times faster than other fabrics.
3. Have a gymkhana day at your barn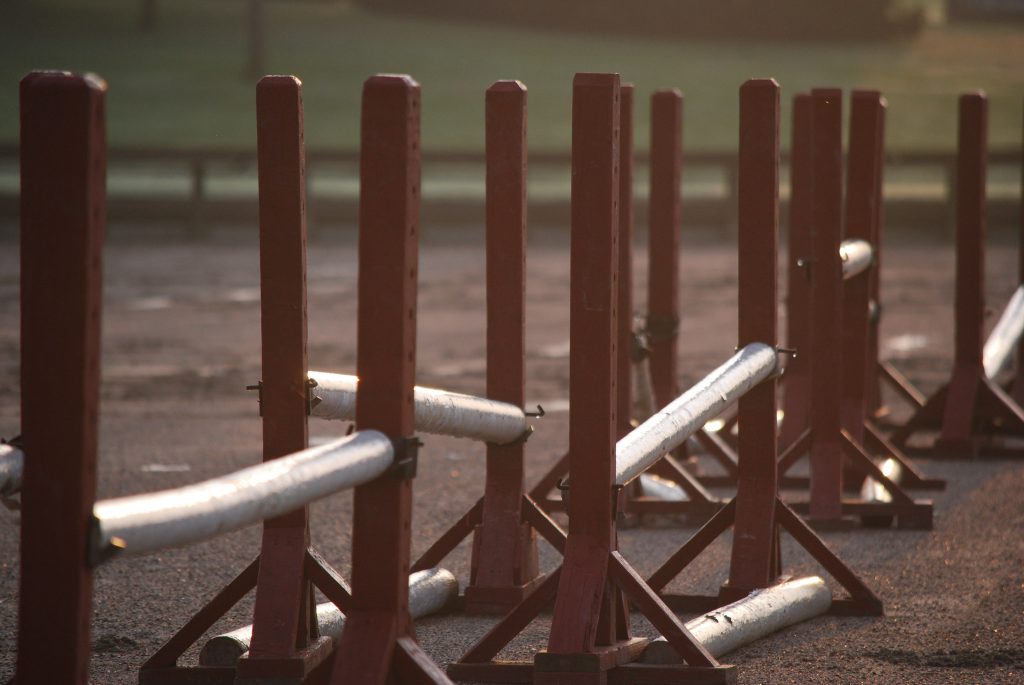 A gymkhana day at your barn can be a fun activity for both adults and young riders of all skill levels. For some in-the-saddle games, try an egg and spoon challenge to see who can keep their egg from falling, or a relay race where teams complete courses such as riding through a pattern of cones or completing a beginner's jump course. Or, play games out of the saddle, such as an on-foot sack race. Remember to be aware of your surroundings as well as others' to ensure safety for all horses and riders. When choosing your attire for the day, try the TuffRider® Ladies' Iris EquiCool Riding Tight. These tights are super lightweight and comfortable to help keep you cool all day. They wick moisture and even provide UPF 50+. We also love the breathable and ventilated Noble Outfitters™ Perfect Fit Glove for some extra grip. To add an extra element of friendly competition to your gymkhana day, hand out prizes to game winners like a bag of Jolly Goodies™ Apple Treats for their horse.
4. Make DIY horse popsicles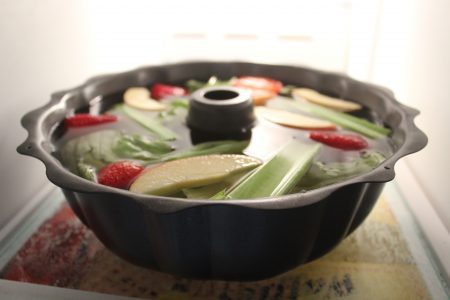 Give your horse a special treat on hot days that will provide hydration while tasting delicious! Making horse popsicles is an easy way to help your horse cool down after a ride or keep him busy in his stall or paddock while providing good, healthy nutrients from fruits and vegetables. Check out these three DIY popsicle recipes that we created and make one (or all three) for your horse. You probably have most or all of the ingredients in your kitchen already. Our tip: add an electrolyte like the Apple Elite™ Electrolyte Powder from Farnam® to add even more minerals and encourage healthy water intake. Be sure to check with a veterinarian or equine nutrition for information regarding plants and other foods that could be harmful for horses.
5. Trail ride with friends
Although you can trail ride in cold weather, there is something special about summer trail rides. Trail riding is a great way to add variety into your regular schooling and showing routine and give your horse a leisurely break from ring work. To combat flies and other bugs while riding through the woods, we recommend the Cashel® Quiet Ride™ Long Nose Fly Mask. It can be worn over or under a bridle, and won't obscure your horse's vision. The extended nose and lightweight ear coverage help to keep annoying flies off your horse's face while you're out on the trails. Pair this fly mask with Farnam® Endure® Sweat-Resistant Fly Spray for an extra shield between your horse and pesky bugs, as well as protection from deer ticks and lice. If you need some space to carry your phone, wallet, or a hoof pick, you'll love the extra-large TuffRider® Trail Riding Pad. It's comfortable for both horse and rider and features a buckle pocket to keep all your small essentials safe and on hand during your ride.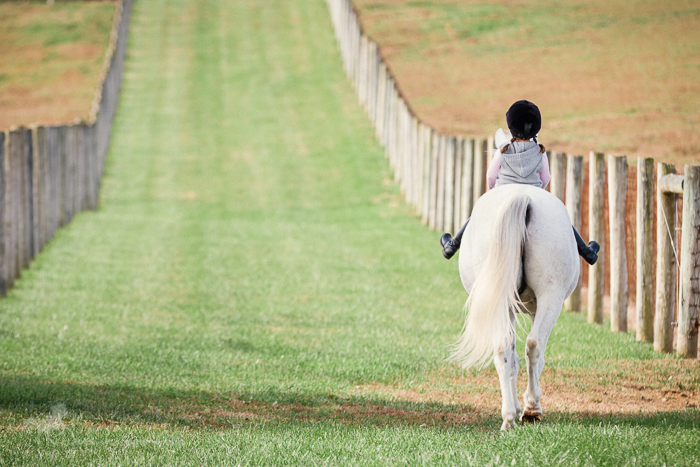 ---
We hope you enjoy all of our fun end-of-summer activities! If you don't have time to check them all off your list this year, you can always add them to next year's summer bucket list. Don't forget to share photos of you, your horse, and your barn pals making the most of these last few weeks of warm weather, and let us know what your favorite summer memories are by using our hashtag, #itsfromdover.