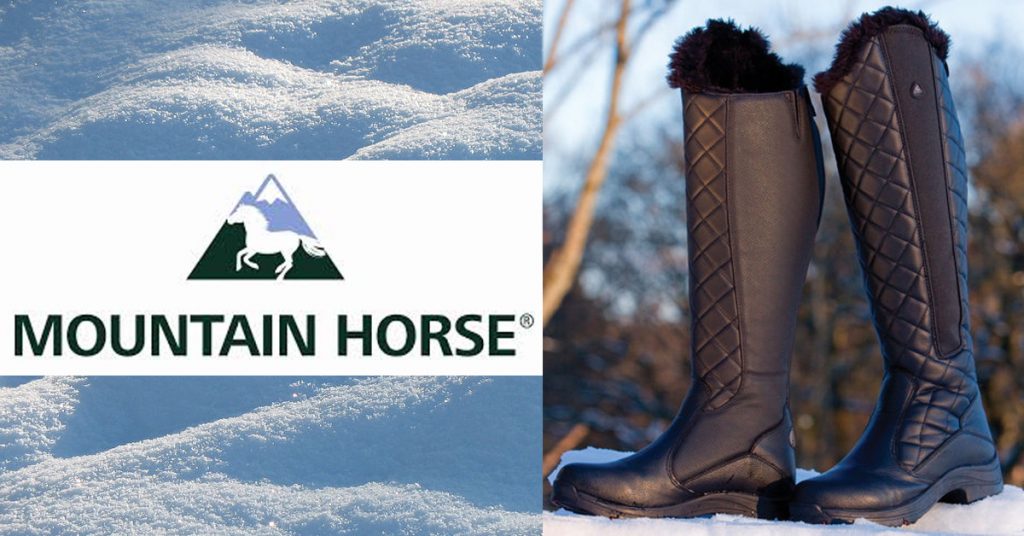 Finding the perfect pair of winter riding boots can be a tall order. In addition to finding boots with the right fit and support, you also have to consider insulation, whether or not they are waterproof, traction and thickness.  With cold weather dropping into the teens in many areas of the country, having winter riding boots that are able to keep your feet warm, dry and comfortable while allowing correct contact with the horse is essential. Mountain Horse's line of winter boots is known for being extremely warm and is one of our favorite brands for the ideal winter wear. If you're considering new boots this winter, here are our favorite options from Mountain Horse that will make your feet happy:
Stella Polaris Boot:  With its quilted design and black faux fur at the top, this boot is by far one of the most stylish winter riding boots on the market. These boots are waterproof, fully lined for warmth and have amazing traction in slippery footing. The slim fit of these winter riding boots makes them ideal for time in the saddle, while an IPS system absorbs shock. A perfect fit is simple to achieve, as this boot comes in both regular and wide calf but also features an elastic panel for individual fit.
Rimrock High Rider Boot:  These boots just look warm, and their appearance is an accurate representation of how they feel. Extremely warm, these boots are also very lightweight, making them perfect for a day's worth of barn chores and riding. A rubber foot and a nylon upper leg treated for extra water repellency make these boots very waterproof. Concerned about them fitting your calf? Not to worry, wide and regular sizes are available, while a hook-and-loop closure along the back makes them easily fit a range of leg sizes and allows for layering of warm pants on those cold days!
Rimfrost Rider III:  Featuring Thermolite® linings, these winter boots for the barn will keep your feet toasty warm. The Rimfrost Rider also features unique Extensia, which is a material designed to withstand over one million flexes in below twenty degree weather, meaning these boots will hold up nicely to the rigors of barn life and riding. These boots have both tall boot and paddock boot variations, all with the same features and waterproof durability.
Ice High Rider III:  Designed for comfort and durability, these winter riding boots also contain the Extensia material to withstand use in freezing temperatures and a Duralon upper for long-lasting wear. For extra stability while riding and walking, there is a removable EVA™ insole and built-in steel shank, as well as an IPS system to absorb shock for all day comfort. These winter riding boots are available in a men's version as well, with all the same appealing features
.
Active Winter Zip Paddock Boot:  If you prefer a paddock boot over a tall boot for winter barn chores and riding, these are a perfect choice. Full lining of faux fur, waterproof outer, durable construction material, shock absorbing IPS system and self-cleaning tred for enhanced grip in slippery conditions make these an ideal paddock boot for winter. Elastic panels on each side allow for custom fit to ensure comfort.
With so many options and variations of winter riding boots to choose from, selecting the best pair for your needs can be daunting. Luckily Mountain Horse and our other top brands all provide an array of options that are equally well suited for barn chores, riding or a combination of both. No matter how you are spending your time at the stable this winter, you'll be sure to have warm and comfortable feet in some of the best boots available.
Let us know in the comments what the warmest winter riding boots you've tried are!