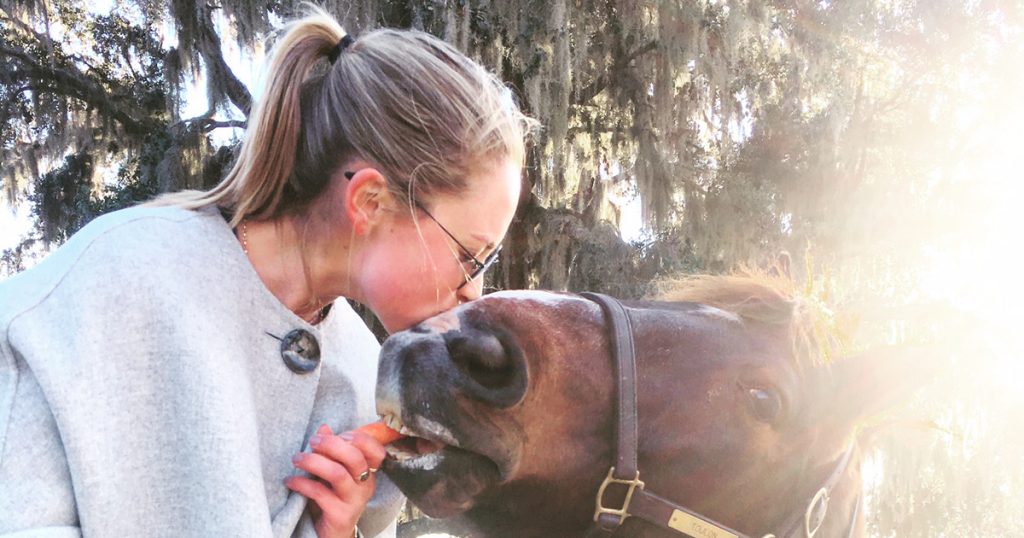 Our new catalog is coming out next week, so we sat down with our cover model, Show Jumper Chloe Reid. She was happy to tell us how she got started riding, what challenges shes had to face and a bit about some of her favorite horses.
How did you get involved with horses and what drew you to them?
In my family, the love of horses skipped a generation. While my brother, mother, and father are not equestrians, I have a very horsey family. My Uncle, Chester Weber, has been on the US Four-In-Hand Equestrian Team since he was a teenager and my grandmother, Charlotte Weber, runs a highly successful thoroughbred breeding and training farm called Live Oak Plantation.
I started riding when I was four years old in 2000. My family was all in Ocala for Thanksgiving and Lauren Hough, who was dating my Uncle Chester at the time, placed me on a pony. They asked if they could take me to Devon for the lead line. I won a purple ribbon! We joke that since that day, I never got off!
As you have developed your riding career, what do you believe was your most rewarding obstacle to overcome?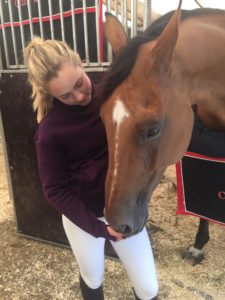 Obstacles come along all the time in equestrian sports. Accepting that, which is far from easy, has helped me. Having my family involved in other equestrian disciplines over such a long period of time helps to remind me that I am not alone when things go badly or good luck seems to have left the building.
How do you balance your busy show and riding schedule with your college class schedule?
I have been juggling two lives my entire life. I attended high school in Washington DC and would travel to Florida on the weekends for competitions. I am fortunate now to attend collage at the University of Miami in Coral Gables Florida. The hour and a half drive now to school is a walk in the park compared to the high school commute.
This semester I am taking five classes. I organized my schedule to overload my classes earlier in the week so then I can head back to Wellington to show later in the week.
To be honest, the most successful times in my riding have been when I've been completely overwhelmed in school as well. When I have schoolwork and riding, I don't have time to overanalyze or get nervous over one. I can't procrastinate my schoolwork and I don't have time to get nervous for a big class.
What are your current riding goals and how do they compare to your riding goals when you first began your career?
I remember when I was just starting riding and fell off for the first time, Lauren Hough told me that I had to fall off a thousand times before going to the Olympics. After she told me that, I would count and be excited I was one step closer to the Olympics every time I took a tumble. Today, while I no longer get excited to fall off, I still have dreams of competing on championship teams representing team USA.
I also have the goal to compete with my Uncle Chester in the jump and drive in Aachen! Sharing the passion of horses with my family makes us really close and to be able to combine our disciplines and compete with Chester (especially at Aachen!) would be incredible.
Tell us about a few of your horses' personalities. What are they like while travelling when compared to living at home? What funny quirks do they have?
One horse that I have had for the past three years is TNT Explosive (aka Pumpkin). He is the sweetest animal I have ever been around. He is a professional selfie taker and his ideal day would be to have a bunch of children to love and play with him in his stall.
A young horse that I have been developing for the past year is named Santauer (aka Santa). We refer to him as the teenager in the stable because he has to sleep (fully sprawled out) every morning and if you try to do anything with him before his post breakfast nap then he moans.
My spicy hot chestnut mare is named Sally 643 (aka Sally). When turning the horses out in the paddock, if she doesn't go first then she throws a fit! If she was to be described as an emoji she would be the lady salsa dancer.
What advice would you give to aspiring riders who would like to become such an accomplished rider as yourself?
If I have learned anything from riding horses it is that the highs and lows are not far apart. Even the best riders in the world are only winning 20% of the time, if they are lucky. It is really important not to let the set backs or downtimes hold you back, but instead to learn from these challenges so you can continue to improve.