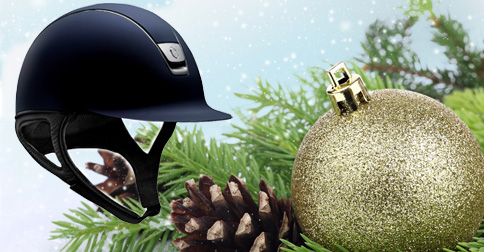 With just a little over a week until the holidays arrive, you may still be looking for that perfect gift for the special equestrian in your life. Stocking stuffers and smaller horse gifts can be quick to think of and pick up, but that one, bigger, special gift can sometimes be tricky to get just right. Not to worry! We have compiled a list of some of our favorite, high-end items that are commonly on wish-lists and make great horse gifts for the equestrian in your life. Choose the one you think is perfect for your loved one and make the holiday something to remember this year!
Riding Apparel
Horse Clothing & Tack

Horse Blanket – Sometimes a gift for a rider can actually be a gift for her horse! With winter, snow, cold rain, wind and dropping temperatures are to be expected, leading to a horse owner who worries that her horse is warm enough. Receiving a reliable, waterproof and warm turnout blanket, like the Rambo® Supreme, can be just as exciting to the horse owner as getting something for herself to wear.
Horse Boots – Help the rider in your life keep her horse's legs protected with EquiFit D-Teq™ horse boots. These boots are designed to offer an essentially custom fit with special liners designed for maximum shock absorption and support, while allowing air to circulate to keep legs cool.
Saddle – Receiving a brand new saddle is a holiday gift to remember! The Pessoa Heritage Pro XCH is extremely comfortable for both the rider and horse. An adjustable tree and three different panel styles suit the back of the particular horse it will be used on, while four flap position options give the rider optimal comfort.
Half Pad – Help eliminate pressure on the horse's back with a half pad like those made by Mattes. These pads are perfect for horses with sensitive backs or larger withers, and are breathable and will wick moisture away as the horse works. As a bonus, the dense sheepskin lining will mold perfectly to the horse's back, eliminating any friction.
All of these ideas for horse gifts, along with our many other high-end items available, will hopefully help you find the perfect gift you've been seeking out for that special equestrian. Whether you select a piece of well-styled riding apparel, a sturdy blanket for their horse or that coveted piece of tack, your gift will be sure to make a holiday memory your loved ones will not soon forget.