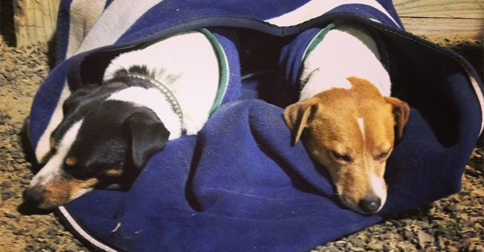 For many equestrians, horses are not their only four-legged friend, and a barn dog is not usually very far away. With the weather turning colder, you may be leaving your dog home more often when you go to the barn or even shortening your walks for fear that your pup is cold. While it's true that time spent outdoors may be limited in low temperatures, you can take some key steps to help your dog stay warm and happy so he can continue to enjoy time with you on walks and at the barn this winter.
Proper Shelter:  If your dog spends time waiting for you at the barn, make sure he has a bedded area that is appropriate for colder temperatures. Providing a spot where your dog to lay down that is away from the wind, snow and rain will remove elements that would make it harder than necessary for him to stay warm. An unused stall or corner of your tack room can be great locations to set up a home base for your dog at the barn. Once you've found an appropriate location, give him a warm fleece blanket to lie on- a horse cooler can be  the perfect thing to use!
Account for Coat Growth:  Your dog's coat plays a role in keeping him warm by insulating him. If your dog's coat is trimmed or if he has short hair, a well insulated blanket like the Turnout Dog Blanket, which has a fleece lining, can help to keep him comfortable in the cold. Similarly, if your dog is older and has a harder time keeping himself warm, a blanket can help.
Utilize a Dog Blanket: When the air becomes chilly, a dog blanket can be the perfect accessory to keep your dog warm and allow him to continue to enjoy time outside and regular walks. Dog blankets such as the Rider's International Fleece dog blanket are made with 300 gram poly fleece material, fit dogs wonderfully and do a great job at keeping them toasty. For even more protection, Blue Ribbon offers a custom water-resistant dog blanket to protect your pup from snow and rain while staying warm with a wool felt insulation and comfortable lining. Here are some additional fun options if you want to match your dog blanket to your horse's:

The fleece Rambo® Newmarket Dog Blanket will look adorable as your dog sits next to your horse dressed in his Rambo Newmarket Dress Sheet or Cooler, in any of the three available, striped colors.
Both your dog and horse will stay warm and dry in their waterproof Rambo blankets- The Rambo dog blanket for your pup and the Rambo original for your horse.
Rider's International offers great, warm style for your dog with the fleece-lined dog blanket or the waterproof dog turnout sheet, which both will go nicely with the Rider's International Supreme Turnout for your horse!
Giving your dog some help in the form of shelter to block wind, coolers to snuggle in and dog blankets to keep warm and dry will help maximize the time he can spend outside with you when the temperature drops this season. Even utilizing these tips, some days are just too cold for any length of time outside, so make sure you watch your dog for shivering and signs of trouble staying warm. And don't' forget- while your dog blanket is doing a fabulous job keeping your dog warm and dry, he's also looking adorable in his tiny horse blanket! Make sure your dog is just as protected as your horses this winter.
What do you do to keep your dog warm in the winter? Let us know in the comments!