With so many great products, Absorbine® is always happy to give us more information about any we are particularly excited for. Here they let us know how Magic Cushion® can help painful hooves and provide instructions on how they recommend using it.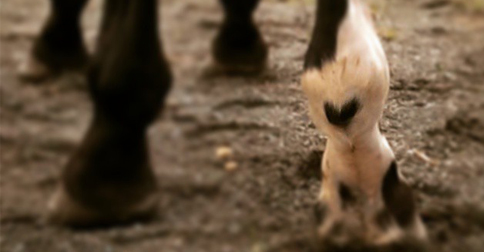 Many types of equestrian activities and environmental conditions, whether training and competition, endurance and trail rides, dry and hard ground or even a transition from shod to barefoot, can put an added strain on your horse's hooves. Chosen by top riders and farriers, Magic Cushion hoof packing is the solution for overworked, overheated hooves and is proven to provide fast, soothing relief. Thermal images show Magic Cushion begins to reduce hoof heat within one hour of its application and continues to work for up to 24 hours. Magic Cushion is also effective in relieving symptoms of hoof concussion and trauma and calms inflammation and soreness throughout the sole and frog. The natural, veterinary formulated hoof packing comes in two options, the original Magic Cushion and Magic Cushion Xtreme, which uses a higher concentration of ingredients to provide faster, stronger relief for performance horses.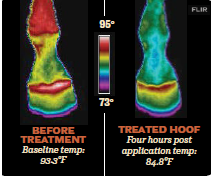 When packing Magic Cushion, whichever way you choose, don't over pack! Magic Cushion can be used as needed on shod or barefoot horses, or under a shoe and pad and left in place throughout the shoeing cycle. If you horse has shoes, packing their hooves is a breeze:
Step 1– Thoroughly clean all areas of the hoof using a hoof pick, and if necessary, a stiff or wire brush. This is an important step because Magic Cushion must come in direct contact with the sole to be effective.
Step 2– Using gloves or an applicator, apply an amount of hoof packing to the sole sufficient enough to cover the entire sole and groove of the frog about ½ inch in depth.
Step 3– If your horse has shoes on, put his foot down in sawdust or shavings to keep the hoof packing in place and to allow the liquid ingredients to be absorbed into the sole. If your horse is barefoot, you need to wrap the hoof to keep the hoof packing in place. Replace the packing every 24-48 hours.

If your horse is barefoot, after the steps above, follow by wrapping with paper (the brown paper from a shavings bag works great and is easy to cut to size), cotton, vet wrap and duct tape. This will get the best results by helping to hold the hoof packing in place. 
Tips and Tricks
Don't over-pack – The more you use, the messier it will get as the excess packing will migrate out of the hoof. The average sized horse hoof only takes about 3 oz. of Magic Cushion to pack, which is about the size of a golf ball. If used properly, a 4 lb. tub will pack up to 20 hooves; this of course varies based on the size and depth of the horse's hoof, but it's a good guideline to follow.
Prepare your supplies – If your horse is barefoot, to get the most out of Magic Cushion, we recommend wrapping it. Having your supplies laid out and ready-to-go will make the process quicker, easier and cleaner. Don't start with the diapers! It's important to first put a paper bag, preferably cut to fit the hoof, over the Magic Cushion, so all of the active ingredients don't get soaked up in the diapers or cotton. Adding a diaper or layer of cotton after the paper will prevent the pastern skin from rubbing. Follow with vet wrap and cohesive bandage, and your horse's hoof will be wrapped to last!
Keep things easy – As a preventative measure, make sure to wear gloves while handling Magic Cushion and keep it away from your clothes because it may stain. But, if you do end up with a Magic Cushion any place that you don't want it, whether it's on the floor mats or your skin, Absorbine's Veterinary Liniment or isopropyl alcohol, will help remove it. Don't forget, Magic Cushion is a very sticky substance (its sticky nature is what helps keep it packed into the hooves and in direct contact with the sole so that the active ingredients can work their magic!), cover the rim of your container with petroleum jelly, so that you can easily remove the lid the next time you need to pack your horse's hooves with Magic Cushion
With proven results, Magic Cushion is the answer to providing you horse with the comfort he needs to power through sore hooves with fast, soothing relief.