Our friends at Absorbine® explain how their Hooflex® Concentrated Hoof Builder works and show what kind of improvement you can see.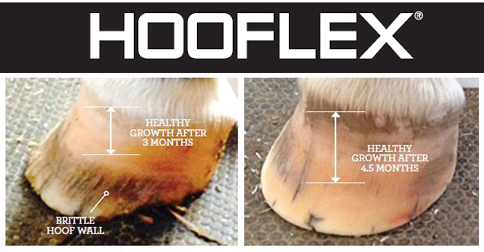 Your horse's hooves endure a lot throughout their daily activities. Talk with any farrier about hoof health, and you're likely to hear the same thing: it starts from the inside out. That's why Absorbine set out to develop a new formula that meets horse owner demands for a hoof supplement that delivers the results they're looking for at a great value. Hooflex Concentrated Hoof Builder contains targeted nutrients with no fillers, giving your horse what he needs to support healthy hoof growth.
To develop the new Hooflex formula, we partnered with professionals in equine nutrition as well as farriers. This nutritionist formulated supplement uses high quality ingredients targeted to provide the essential building blocks for supporting strong and healthy hooves. Some key features that help Hooflex Concentrated Hoof Builder deliver proven results include:
No added fillers allowing for a concentrated serving size of only 2 oz. per day.
Each serving size offers 24 mg of purified biotin, which plays an important role in hoof growth and strength.
The formula utilizes Zinpro Performance Minerals® 4-Plex®C to deliver essential hoof minerals (zinc, copper, manganese and cobalt) in chelated form. Chelated minerals feature minerals combined with amino acids and peptides, helping make the minerals more digestible and enhancing their bioavailability. Performance minerals must meet five essential performance criteria: return, response, repeatability, research and reassurance.
Use of advanced prebiotics. Prebiotics are natural food ingredients that helps the growth of healthy bacteria in the digestive system. These non-digestible microbes help maintain a resilient hindgut while also helping support feed digestibility and nutrient absorption; this is why we've added two prebiotic ingredients into Hooflex Concentrated Hoof Builder – Tasco® AOS, a natural marine plant product, provides powerful prebiotics helping to support nutrient absorption and Diamond V® Original XPC™, an all-natural prebiotic that, when active, helps support digestive health. Original XPC™ is produced using a proprietary saccharomyces cerevisiae fermentation technology that generates unique functional metabolites proven to be beneficial for animals.
After creating our original Hooflex supplement, we put it to the test! We conducted a six month field test with farriers from the American and Canadian Association of Professional Farriers and members of The Second Company Governor's Horse Guard in Connecticut. Fifty horses throughout the U.S. and Canada were placed on Hooflex Concentrated Hoof Builder. The participating horses ranged in age from 7 to 28 and included a variety of breeds and types, from Thoroughbreds to Draft Horses. On top of it, the horses tested took part in a range of activities from pleasure riding to competitive disciplines. These horses were fed a two-ounce serving of Hooflex Concentrated Hoof Builder once daily and maintained a regular hoof care schedule with their farriers. Participating farriers took photos and measurements throughout the six month period to evaluate the efficacy of the supplement.
What did we find? An overwhelmingly positive response! The average hoof grows 1.9 inches in a six month period without the help of a supplement. Horses put on Hooflex Concentrated Hoof Builder saw an average hoof growth of 2.43 inches in a six month period, with 33% reaching 3 inches of hoof growth! Farriers reported significant new hoof growth in horses that had previous issues with slow, poor hoof growth and quality. The before and after pictures show healthy hoof growth, eliminating long cracks and brittle hoof walls. Other results reported from farriers include: improvements with holding shoes and clinches, hoof walls not breaking down and overall stronger hoof walls.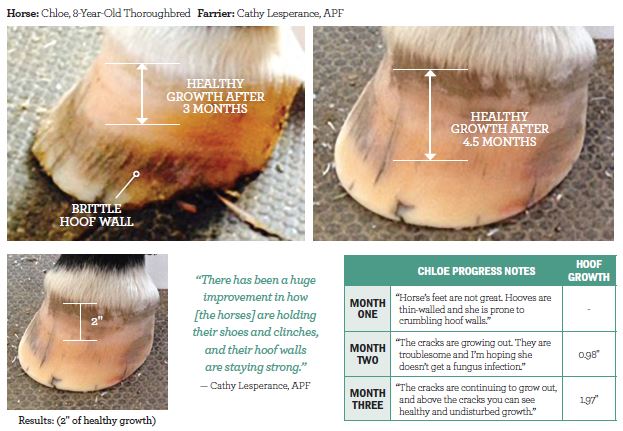 Hooflex Concentrated Hoof Builder delivers targeted hoof nutrients along with prebiotics and chelated minerals to support bioavailability, and the low cost per day provides exceptional value in a concentrated serving size with no fillers. With this addition to the trusted products in the Hooflex family, Absorbine can truly provide hoof care from the inside out.