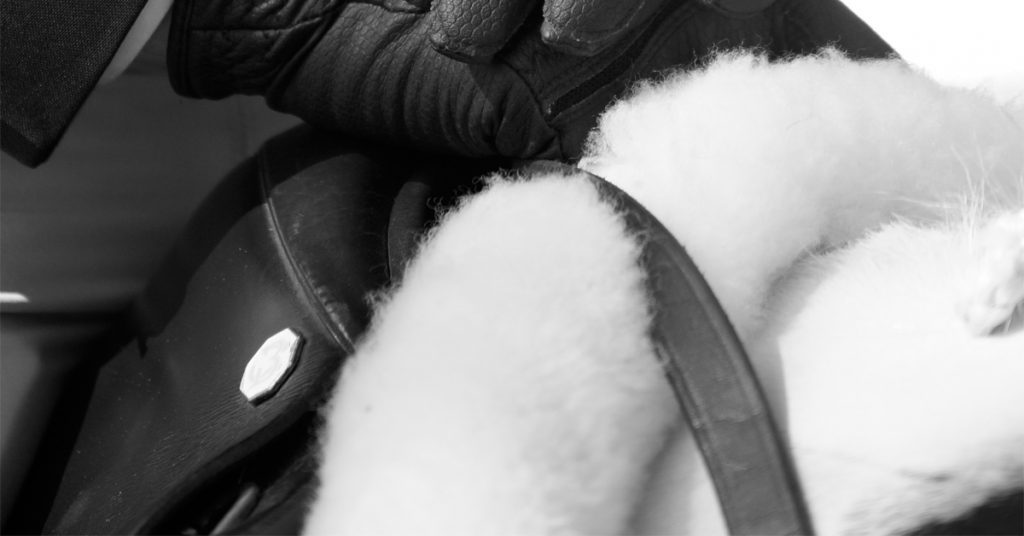 Equestrian tack and supplies are made from a variety of materials, with each having its own merits. Synthetic fleece, made to appear as sheepskin, is often seen in saddle pads, horse boot linings, halter fleeces, girths, saddle seat savers, grooming mitts and more. Here are some of the reasons why synthetic fleece is a great option when you are purchasing new tack.
Comfort – Synthetic fleece is a soft material that offers cushioning where it is used. It gently forms to the horse's body shape, while offering protection against rubs and abrasions. Fleece lined halters or girths are often used on horses that are prone to chafing from nylon or leather. Other tack pieces, such as breastplates and nosebands of figure 8 bridles, feature synthetic fleece in spots where pressure is exerted on the horse to help cushion the area and keep the horse comfortable. A saddle pad, like the SupaFleece-Lined Shaped Pad from Shires, can use synthetic fleece against the horse's skin for comfort, as well as rolled at the edges to help eliminate shock, sores and rubbing.
Lifespan – Unlike genuine fleece, the synthetic variety is less likely to become matted or compacted. If the fleece is used against your horse's body, such as in a saddle pad or horse boot linings, your horse's sweat will not cause synthetic fleece to break down as easily as it would genuine fleece.
Maintenance – With so much tack to take care of and keep clean, easy-care items are often appreciated. Synthetic fleece is easy to care for and can be tossed into the washing machine with regular laundry detergent for a full cleaning. For a quick refresh, it can be brushed with a hard brush or comb to smooth out the surface and remove any debris that may have stuck to the material.
Value – Synthetic fleece is an economical choice of material. For example, fitted saddle pads used in competition can be expensive, but synthetic fleece is acceptable in the show ring and is an affordable option. Another great example of this value is found in fleece schooling girths, like the Shires Fleece Girth, which offers comfort for your horse day-to-day at a low price point, so you can save your nice leather girth for the show ring. Combined with the long lifespan and ease of maintenance, the value of synthetic fleece speaks for itself.
As you get your horse ready daily, notice if there are areas where he has rubs or where tack puts a lot of pressure on his body. These might be areas where tack featuring synthetic fleece may be beneficial to try. In the case of synthetic fleece, comfort, value and beauty can go together quite well.