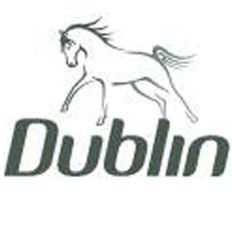 Riding boots are somewhat unique in the footwear world. They must blend practicality for use while riding and working around the barn, with style for wearing with pride. Dublin boots do this perfectly, supplying barn-durable boots in a wide variety of popular styles and fashions. Dublin boots are designed to give you high performance and comfort in a stylish boot that you can wear all day, whether you are at the barn or out around town.
While traditionally riding boots have been made exclusively of leather and wood, Dublin boots are made with top quality leather augmented by high-tech rubber and composite materials to give you both better functionality and a classic look. Dublin riding boots are made of the finest materials available today, and while a good pair of riding boots is not inexpensive, a pair of Dublin boots is sure to give you many years of service. Designed to give you the ideal balance between fashion and performance, Dublin boots will hold up to whatever nature throws at them. Their rubber and composite soles are designed to give you a secure grip both in stirrups and on all surfaces in any weather.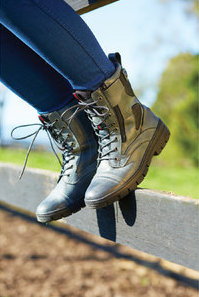 The Dublin Renegade Boots are a great example of what the brand has to offer. They feature both a lace front and side zipper to be adjustable, yet easy to put on and take off. The breathable mesh lining ensures that your feet stay dry and cool all day, while the steel shank and comfortable foam insole give you unparalleled support while cushioning your feet. Finally, these boots are made of beautiful distressed leather, making each pair a unique work of art.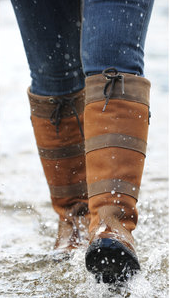 For cold weather riding next winter, the Dublin Eskimo River Boots are designed to keep your feet warm and comfortable in any weather. The waterproof treated Redskin leather keeps your feet dry, and the rubber sole helps you keep your feet firmly planted on any surface, even in wet or muddy conditions. The drawstring closure keeps your pants securely in your boots to help keep water and snow out as you work with your horses. In the warmer months, the Dublin RCS Tall River Boot is a popular choice. Featuring redskin leather, a Tough Tech sole, and a breathable construction, Dublin River Boots are as comfortable as they are versatile.
In addition to these models, Dublin has many other styles of boots to fit any need. From rugged working boots that will get you around the barn, to sleek boots that are suitable for any social situation, Dublin boots are ready to stand up to anything you are.