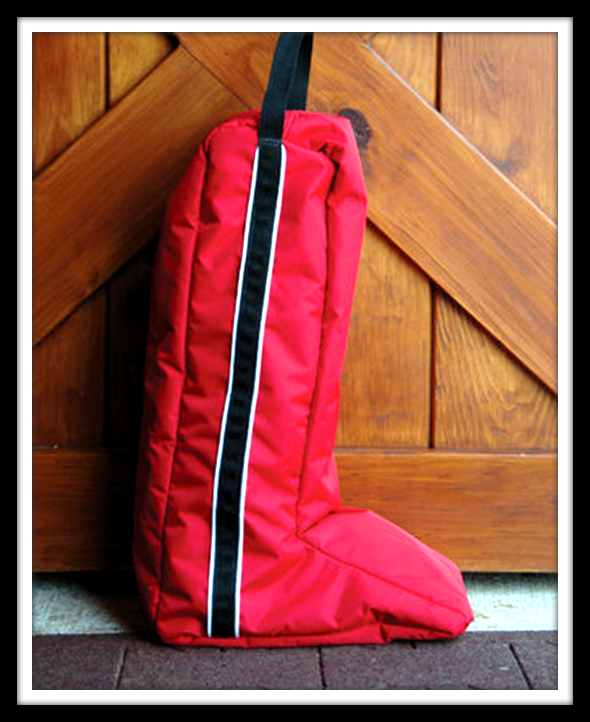 Horseback riding requires a lot of tack and associated items like helmets, boots and extra clothing for yourself. You may not always be able to leave everything you need at your barn, but a variety of bags specifically designed for aiding in the storage and transport of your tack and accessories are available to solve the problem. You'll find barn bags are available in many fashionable styles, with some even offering custom options to match them to your barn colors. Whether you're going straight to the barn from work and need a change of clothes, have nowhere climate controlled to store your helmet at the stable, or are heading off to compete at a horse show, a barn bag exists to hold whatever you need to take with you.
Here are a few barn bags that will make your trips to the stable much more organized, while keeping all your equipment clean and neat:
Boot Bag:  Rather than climbing into your car after spending time at the barn, and dragging all the dirt and shavings in with you, change out of your boots and carry them home in a boot bag, like this one from Huntfield's. Carrying handles, a sturdy base and metal feet on the bottom to keep this barn bag from wearing through, all make this a perfect carrying case that will stand up to the stable enviornment. Boot bags are also highly convenient for transporting your nice tall boots to and from the show grounds.
Garment Bag:  Whether you are taking your show clothes to a competition, or storing office attire that you have changed out of at the barn, a garment bag will protect all your best clothing from the dust and debris around the barn. By storing and transporting your change of good clothes in a garment bag, you avoid wrinkles and make it easy to carry everything with you.
Helmet Bag:  Since your helmet should not be stored at the barn unless there is a climate controlled area for it, you should bring it home with you after each ride. If this is one of the only items you are bringing with you regularly, a simple helmet bag will do the trick. Most helmet bags will fit your helmet and other small items, like gloves or hair nets.
All Purpose Barn Bag:  If you prefer to carry just one bag, a larger tote or duffle style barn bag may be right for you. In a large tote bag, you could carry boots, a helmet, extra clothing and all other accessory equipment you may need. Small size totes are a good solution if you don't need quite as much room for your regular travels, or are just looking to transport a change of clothes and all the other small items that go along with horseback riding.
No matter what you need to bring with you to and from the barn, you'll find a great bag to transport those items successfully and in style. Stop trying to balance all your items in your arms and stop making multiple trips back and forth from your car. Invest in a barn bag to help you keep all your belongings organized and easy to carry. And most importantly, don't forget to pack the horse treats!