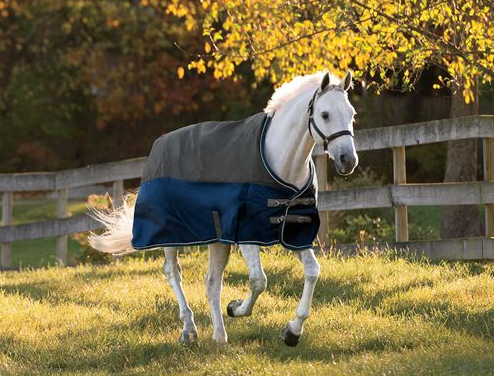 When it comes time to select a new horse blanket, there are many features to consider. If you're new to blanketing, you may be wondering what some of the horse blanket terms mean. By understanding all the horse blanket vocab, you can make an educated choice for your horse this season. Here is the most common horse blanket terminology and what it should mean to you:
Turnout Blanket – Worn outdoors in turnout but also comfortable and breathable enough to be worn indoors when stabled; waterproof outer layer.
Stable Blanket – Worn indoors when stabled; not waterproof.
Shoulder Gussets – Sewn-in construction that begins above the point of the shoulder to allow freedom of shoulder movement and help eliminate should rubs.

Leg Arches – Found on Horseware blankets; allow for freedom of movement and eliminate tightness behind front legs.

Tail Cover – Flap of fabric that hangs over the top portion of the tail to help provide additional wind protection.
High Neck – Extended coverage partway up the neck past the withers, but not to the poll.
Neck Cover – Extension of the blanket that covers the horse's neck from withers to poll. Can be separate and connected via straps to D-rings, or attached permanently.
Surcingle Front Closure – Sometimes referred to as a T-buckle closure; connected straight across the chest.
Clip and Dee Front Closure – Once adjusted only requires clipping one side to a Dee-ring on the other; connected straight across the chest.
Buckle Front Closure – Buckles in the way a belt would, straight across the chest.
V-front Closure – Two clips from one side clip at angles to a ring on the other side; connected to create a "v" shape across the chest.
Leg Straps – Found on the back of the blanket to help hold the blanket in place by attaching around hind legs.
Tail Cord – Alternative rear closure method to leg straps. Attaches one side of the blanket to the other beneath your horse's tail, helping to keep the blanket in place.
Surcingles – Straps that pass underneath the horse's belly. Variations either cross or go straight across. Typically two, but sometimes three straps are present.
Belly Band – Alternative to surcingles, this is a wide band of blanket fabric to add additional warmth by preventing heat loss from the belly.
Denier – Unit of linear density measurement. The higher the denier, the stronger and more durable the material will be. Range from 70-2400.
Ballistic – Synthetic nylon used in blankets to withstand rough treatment. Very durable and limits ripping and tearing.
Rip-stop – Lightweight nylon woven into blankets in a way that makes it resistant to tears or rips. Provides wind and water protection, but not warmth.
Poly Fill (fill)– Insulation, typically polyester, that is measured in grams and provides warmth. The higher the fill, the warmer the blanket will be.
If you are looking for more information on horse blankets, our guide About Blanketing and Horse Clothing could be helpful. If you're ready to put your blanket on your horse, take a look at our Tips for Fitting Blankets or Sheets. And remember- take the time to learn How to Measure Your Horse for a Blanket prior to purchasing the blanket you select to help ensure you get a good fit on the first try.
Happy blanket shopping!