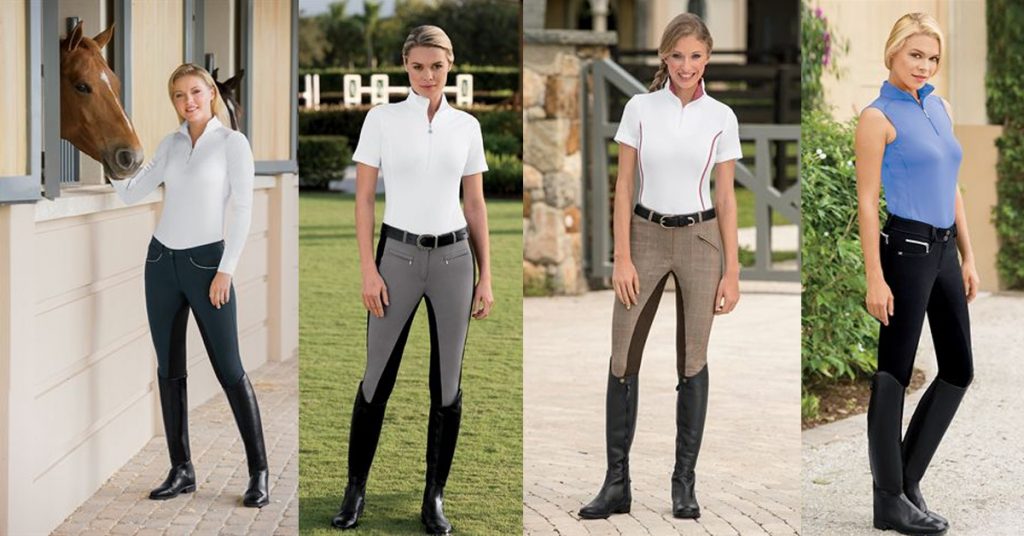 Avid riders spend a lot of hours at the barn, which means a lot of time in riding clothes. If you are anything like us, you end up running errands, meeting friends for lunch or even stopping by the office in those clothes as well. So why not express your personality and unique style with high functioning breeches? Fashion and function truly do go together with this season's new Riding Sport™ breeches which offer the best technology for performance, updated styling and a price tag that will bring them to your closet.
Like your outfits to have a bit of flair and sparkle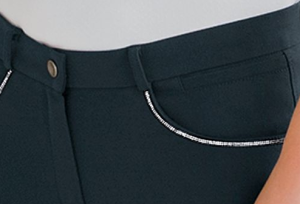 while still remaining classy? The Riding
Sport Bling Full Seat breeches feature Swarovski crystals lining the edge of the front pockets to give you that stand-out sparkle. The base of these sleek charcoal colored breeches is traditionally styled with back pockets, front pockets and a front-zip closure to keep contents safe. Your comfort in the saddle is ensured with Flexi-cuff pant leg bottoms to fit seamlessly inside boots and a Clarino™ full seat for grip.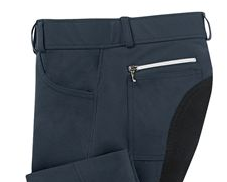 If you are more of a conservative dresser, the Riding Sport Uptown Full Seat breeches come in black or charcoal with a flash of white in the pocket zippers and contrast stitching that give them the perfect amount of pop.  The same elastic leg bottoms as the Bling breeches remove bulk in your boots, and grip in the saddle is aided with the Clarino full seat here as well. The Uptown breeches come in a knee patch version as well.
Even if you're not competing in Europe, you can look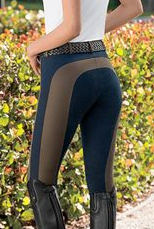 the part with European styled breeches like the Riding Sport Empire Full-Seat Breech or Knee-Patch Breech. These come in either charcoal with black along the sides of legs and rear or taupe with navy. The sleek, fast lines of either color are very flattering and make for one of the most elegant breeches available. Not only do they compliment your look, they also aid in your comfort with a 4-way stretch fabric that makes them extremely comfortable.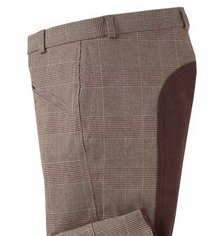 For those riders with a preppy style, the Riding Sport Plaid Full Seat is likely to be a favorite. Made mostly of a woven cotton fabric, a bit of spandex is used to allow stretch for ultimate performance and comfort. Both grey and brown plaids give a refined, classic look while you're in the saddle and out and about after leaving the barn.
While we can visualize each of these breeches on certain people we know, we can also see ourselves wearing all of them! Don't be afraid to mix up your style and try a few looks, especially considering each of these breeches will keep you equally secure and comfortable while you ride. No matter which Riding Sport breeches you select, they are sure to be the perfect choice, from both a fashion and function perspective.