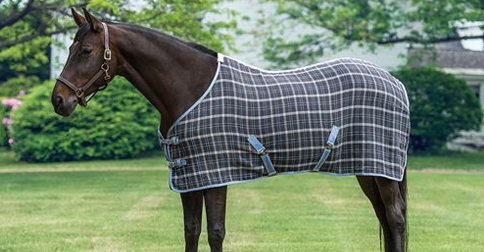 Having a good quality horse cooler is invaluable. The right cooler has a use in every season- from keeping a sweaty horse from catching a chill in winter to helping a freshly bathed horse dry off comfortably on a summer evening. One of our favorite multi-purpose horse sheets is the Upland Honeycomb Chill Chaser. Here are five reasons we love this product and make sure each of our own horses has one:
Multi-Functional – The best thing about the Chill Chaser is that it can be used for a range of purposes. Throw it over your horse as a cooler after a hard workout in the winter to keep him from catching a chill as he dries. Layer it under a turnout or stable blanket on a cold day or night as a blanket liner. Use it as an anti-sweat sheet to help your horse dry off after a bath on a cool summer evening before a show. Or dress your horse for a comfortable trailer ride on a chilly day with it as a travel rug. With so many ways to correctly use this sheet, you can see why we think it's a good asset to have around!
Quality – Made of a heavy 100% cotton material, the fabric of the Chill Chaser stands up to a lot of use. The fabric feels soft to the touch despite being woven thickly for durability. Additionally, your horse will be comfortable with nylon-lined shoulders that limit rubbing. This is a horse clothing item that will remain in your trunk for years and years.
Affordable – Priced at just under $50 for standard colors and $55 for the new plaids, the value of this sheet is unmatched. Monograms are also available as an add-on for a personalized touch.
Stylish – The Chill Chaser originally came in eight different color combinations, including two with stylish striping along the horse's back. This year we have added three gorgeous plaids that will look amazing on your horse at home and on show grounds.
Easy Care – Shavings are easy to brush off the material of this horse sheet, and when it's ready for a refresh it is malleable enough to fit easily into most washing machines for a quick wash. As with any cotton clothing item, care should be taken to avoid shrinkage- best to wash on cold and hang to dry.
Now that you know why we love the Honeycomb Chill Chaser from Upland, pick out your favorite color and give it a try yourself! We are sure both you and your horse will be glad you did.
Already have one? Let us know how you like it in the comments!