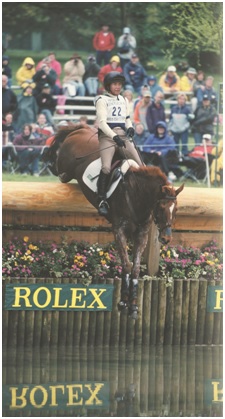 Guest Blogger Four Star Eventer Corinne Ashton shares her experience getting herself and her American Thoroughbred gelding Dobbin ready for a three-day event. Entry represents the personal opinion of the blogger and is not formally edited.
Firstly there is the obvious: your horse is sound and fit.  This is true for any level of eventing. Just how many hills you have gone up for your fitness regime depends on the level of competition and the individual horse. Smaller Thoroughbreds, like Dobbin, get fit easily and cause less pounding on their limbs, but work with your vet and trainer to ascertain a good regime.
Equipment! You've spent weeks–no months and years — gathering the necessary equipment! Look around, see what others are using, even ask them why and what they like about the tack and gear they've chosen. Look in magazines, online and in tack shops, and pick the brains of the staff in tack shops as many are  riders themselves.  I'm a believer in less is more; Dobbin taught me that.  Start with some really good quality equipment, including a well-fitting saddle and bridle.
So from your arsenal of equipment you know what you are going to show in.  How?  Because you've done some jump and xc schools, maybe a lower level show or maybe just in a lesson.  That equipment is cleaned and packed in the trailer, if it is not in daily usage. No last minute packing!
In the last few days before the event you can't really change too much about his training, that was all done in the weeks and months leading up to this, and of course you know you are entering an appropriate level as your trainer(s) approved.  But you can be sympathetic to his needs, is he a horse that likes to be out in the field with his buddies (most do). Then facilitate as much of that as possible, he knows there is an upcoming big competition and needs his nerves soothed.  On that note don't go overboard but you could add some stomach soothing supplements, I use UlcerGard and Assure® Guard. If you are stabled at the show, hand walk your horse as much as possible.  I know all those Rolex horses will be walked, walked, walked and hand-grazed–very important!
You, the rider, want to look as spiffy as possible, but as with your horse perhaps you don't want to be sporting first time goods at a big event.  Have a trial run of clothes, break in any new boots, and make sure they are shined before you get there, and most importantly have the best possible safety equipment, helmets and xc vest.  This is an area to spend a little more money on, there are a lot of choices out there, read, ask and try on.  I know I would be happy to share my views with anyone who asked so don't be afraid to.  And I have some real experience of what such equipment needs to do! Haha!
Also be in the best physical shape possible. There's no point in having your horse fit and ready and you not.  Go to the gym, take yoga classes, see a chiropractor and other such means to feel your best.  One Rolex I managed to pull a muscle in my lower back (due to some spine misalignment) during my dressage test which resulted in me having to withdraw. Dobbin, however, was in excellent form!  Now that was cruel!
So we all have some phobias and good luck charms that are ok. Go with them.  Some of mine are to wear the same jewelry for the jog up and never cut the horse's whiskers, the latter being something to do with Samson losing his strength when his hair got cut off or is it just because they use their whiskers as a feeling mechanism? At my first Rolex, I went off to change for the jog and came back to discover one of the helping girls had taken a pair of scissors to Dobbin's whiskers!  Agh how could I continue? He did however go on to jump clear, proving my theories inaccurate, BUT Dobbin has never had his whiskers cut again!
Last but not least, most of us do this for fun, be as prepared and organized as possible but never forget to appreciate and enjoy your horses and your journey with them!
How do you prepare your horse for a show or event? Leave a comment below!