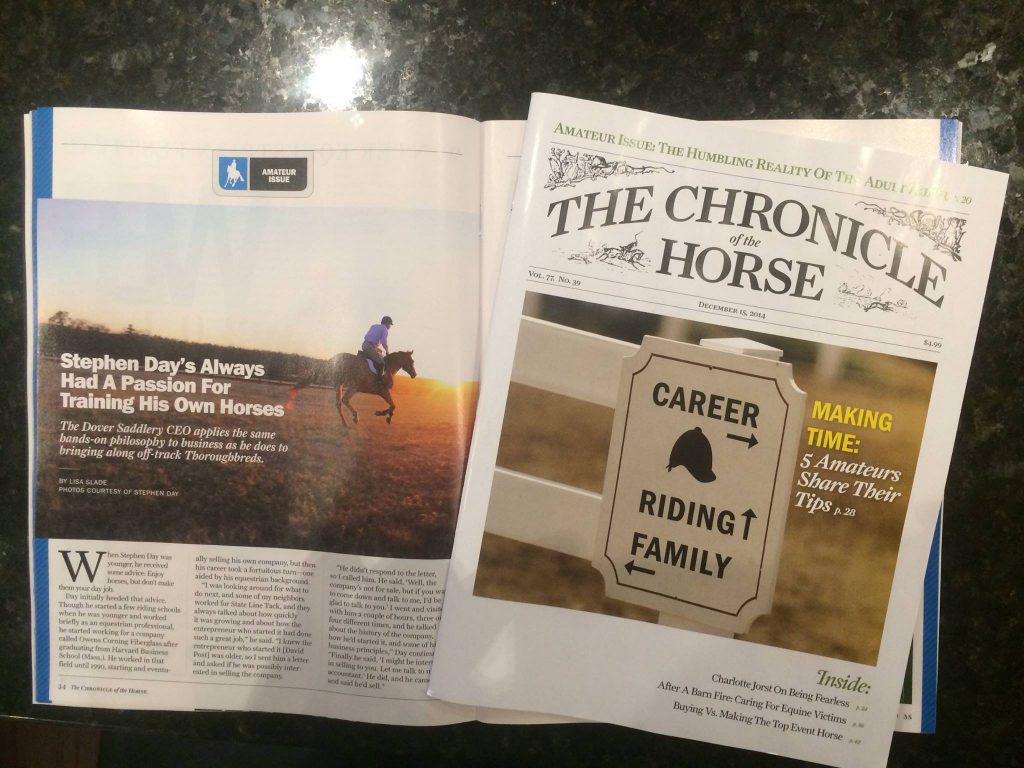 Last month, Chronicle of the Horse featured our very own CEO, Stephen Day, in a fascinating interview and story of his career in the equestrian world. Steve started to ride when he was twelve years old and hasn't stopped since. He has worked with prominent trainers and Olympic riders, started riding schools, managed riding facilities at a Playboy Club, owned a range of equestrian supply companies, trained many OTTBs and currently has farms in Hollis, Massachusetts and Aiken, South Carolina.
Dover Saddlery has grown immensely under Steve's leadership and will continue to do so with many additional retail stores planned across the country, as well as continuous growth of catalog and online business. Making the purchase of tack, riding apparel, stable supplies and more as fun, simple and easy for the customer as possible is the goal, while supporting the riding community through sponsorships and donations.
Steve has been an exceptional horseman his entire life, starting to ride when he was twelve, and his passion for horses is reflected in the way Dover is run.  The high-quality products and outstanding customer service we offer to our customers are because we are a horse business run by horse people, and these are the products and services we would want to see.
Read the December 15th issue of Chronicle of the Horse here and flip to page 34 to read the full article about our wonderful CEO, Stephen Day!