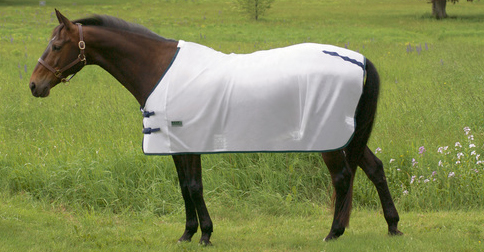 With plush, green pastures, bright sunny skies and warm temperatures, summer can easily be your horse's favorite time of the year for turnout. While chilly temperatures are gone, and winter blankets have been sent off for washing or storage until next season, your horse may still benefit from being covered with a fly sheet. A fly sheet does more than just ward off flies, so before you decide your horse is fine sheet-free, consider these reasons he might need one:
Irritation Protection – The most obviously benefit of a fly sheet is clearly its ability to protect your horse from insects. Biting and pestering insects can quickly make the most beautiful day miserable for your horse while he's outside. Horses can become agitated by relentless bugs, leading to pacing or running fence lines, which can lead to injury or overheating. A fly sheet helps your horse relax during his time outside, giving him relief from bugs so he can calmly graze. A fly sheet, such as the Rider's International Stretch Micro Mesh Fly Sheet, features a stretch fabric for ease of movement and comfort.
 UV Ray Protection – Many fly sheets, such as the WeatherBeeta Kool Coat Airstream Detach-a-Neck Sheet, offer UV protection against the sun's rays. By using a fly sheet with UV protection, you will help prevent coat bleaching in dark-colored horses. Light-colored horse can also benefit in a different way, by lowering chances of sunburn or skin cancer as UV rays are reflected off the sheet.
Health Protection – Some horses have skin allergies caused from reactions to insect bites. Use of a fly sheet can help to eliminate bumps, welts, rashes or other skin irritations caused by biting flies and bugs. Additionally, some bugs, such as mosquitoes, carry disease, so protecting your horse from these bites can be very beneficial. If your horse has any scrapes or cuts on his body, a fly sheet can also keep bugs away from those areas where they would normally be drawn to lay eggs or cause infection.
While you may hesitate to put a layer on your horse during hot weather, a fly sheet should not make your horse sweat. Made with lightweight mesh, fly sheets are breathable and allow air flow. They can actually make a dark horse cooler, since they are generally made with light, UV ray reflecting colors. While fly sheets will allow rain through, they will continue to keep flies away after a summer shower. Combined with fly spray, your horse will have a full, effective barrier against pestering insects in all summer weather. Some fly sheets, such as the Rambo® Fly Buster™ Fly Sheet even contain fly repellents in the material!
Soft materials, gussets for full range of movement and secure closures all help to ensure your horse stays comfortable while wearing a fly sheet. Even if only used periodically, during exceptionally sunny or buggy days, having a fly sheet on hand is always a good idea.