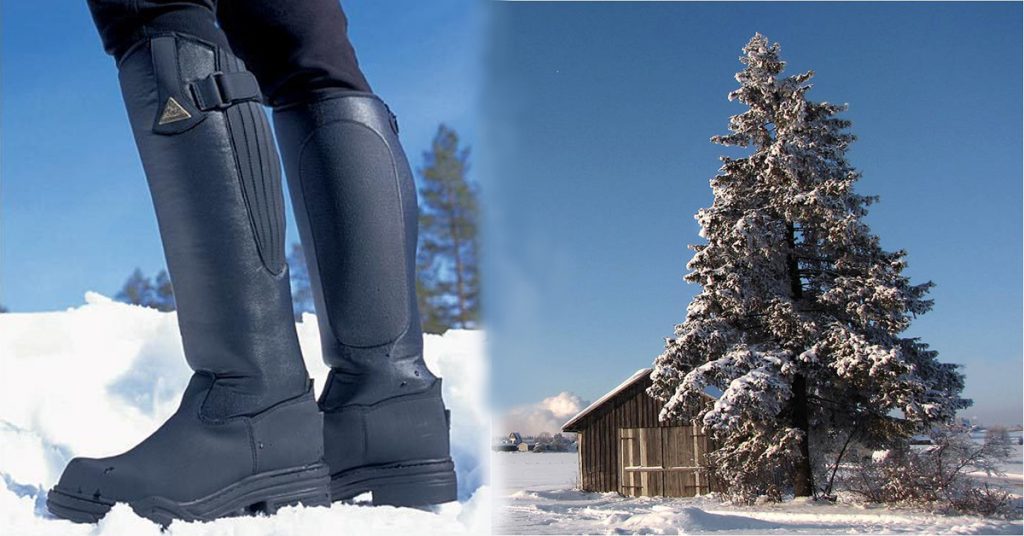 With the arctic, winter weather that arrives in January and February, keeping your feet and toes warm can be difficult during long hours outside while you take care of barn chores and spend time with your horse. The right pair of riding boots is the place to start with ensuring warm feet, but if you have a hard time keeping toes warm, these tips can help get you through the winter comfortably.
Invest in High-Quality Winter Riding Boots:  Spending the time to research all the different options available to you will help ensure you find the perfect winter riding boots to help keep you warm this winter. Keeping your feet dry is the first step to keeping them warm; a boot that is both waterproof to keep exterior moisture out, but also breathable to let interior moisture from foot perspiration escape will do the best job of keeping feet dry. Good insulation is equally important for warmth. Also consider if you will need a paddock boot, a tall riding boot or both. If you'll be spending time walking through snow to fill water troughs and catch horses in fields, a tall winter riding boot may do a better job at keeping your entire lower leg dry and away from the snow.
Wear the Right Socks:  Just as with the boots, good winter socks should be breathable and moisture wicking to help keep your feet dry. Materials such as fleece, ISOWool or Merino Wool are very good at providing warmth. Resist the temptation to layer socks too heavily. Too many pairs will limit circulation; you should be able to put your foot into your boot without feeling like you have to squeeze it in. A pair of nylon socks, like those worn under field boots or dress boots, is a good additional layer to wear under a wool sock that will not add any thickness.
Keep Toes Moving:  Movement helps circulation by encouraging blood to flow. Remember to wiggle your toes every few minutes to encourage blood flow to move towards that farthest point. Alternatively, pressing your toes into the bottom of your boot and then releasing a few times is a good way to wake up blood flow to that area.
Drop Your Stirrups:  If you're in the saddle when your feet start to feel cold, just drop your stirrups. Because you tend to use your leg, ankle and foot a bit more when you ride without stirrups, more blood flows to this area, providing a nice, quick warm-up for your feet. Plus, it's always good to practice riding without stirrups!
Use Foot Warmers:  For prolonged periods outside at the barn or on the trails, foot warmer packets are a great way to ensure your feet stay cozy inside your winter riding boots. There are full foot versions of these for the underside of your foot, as well as smaller ones to place on top of your toes.
Utilizing these tips should help your feet and toes stay warm, dry and comfortable all winter as you enjoy time at the barn and with your horse.
Let us know in the comments what your tricks are for keeping feet warm in cold weather!