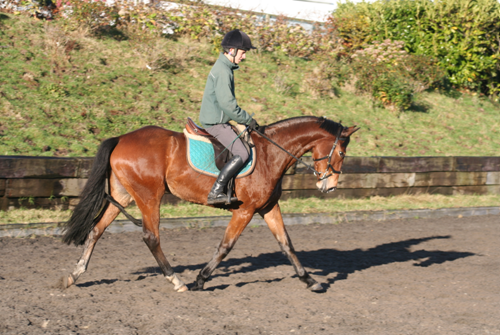 We are pleased to have recently added two new bridles from William Micklem to our collection- the Micklem Deluxe Competition Bridle for jumping and eventing and the Micklem Diamante Competition Bridle for dressage. Learn more about William Micklem as he speaks about his recent Lifetime Achievement Award, Irish jumping greats, what is to come and the value of a small horse in this guest post straight from his pen:
The David Foster Injured Rider's Fund was established in memory of the greatly loved Irish event rider, David Foster, to support all riders with serious injuries.  Each year the Fund holds a sell out ball and awards night that has become an institution in the Irish equestrian world.  This year there was much to celebrate with the Irish senior event team qualifying for the Rio Olympics and both the Irish Junior and Young Rider teams winning team Gold medals in the highly competitive European championships.
Lifetime achievement award
The final award of the night is the Lifetime Achievement Award.  No one knows who is to receive it in advance, and as I sat with my family, I watched in shocked silence as my name came up on the screen as Olympic rider Sam Watson described my life in the horse world.  As someone who likes to do things better the second time around, the thought that was uppermost in my mind was, "I'm in trouble now!"  A week later I still think it's too early in my life for this award, I have too many projects on and too many lovely young horses….and in truth I mean this.  But there's nothing like an award like this to stimulate a little retrospection.
I was of course delighted, particularly because as much as anything I felt the award was recognition for my work as a coach, and coaches generally don't get enough recognition.  My brother John is also a coach and his daughter Jen was part of the gold medal winning Young Rider squad.  Not only has he coached Jen, but he bought her horse, Early Spring, as a 4yo.  For them to also produce him to International level (in a Micklem bridle from day one) was both a huge achievement and a wonderful life enhancing journey for Jen.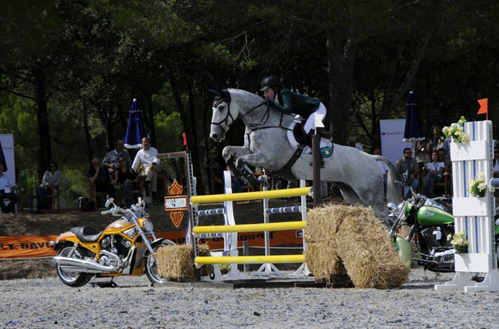 It's all about the journey for these young riders, and it's all about accumulated knowledge through the generations.  The good use of accumulated knowledge is a powerful recipe for success and something that should always be fostered.
An Irish heart
To be honored within Ireland in this fashion was unbelievable but also deeply rewarding.  Even as a child in Cornwall, England, my equestrian heart was Irish. I was brought up watching so many great traditional Irish show jumping horses… Tommy Wade's little Dundrum, Seamus Hayes' Goodbye and Marion Coakes' wonder pony, Stroller, were my heroes.  I actually saw Stroller in the flesh jumping as a pony before he went on to win the individual Silver medal at the Mexico Olympics behind Bill Steinkraus on Snowbound.
Later on in the USA I saw the legendary Irish event horses Kilkenny & Carawich with Jimmy Wofford, Eagle Lion with Bruce Davidson and Castlewellan with Karen O'Connor.   Of course being able to find the Irish horses Biko, Custom Made and Gilt Edge for Karen and David O'Connor was especially satisfying.
Then those show jumping greats John Leddinham's Kilbaha and Nelson Pessoa's Vivaldi captured my heart, with their wonderful paces and athleticism and exceptional courage and durability. They both won the Hickstead and Hamburg Derby multiple times.  I still remember clearly my brother John on top of Vivaldi, when he was a very wild and difficult 4yo, galloping up Borris Main Street in Co Carlow, both with very tense faces!  Now the horses I breed are related to Kilbaha and Vivaldi, including Zaras Phillips' High Kingdom and his brother, our stallion Jackaroo. I have a 4yo mare by Jackaroo that is as good as High Kingdom, so I haven't finished yet!
The future
In addition, my structures for young performers, in particular "The GO! Rules," is just taking off in a major way with book offers and a mass of bookings for all types of audiences.  Not to mention a new book for coaches that I am working hard on.  It will be very different. So as I said much too early for the award!
I have been very lucky to have been involved with horses and horse people.  Our sport is wonderful, life enhancing and life enriching.  Yes, there are sometimes terrible accidents, but it gives back more than it takes, particularly for those facing some very difficult life challenges.  It's a combination of new legs for old and a non-judgmental friend to bring some peace and possibly inspiration.  These people make huge progress because of their contact with horses and I believe the same happens to us all to a greater or lesser degree.  Horses are good for us and will be good for us.
The little ones are best
One of the best days of my life was watching one of my students, Sonya Duke, gallop round the Badminton cross-country with immense class and ease on her 15.3 horse Carbrooke Charles.  He was eighteen and she was nineteen! It was a supreme example of mutual trust and partnership.  I love little horses.  The greatest racing sire of all, Northern Dancer was only 15.2 and Hyperion only 15.1 when he won the Epsom Derby.
The list of small champions is long.  Mark Todd's double Gold medallist, Charisma, was only 15.3, as was the petite mare, Touch of Class, who won a Gold show jumping medal in Los Angeles for Joe Fargis.  In more recent times we have had the little dynamos like Du Chateau, just 15.2, ridden by Edwina Alexander, and Laura Kraut's 15.1 Cedric, both being No 1 in the world for show jumping. While at 16.00 there was both Eric Lamaze's brilliant Hickstead and the multi gold medallist dressage star Rembrandt ridden by Nicol Uphoff.
I often think we breed horses that are too big and pound for pound it is difficult to find a horse to equal a top pony. My foundation mare, High Dolly, the dam of High Kingdom and Jackaroo, was barely 16.00 and yet still carried 175lbs when easily winning four point to points (steeplechases).   As well as small horses, many of you know that I like equestrian poetry.  So I want to finish with a poem that celebrates both small horses and our attraction to horse sports…it's spoken by a lad in a racing yard.
There are some rum ones in our yard,
Ones you'd cross off any card…
Though the Guvnor lands a seller when he can.
We've a hurdler off his corn
And a chaser all forlorn
That's tipped his jockey off each time he ran.
We've a colt that Derby bred,
But he'll likely lose his head
and wreck the flaming stalls before the off.
We've shiverers and weavers
And flattering deceivers,
And I'm sure I heard that filly give a cough…
But this little un I do
She's a winner through and through
And it won't be long before she's in the frame.
You can say I'm just a mug
But I've got the horsey bug
And hope springs eternal in this flipping game.
And hope springs eternal in this flipping game.