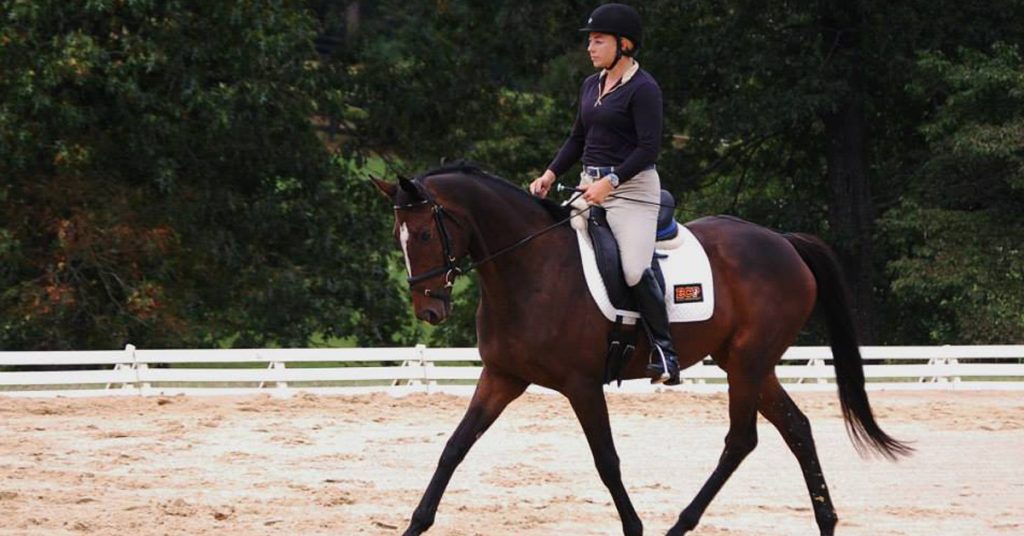 Whitney Weston recently set up her farm in Southern Pines, North Carolina where she rides, trains, teaches lessons, sells horses and competes in upper level eventing. Whitney was kind enough to spend some time talking with us about what events she enjoys, her horses' special personalities, how she ensures their comfort and catching the horse bug at an early age.
What are a couple events that you have really enjoyed recently? What made them so enjoyable to you?
I have some old favorites, like Red Hills. It was my first advanced, and I have never been more nervous! They really make riders and spectators feel welcome, it's a big show. Nothing like eating their "bang-bang shrimp" under the large, white tent while watching famous riders from around the country walk the show jump course in the twilight. Then walk it yourself…
I recently moved south and started a farm in Southern Pines, NC. We are 10 minutes from the Carolina Horse Park. I have to say every show they put on there is a favorite, especially the Carolina International in March, all the stops are pulled out.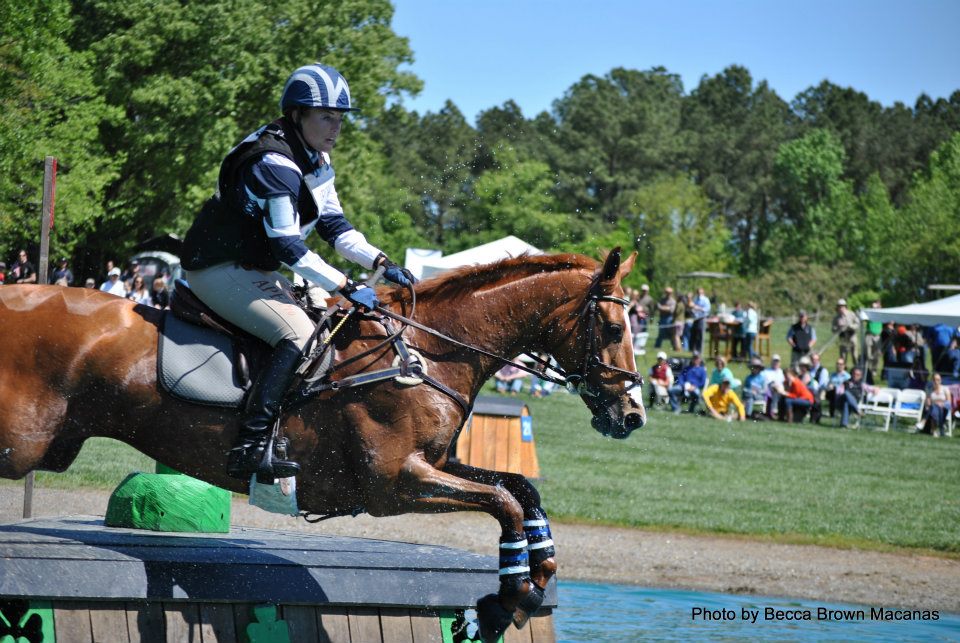 Of the horses on your team, do you have a favorite that you enjoy working with the most?
That is such a hard question to answer! Every horse on the team has such a personality. We joke that any horse who loves eventing as much as we do has to be a bit odd. ;) I have to say my advanced horse Rock-On Rose, "Lusty," offers me a challenge every day, so when the work pays off it is extra rewarding! Lusty is a feisty, red-headed TB mare. We are basically an old married couple. We know each other inside and out, know each other's weaknesses/strengths, but also know in the moment we can rely on each other. When you are galloping at a blistering speed towards a four foot solid obstacle, there has to be trust on both ends. I trust that she will jump safely over the jump and she trusts that I set her up for it properly. Remember, only the human walks the course; Lusty has no idea there is a drop into the water then three strides to a skinny jump! 
We know you have some OTTBs, which are a type of horse that hold a special place in many equestrian's hearts. Tell us about yours and how you came to find them!
I LOVE working with TB's, and the OTTB's are often my favorite. When they retire off the track, I know the type of experience and training they have had, which helps me understand where they are coming from mentally. It's funny how the slowest racehorses make the best eventers!
I have a beautiful dark bay mare called CMA Testament, "Devon," who I found through CANTER Mid-Atlantic. This is a fantastic non-profit re-homing program for OTTB's. One of the trainers in the program gave me a call: "Whitney, you have to check out this mare. She's just like Lusty!" And she is! Feisty, leggy, brave, loves to run and jump.
Another OTTB in our string we call "Epona." He is very different from the mares. He is massive (17 hands), and turning four this summer. He is quite cocky and bold. Wait, now that I'm saying this I see some similarities! The best part…I found him on Facebook! I had been scrolling through and he caught my eye.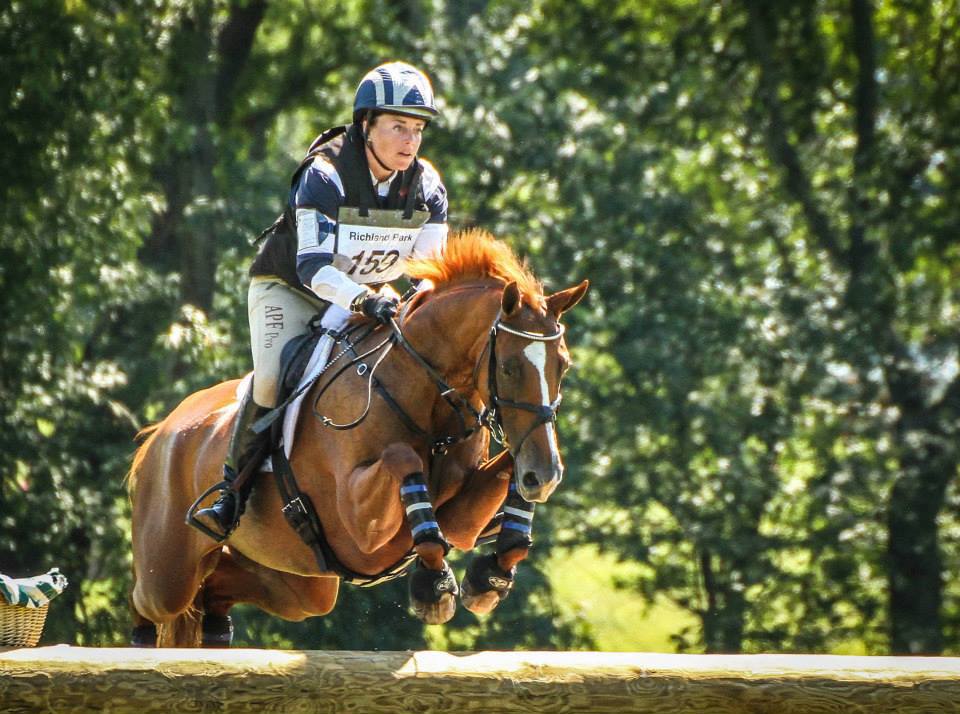 What do you do and use to ensure your horses are as comfortable and successful as they can be while you're riding and competing them?
I really stress proper saddle fit. Your horse can be getting acupuncture and massages, but that is no match for saddle pain! If a horse is acting upset or sore, saddle fit is the first thing I go to; however, not everyone can afford a custom saddle for every horse! That's where I LOVE my Equine Comfort Products Cotton Correction Pad. They take one of their comfortable brushed cotton saddle pads, and add four perfectly placed pockets on top where the saddle goes. Each pocket has a velcro strip that holds in memory foam shims. Each pocket comes with three different sized shims to make an adjustable, customizable, perfect fit. It's so easy!
The first horse I got to the two star level was a 19 year old Holsteiner. He was dismissed at birth as he was born with his right hip over four inches higher than his left. In order to be balanced in the tack I had to ride with my right stirrup two holes lower! Argh, if only I had one of these pads back then, I could have evened it all out! 
Did you know you wanted to make a profession of being an equestrian from a young age? How did you begin riding?
When I was four years old, I didn't know about riding as a profession. All I knew was that I loved the show "My Little Pony" so much that I insisted to be called Megan (after the girl in the show) for over a year. That's when my city-dweller parents took me to a riding lesson for my birthday. Little did they know what that would start! Fortunately, we moved from Philadelphia to the Oregon countryside. Since then I have felt this very deep, strong, almost manic urge to be on the back of a horse. When I was attending Bryn Mawr College without a horse, I took it upon myself to drive the college van over an hour away to ride a TB of Carol Davidson's (Buck's mom) in the snow. At this point, I realized I better figure out a way to make this my daily job, because there was something clearly wrong with me!
It is a hard job with long hours on an emotional rollercoaster. I rarely feel presentable while in public, but I do know that I have never met a more amazing, resilient, and talented group of horses and humans and wouldn't trade this job for anything!