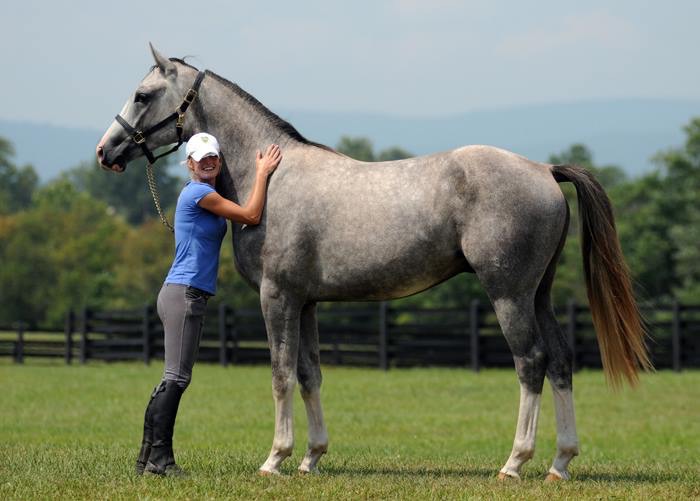 Love our new holiday catalog this year? Curious about the gorgeous grey horse posing in many of the shots? You are not alone. Many of our loyal fans have reached out to us wanting to know more about him. That grey beauty is Starfighter, a four-year old Hanoverian by Stolzenberg out of Caliku. We sat down with his owner, Gail Dady, and got the full scoop on our latest Dover model.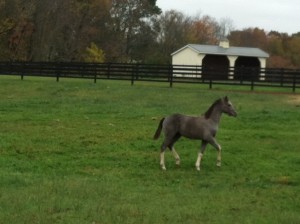 How did you come to acquire Starfighter as your horse?
We went to the Verden Foal Auction looking for a black Escudo or Diarado filly and came home with a grey colt.
How long have you had him?
He was born April 30, 2012, and I have had him since August of 2012.
Tell us about your favorite memory with him.
There are several, but I will never forget the first time we saw him.  A little four-month old colt – already grey with four white socks.  As the mares and foals were being presented most of the other foals stayed close to their mothers, trotting by their sides.  Starfighter ran into the ring by himself, leaving his mother behind, and explored every inch of the place, kicked at all the flowers he didn't like the smell of and in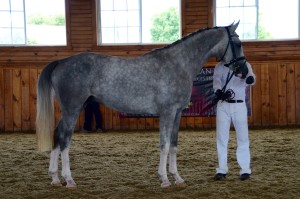 general drove his mother crazy!  He was not scared of his surroundings – just confident and curious.  We knew we had to bring him home with us.
He carried himself like such a professional at our photo shoot. Has he ever done any modeling work before? 
This is his first modeling job, but he catches on very quickly and loves learning new things. Posing in front of a camera seems to come naturally for him.
Did Starfighter seem to have a favorite item from his modeling shoot with Dover?
He loved his EquiFit® boots.
What discipline is Starfighter competing in? What are your goals for him? 
Starfighter is just beginning his jumping career.  As a three-year old he competed in the Young Horse Shows where he won the finals in Tryon in both the free jumping and the in-hand competition.  He did his first schooling show in October at Brownland Farms in Franklin Tennessee, and he is now in Ocala, Florida where we hope he will compete in the five-year old classes by the end of the season.  He is a happy horse and extremely talented.  We believe that he has all the qualities to go far in the sport so we want to take it slowly and keep him confident and healthy.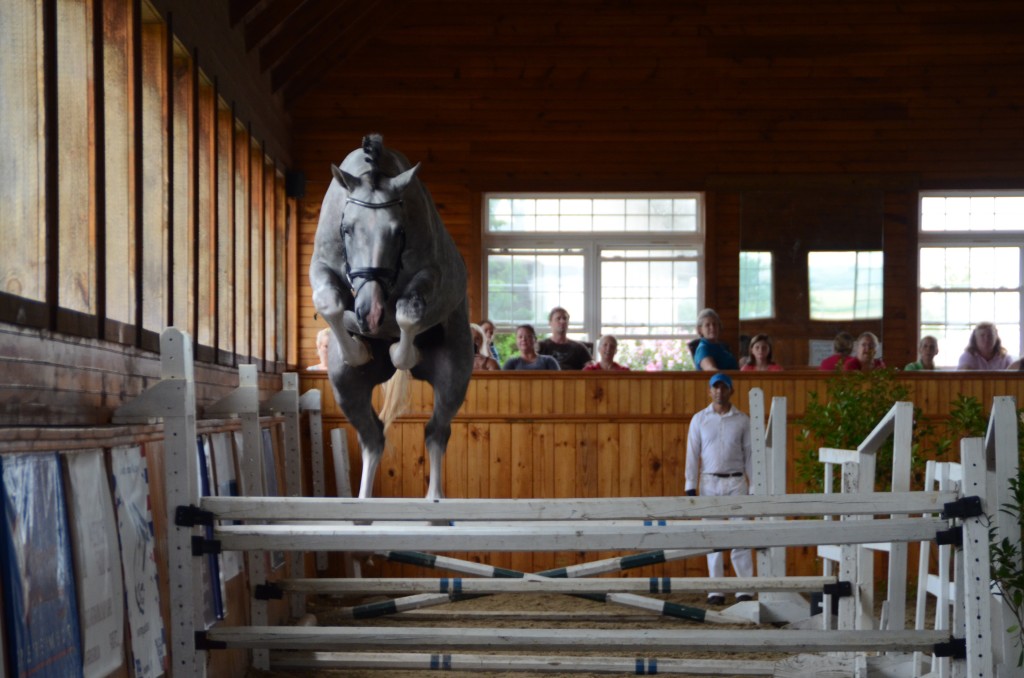 Does he have any unique quirks that make you laugh? 
He talks – quite loudly – in his sleep.
What is his favorite treat? 
He loves peppermints.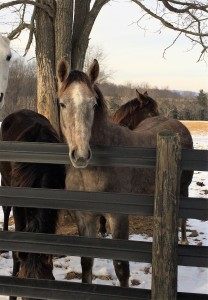 If there was one thing Starfighter couldn't live without, what would it be? 
Beside his food, he loves attention and he actually loves to work.  As a yearling and two year old he would stand pressed up against the fence in his pasture where he could see horses schooling in the outdoor arena.  He would watch for hours as his pasture mates played and grazed – it was as if he was trying to learn by watching.
What's your favorite piece of tack to use on Starfighter?
He loves his EquiFit D-Teq™ boots and the Vespucci Double Raised Halter – in black of course!  He also likes his Back on Track® Ceramic Mesh Sheet.