Since we last talked with Jon Holling, he has been busy preparing for the Rolex Kentucky Three-Day Event and continuing to bring along his young horses, one of which won the CIC** at Pine Top recently! We were excited to spend time talking with Jon again about his experiences bringing along young horses, favorite type of cross country challenge, plans for Rolex and Olympic ambitions.
We saw you won at Pine Top with your youngster Avoca Druid recently! It must be really rewarding to bring along a horse to success like that. What's your favorite part of working with young horses?
Yes, we had a great time at Pine Top.  It's is a really nice event for the horses.  The courses are very inviting and although they are typically quite big they tend to produce forward positive rides.  My horse, Avoca Druid, was wonderful and led the CIC** from the beginning. I was very proud of him.  He is a lovely mover and although he can be a little sharp at times, he is incredibly brave.  It's always fun to bring along the young horses.  Every day they learn something new, and the dream of what they might be is limitless at that point.  I am really fortunate right now to have an exceptional group of young horses.  When I get off of each one I think to myself "that's the best horse in the barn," and then I ride the next and say "no maybe this is the best one."  That's a very neat feeling to have.
Last time we spoke with you, you told us your favorite event was Rolex, and we hear you are heading there again this year. Which horse are you going to be competing there?
Rolex is obviously a huge deal and the biggest event in North America.  I hope to compete there this year, but I am not counting any chickens just yet.  If I do compete it would be on Downtown Harrison, but I will let him tell me if he is ready to go or not.
Do you have a favorite phase? We always love to watch them all, but cross country thrills us. Is there a type of cross country challenge that you like best?
Cross country is what drives me to event.  The thrill and excitement of galloping on a horse attacking a course is one of the greatest feelings I have experienced.  The single fence that thrills me every time I see it is the head of the lake at Rolex.  The one thing I truly appreciate is knowing that my horses are comfortable and ready to take on whatever is in front of them.  One of the keys to that goal is my Equine Comfort Products Grip Tech Eventing Pad.  Knowing that my saddle will stay exactly where I put it is one less worry for me while on course.
You have been competing at International U.S. Team competitions lately, should we keep our eye on you for the Olympics?
The Olympics are certainly a goal.  It really all goes back to the question of Rolex.   If I get there and the horse goes well then the possibility is very real.  My goal is to always represent my country and my team to the best of my ability.  I hope that can be at the Olympics.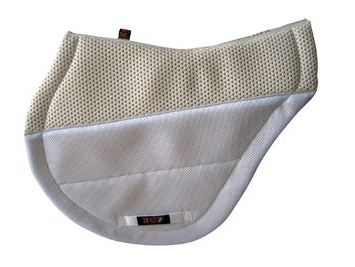 Lastly, what is the one product you use on yourself or your horses that you cannot live without?
The Grip Tech pads from Equine Comfort Products are absolutely the one product that I use on every horse every time I ride.  They stay where I put them and they help keep the horses cool and comfortable.  I literally don't get on a horse without one.