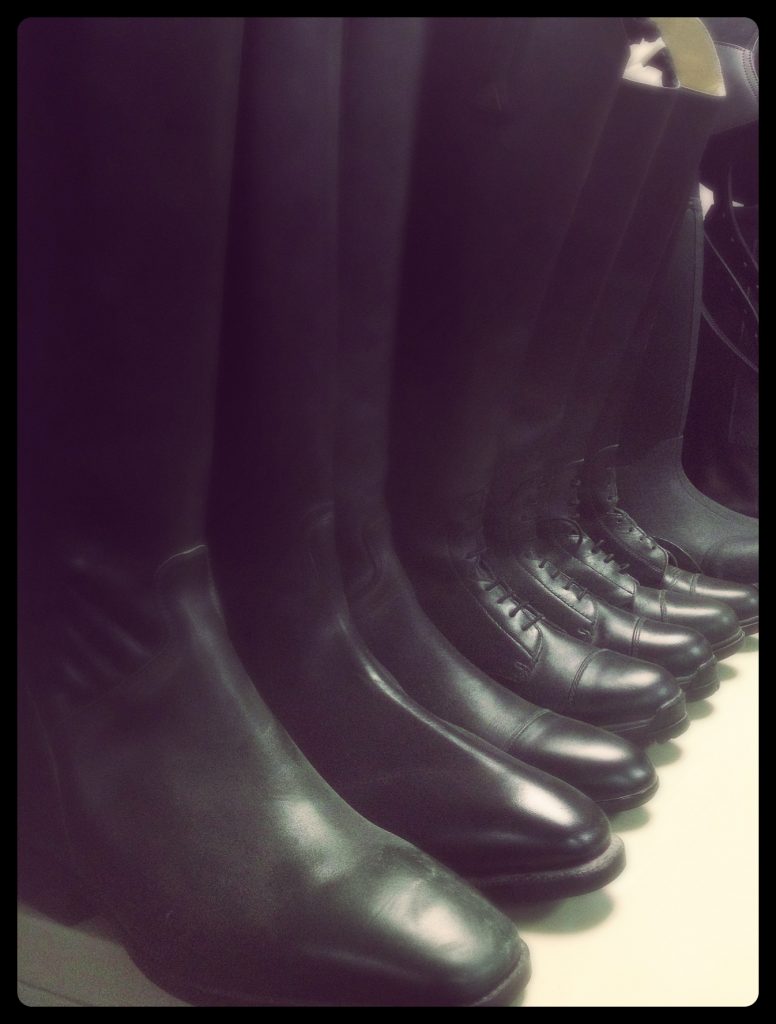 Selecting a pair of tall riding boots is an important decision, as they are a vital element of your riding gear. Tall boots are both useful for schooling and necessary for showing. There is a large range of tall boots available, from affordable options for any budget to top of the line custom boots made just for you. No matter which tall riding boots you select, the quality and styling make them an investment. It is worth spending the time to consider the different options of tall boots, what style is right for the type of riding you do, and ensure a proper fit.
The Right Tall Boot for the Right Discipline
Depending on what discipline of riding you participate in, you may select a particular type of tall boot. While all tall riding boots have a similar appearance, the slight distinguishing factor of laces or no laces sets the two types apart from one another visually.
Field boots:  Used for hunters and jumpers, with laces in the front that can be loosened when putting them on or off. Field boots tend to be more flexible.
Dress boots:  These boots do not have laces and are most commonly used for dressage, but are also utilized in hunting, jumping, and eventing. They are often more rigid and offer more stability than the field boot.
How to Size Tall Boots
Properly fitting tall boots are important to ensure the right contact with your horse to be effective. A loose boot will look sloppy, as well as prevent correct use of your leg while in the saddle. Too tight of a fit, and you may impede blood flow and restrict muscle use. A properly fitting tall boot should be snug in the calf and come up to the crease of the knee, without hindering bending of your leg. Tall boots will break in and lose about one and a half to two inches in height, so it is important when you purchase them to keep this point in mind. If you want a tall boot that is perfectly styled and fit for you, completely custom options are also available.
Pull-on vs. Zip-Up
Traditionally, tall boots were pulled on using boot pulls hooked to loops just inside the top of the boot, and then pulled off using a boot jack. This style is still widely available and used today, but zip-up tall boots are becoming increasingly popular.  The zip-up style makes getting them on and off much easier, and eliminates the need for extra tools to get in and out of your boots. If you do select pull-on tall boots and find getting them on and off is difficult due to the snug fit, many riders find sliding a plastic shopping bag over their sock helps the foot slide into and out of the boot much easier. Both styles are equally accepted in the show ring, so it is up to your preference as to which one you go with.
When you measure your leg for tall riding boots, you should wear breeches and socks that you wear when riding. While sitting, with your knee bent at a right angle, measure your calf around its widest point to get the width measurement, and measure from the floor to the back of your knee for the height measurement. For more assistance with measuring, take a look at our tall riding boots measuring guide.
Your boots are part of your foundation while in the saddle, so make sure you take the time to choose the right size and style for you. A property fitting tall boot, shined up with boot polish, will keep you looking professional while being effective, whether your schooling or showing.