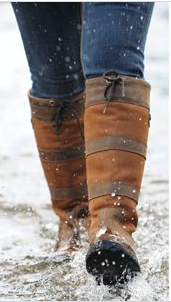 As a rider, a lot of your time is spent wearing paddock boots or tall boots while riding your horse, but these footwear options are not always your ideal choice for days when you're not riding. You'll always spend a good deal of time working around the barn, hand-walking, cleaning stalls, scrubbing buckets or bathing and grooming your horse, when alternate, waterproof boots are better suited. It's also likely that you may be coming from or going to other activities, such as work, errands or meeting friends, when having fashionable as well as functional footwear would be a great added bonus.
Many brands of great multi-functional boots are available today. Ovation is one such brand, which offers an entire line of stylish waterproof boots that will stand up to the demands of a barn environment. Even if conditions are too wet and muddy for a good ride, you still need to keep your feet dry as you move around the barn grounds tending to your horse's care. And if you give your horse a bath, it would be nice if your feet didn't have to have one as well! While it's hard to believe that beautiful boots such as the Cora Country Boot can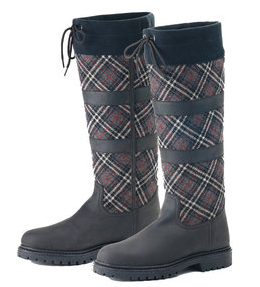 keep your feet dry with a mixed canvas and leather design, rest assured that these are completely waterproof boots. Between the Freudenberg German-made breathable membrane that keeps water out and the elastic top with adjustable buckle, these boots ensure a comfortable, dry fit in all seasons. If brown isn't your color, the Caelin Country Boot offers a more modern, grey look with the same durability. The wool plaid upper of this boot is trendy with a red accent, and just as waterproof as the sole.
Winter weather usually delivers plenty of wetness to contend with. From feet of snow that you have to trek through around the stable and paddocks, to melting ice and snow coming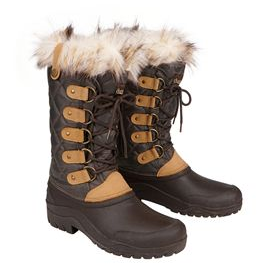 off of horses inside the barn, waterproof boots become a necessity. In cold weather, it's also important these boots are warm, like the Arctic Blizzard Boot. With its faux fur trim and quilted upper section, this boot is just as warm as it looks. The laces add visual appeal while allowing for a snug, customized fit, and a zipper on the side makes for an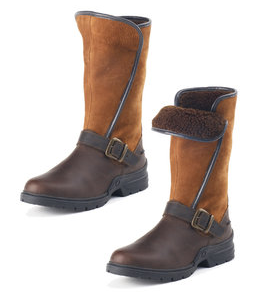 easy on and off. If you prefer a more refined style, the Blair Country Boot creates an incredibly polished look. This entire boot, including both the sole and suede upper, is waterproof to keep your foot dry, and it's lined with faux-fleece to keep you warm.
With all the available waterproof boots out there, you don't have to be afraid to step onto the barn property when you're not in your riding boots. You also don't have to sacrifice style and fashion for barn-suitable footwear! In the saddle or out, your feet can stay dry wrapped in a look that you love.
Let us know in the comments your favorite waterproof boots for when you're not riding!