What happens when you combine 100 saddles, 25 Dover Saddlery associates, 12 Saddle Fit Experts, 8 horses and 1 big white tent? Dover Saddle Camp 2013!
We're serious about saddles at Dover Saddlery, and we are equally serious about providing our employees opportunities to learn and gain knowledge. That's why we recently brought key employees from all of our retail stores and from all of our call centers together for three days of intensive, hands on saddle training at a beautiful equestrian facility near our headquarters in Massachusetts. We affectionately called this seminar "Dover Saddle Camp 2013!"
Camp started with an introduction from Gary Severson, better known as the Saddle Doctor. Gary has an impressive resume as an equine physiologist and a lifelong independent saddle fitter, including some time as the official saddle fitter to the United States Equestrian Team! He provided an extremely thorough overview of saddle fit concepts, equine anatomy as it applies to saddle fit and correct use of shims and correction pads. Best of all, we used several different horses to visually demonstrate his points. It's great to read about these concepts and learn about them in a classroom, but all the associates agreed that actually seeing the saddles on horses of varied shapes and sizes really drove the message home. Best of all, this overview provided everyone with a very strong foundation for the rest of the seminar.
Camp continued with brand specific training sessions led by the principal experts from all the saddle brands we carry at Dover Saddlery. We invited representatives from Bates, Wintec, Collegiate, Vega by Amerigo, Passier, Pessoa, Ovation, PDS, Custom Saddlery, Stubben, Marcel Toulouse and Tad Coffin and they all enthusiastically accepted our invitation to share their knowledge with our associates.
Each representative gave a comprehensive overview of the specific features and benefits of their saddle brand. They reviewed the construction from the inside out, and showed our associates the trees of their saddles. This all took place in our make shift tent "classroom". Afterwards, our entire group moved into the arena and had the opportunity to see everything in action on horses. We asked all our experts to bring a wide range of their saddles in different widths and styles so we could find the best solution for each horse. Along the way, we encountered some great saddle fit challenges, and our associates, under the close supervision of our invited experts, worked together to solve each of them.
Armed with tons of fresh information and excellent contacts and support from all the saddle reps, each of our associates enthusiastically headed home. They are all eager to share what they've learned with other employees in their stores, and ultimately, with you, our fantastic Dover customers!
We look forward to helping you find your next saddle! We've got a saddle option for everyone- all disciplines, all budgets and all horse types! All of our stores maintain a well stocked saddle room, and have access to 1000's more. Call 1-800- 989-1500 or visit your local Dover Saddlery and we'll be happy to discuss your saddle needs with you.
Take a look at some of the pictures below!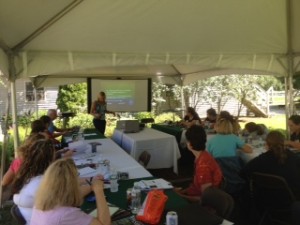 Our Classroom/ Office for Saddle camp! Didn't hurt that we had three beautiful sunny days!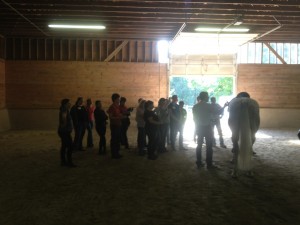 Listening intently as the day ends.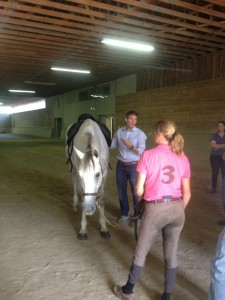 Carry Wallace and our saintly model, Liam!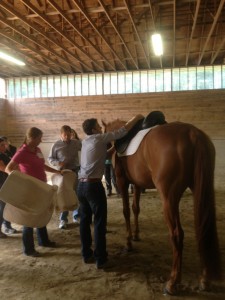 Cary demonstrates the fit of the Steffens Advantage on a different horse.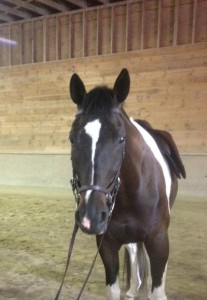 Buster was our deceivingly wide model! He's ready for his turn.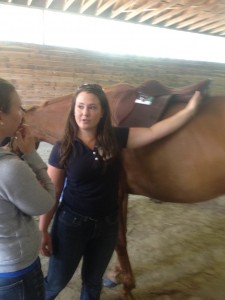 Associates discussing the best Pessoa panel for this horse after learning about the Pessoa Master Fit system.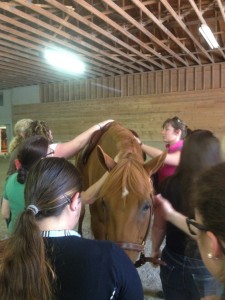 Chorey actually seemed to enjoy the attention as everyone assessed the fit of this saddle!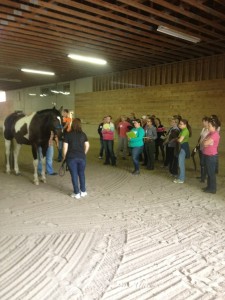 Buster  is ready to try on some Stubben saddles.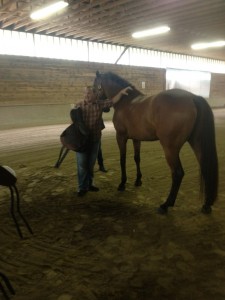 Keith Brooks from Stubben and Robert, our short backed model.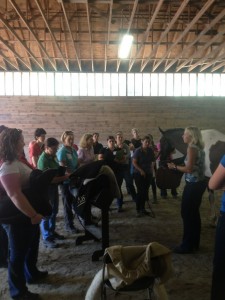 Kimberly Stinson and our associates find the perfect PDS for Buster!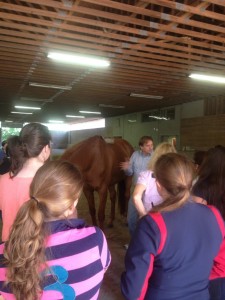 Stephen Day, our president and CEO, talks about the challenges he has faced finding the right saddle for his horse, Chorey.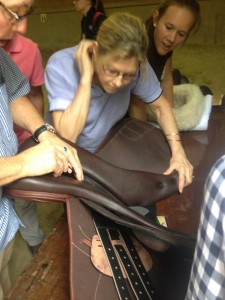 Cynthia, one of our assistant call center managers, about to try her hand at adjusting a Genesis Tree.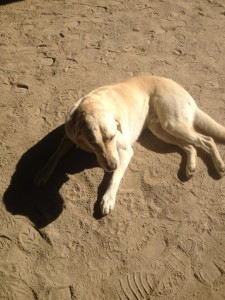 Brennan had a great time at camp. He was always nearby and was relieved no one put any saddles on him!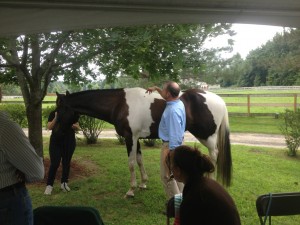 Justin Kenney from Tad Coffin Performance Saddles brought Buster into our classroom to discuss  the performance horse's back.