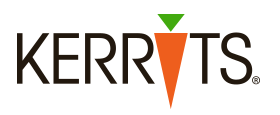 Getting dressed for the barn in the cold weather becomes a process of layering clothing to be comfortable working around the barn and on horseback. For the past 28 years, Kerrits has worked to create clothing that allows you to look your best and perform at top level, while being comfortable no matter what time of year it is. This fall and winter season is no exception. Here are a few of our favorite pieces from Kerrits this year.
Best Breeches for Warmth:

Kerrits® Power Stretch® Tight – These riding tights are made of thermal weight Polartec® Power Stretch® fabric, which allows for super stretch, comfort and warmth. The inside of these riding tights is lined with fleece, which makes them very cozy and warm for cool-weather rides, while the outside is smooth and dirt-repellent so hay and barn debris doesn't stick easily. As an added bonus, the seams on these are designed not to chafe, and the waist is made to sit low in front without sacrificing coverage in the back.
Kerrits® Sit Tight 'N Warm Full-Seat Breech – These wind- and water-

resistant breeches are made of Malden Mills Wind Pro® fabric, which is highly breathable yet provides a great deal of warmth and protection from winter elements. The interior of these is soft for comfort, and the exterior is smooth and perfect for barn environments. The rider who likes good grip while in the saddle may prefer these, as they have a GripStretch™ full seat that will help you feel secure in the saddle.

Top Fleece for Layering:

Kerrits® Circuit Fleece Half-Zip – The perfect microfleece top for outerwear on a dry day or an under layer beneath a coat. This shirt is very durable for wearing around the barn, has a flexible fabric for mobility and allows for easy ventilation with the half-zip front closure. It's also fashionable for wearing when you are away from the barn, with its slimming cut and princess seams.

Favorite Functional Jacket:

Kerrits® Warm Up Quilted Jacket – Designed specifically for riding, with a shorter hemline in front, this jacket has a quilted outer shell and stretch sides made of fleece. The fleece sides allow for ventilation, so you won't become too hot while being active, while the quilted portion has poly fill underneath to keep your core warm. It's both water- and wind- resistant, so it's perfect for cool weather riding.
Great Insulated Gloves:


Kerrits® Circuit Fleece Glove – Cold fingers at the barn are never good and can easily be avoided with these gloves. They have a slim fit so you can hold your reins and use your hands without any extra bulk getting in the way, while the fleece insulation does a great job of keeping your fingers warm.  Additionally, they are made to go with the Circuit Fleece Half-Zip, so you'll coordinate beautifully!
Putting together a fall or winter riding outfit that is simultaneously warm, functional and stylish is easy with the Kerrits® line this year. From breeches to gloves, there is something perfect for every wardrobe area you need covered.
Let us know in the comments what your favorite Kerrits® apparel piece is this fall!