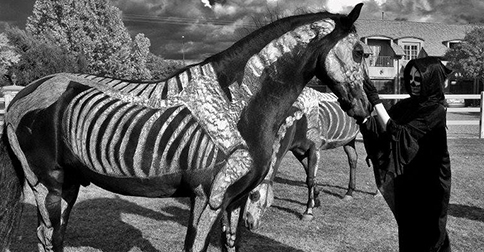 While dressing up as a knight in shining armor and taking your horse trick-or-treating is a tempting idea, it's rare to find a neighborhood house that has horse treats on-hand. So instead of ending up with a disappointed horse, bring the trick-or-treating to your barn and give him a treat tonight, or any night! The standard apples and carrots are always good, but for an extra special treat, there are a variety of horse treats that look good enough you'll want to try them! Here are some of our top sellers and horse favorites: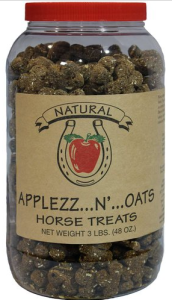 Applezz N' Oats – If you want to stick with a fall theme for your horse treats, these are a great apple-flavored choice! These are small crunchy nuggets made of dried apple, oat groats, cane molasses, rolled oats, brewers dried yeast, ground corn, flax seed meal, and alfalfa meal. As a bonus, they are shaped like four-leaf clovers, for a little boost of luck.
Mrs. Pastures – These horse treats are another apple-flavored favorite, made with oats, wheat bran, molasses, barley and apples. Because they are dehydrated and not baked, they can be easily popped into your pockets for easy treating without the worry that they will crumble apart. Available in various sizes, your horse shouldn't have a difficult time of convincing you to get the biggest container!
Paddock Cakes – These are the kind of horse treat that makes us wish we were horses so we could try them! A special treat found on top of a chew cookie makes them a dream snack. You can even pick the "flavor" that your horse will enjoy the most, as they are available in peppermint paddies, gummy frogs, cinnamon hearts, or s'mores varieties.
Stud Muffins ® – Despite the name, these horse treats are a nourishing snack for studs, geldings, and mares alike. Fortified with extra protein and flaxseed, they are both tasty and healthy.
With such a variety of delicious looking and sounding horse treats, it is hard to resist rewarding your horse, and these are just a few of the many horse treats we have available that you can let your horse try. Stock up and find out which ones are your horse's favorites- then every day can be Halloween at the barn!