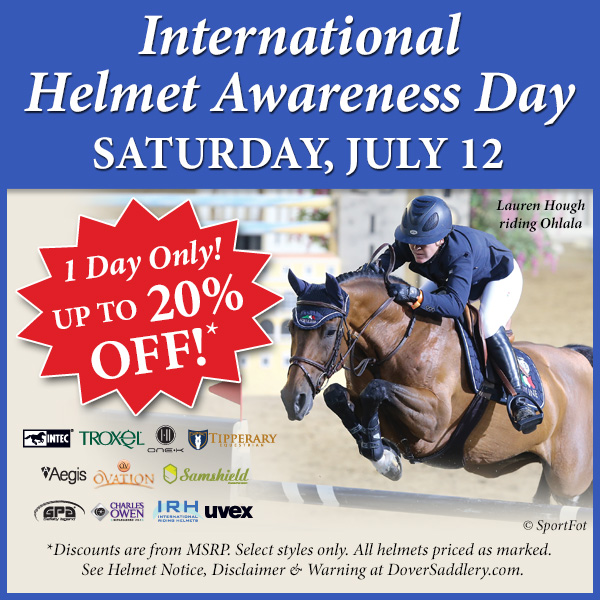 Today is International Helmet Awareness Day and to celebrate we are offering up to 20% off all our non-custom helmets! Your helmet is arguably the most important piece of riding apparel or tack you use, so make sure you are utilizing one every time you get on a horse. If you've been meaning to replace your aging helmet, dreaming of a new style with the latest technology, or ready to make your very first helmet purchase, today is the day for you!
Take a look at some of the high-quality brands that are discounted for today's special sale:
But before you make your selection, here are 5 tips on what to watch out for to ensure you select a helmet that you'll love.
Size:  If a helmet doesn't fit, it's not filling its purpose. Start about an inch above your eyebrows, around over the top of your ears, and across the widest part of the back of your head to get an accurate measurement. If you have thick hair that you wear up in your helmet, you may need to go up one size.
Shape:  Some people have rounder heads, while others have long ovals, and different brands are geared more towards one of these two shapes. Riders with a round head are likely to have more luck with GPA's and Troxel, while riders with long oval shaped heads will do better with Charles Owen's and IRH's.
Adjustments:  Many manufactures offer padding systems to adjust fit, thereby making sure a helmet will sit as securely and perfectly as possible on your head. Some helmets also have adjustments to tighten fit that can be made on the back.
Technology:  Helmet manufactures are always looking to improve their products. Keep an eye out for new features that may not be present in your current helmet. Some helmets have ventilation to allow air flow and keep you from overheating, others utilize flexible or detachable visors that will give or break off in a fall.
Standard Approval:  Most competitions and equestrian events require you to wear an approved helmet that meets standards. The most common approvals that you will need are ASTM/SEI certification. It is always a good idea to check for the SEI label in any protective helmet you purchase. All Dover's protective helmet brands carry the ASTM/SEI certification.
Happy Helmet Shopping!