In our last post, we shared advice on buying winter breeches . If you have ever had cold or wet feet, we don't need to tell you how uncomfortable this feeling is. New and improved technologies provide us with better winter riding boot choices on the market than ever! At Dover Saddlery, we have been trying and testing some of the best winter riding boots and here is what you need to know.
The materials used on both the inside and the outside of the boot will make the biggest difference for warming your feet on cold days. The group of inner materials uses various methods to trap air and utilize your own body heat to insulate your boot, providing exceptional warmth without as much bulk or weight. Included in this category are Primaloft®, 3M™ Thermolite®, and Thinsulate™. These are ultimate inside material choices for moisture prevention and heavy duty cold performance on the market today.
Faux Fur Lining, fleece (typically synthetic), and pile Lining work well for moderate warmth, and are typically less expensive than the first group. Many of the latest fashion style riding boots use this group of materials and they still provide comfort and warmth against the elements.
Outer materials include leather, nubuck/suede, or synthetic materials. Leather and suede add a classy look, absorb moisture, and break in perfectly. They provide a traditional look while providing a strong outer that protects and breathes. Synthetic winter riding boot advantages include price and easy care. Look for synthetic winter riding boots that feature breathable materials that have some give to them for the best bang for your buck.
Another feature for your consideration includes the sole of the boot. A specially treaded sole is essential for traversing tough terrain and icy paths that you might encounter around the barn or if your boots are used for casual purposes.
The use of zippers makes pulling boots on and off ultra easy. Look for boots with laces or gussets for a more adjustable fit. If you are interested in boots made for barn chores, Look for styles that are able to withstand the acids and mud that are likely to be around the stable.
Winter Boots with Styles for Everyone
Now that we know what to look for when selecting the best winter riding boots, let's discover some of the most popular boots available this year.
Classic Style Insulated Tall Boots
Those on the horseshow circuit or in cold climates, should checkout this year's classic insulated tall boots that provide the show ring look essential for winning, while the insulating qualities keep you warm and comfortable so you can concentrate on your ride.
Ariat® Bromont Dress H2O Insulated Boot – The Ariat® Bromont Dress H2O Insulated Boots are deluxe tall boots that are ideal for showing and schooling in cold weather.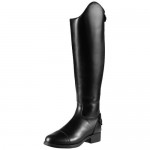 Maintain a classy look with this traditional English tall winter boot that features a waterproof full-grain leather construction and Primaloft® insulation that provides warmth without bulk. Duratread™ outsole with dual direction tread provides traction in the stirrup as well as in mud and snow, and it resists barnyard acid. A full-length back zipper allows for easy on/off with stretch leather panel for a more customized fit. Ladies' sizing with regular and full calf widths.
Mountain Horse Nordic Light High Rider Boots –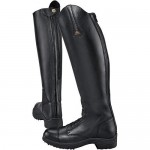 The Mountain Horse Nordic Light High Rider Boots are classic full-grain leather field boots with a warm faux fur lining. 100% waterproof elastic along back of shaft for fit. Available in ladies' sizing with regular calf, wide calf and short calf options.
Tall boots and Paddock Boots that Work and Play
There are some great choices this year for boots styles that are designed to do work around the barn, as well as double for a warm riding boot option. Some of the favorites include the following:
Ariat® Brossard Winter Boot The Ariat Brossard Winter Boot features is a warm waterproof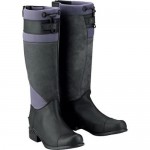 option that will serve you well both in the saddle and doing chores.  The 200 grams Thinsulate® and a moisture-wicking lining topped with the waterproof classic leather outer make for a boot that will keep your feet warm and dry in the worst weather conditions. These boots have both a tall boot and paddock boot styling available. Choose from lace and zip.  Ladies' and Children's sizing options.
Mountain Horse® Ice Rider Tall Winter Boots The Mountain Horse® Ice Rider Tall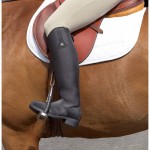 Winter Boots feature a taped waterproof and breathable membrane with an in-between layer of Thermolite to keep feet dry and warm. The Duralon 1200 armor weave is an easy to clean, waterproof outer. The elasticized heavy-duty YKK Vislon zipper and elasticized calf allow for a more customizable fit. Available in ladies' sizing in both regular and wide calf options. This boot is also available in men's sizing.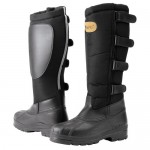 Dafna Blizzard Boot – The Dafna Blizzard boot is a perfect winter option for the budget minded equestrian. A fleece lined inner and water-repellent cordura-like fabric outer help block out the elements. The VELCRO® brand side closures allow an adjustable fit.
Fashionable Winter Riding Boots with style and warmth 
Wearing Winter Riding boots for fashion exudes classy style. Pair these popular boots with your favorite pair of jeans to not only look great, but keep your feet dry and toasty.
Ariat® Roseland H20 Boot –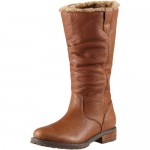 The Ariat® Roseland H20 Boot adds a chic styling to the traditional English boot look. This attractive pull-on slouch-style leather boot is easy and comfortable to wear and features a fleece cuff and a plaid fabric lining. The waterproof design keeps your feet dry and comfortable.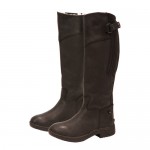 Dublin® Winter Zenith Boot – The Dublin® Winter Zenith Boot offers warmth and comfort as it adds equestrian flair to your outfit.  You'll love the comfy warm fleece lining and the elegant leather outer. Elastic calf for a great fit. Elegant look for on the town or in the saddle.
Mountain Horse® Eclipse Fashion Boot –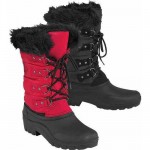 The Mountain Horse® Eclipse Fashion Boot combines fun style, warm comfort, and a great price into one great boot. The waterproof rubber sole with a warm pile lining inner for insulation keep you comfortable in snow, sleet, and slush. Trendy shiny nylon topped with faux fur for a hint of luxury. This is a fashion boot that also can be used for barn chores.
This year's provides vast options of insulated winter riding boots available at Dover Saddlery. Let us help you find your next favorite pair. When you are riding, working, or caught out in the snow, rain, or cold weather, you are sure to notice the difference a great pair of winter riding boots can make!