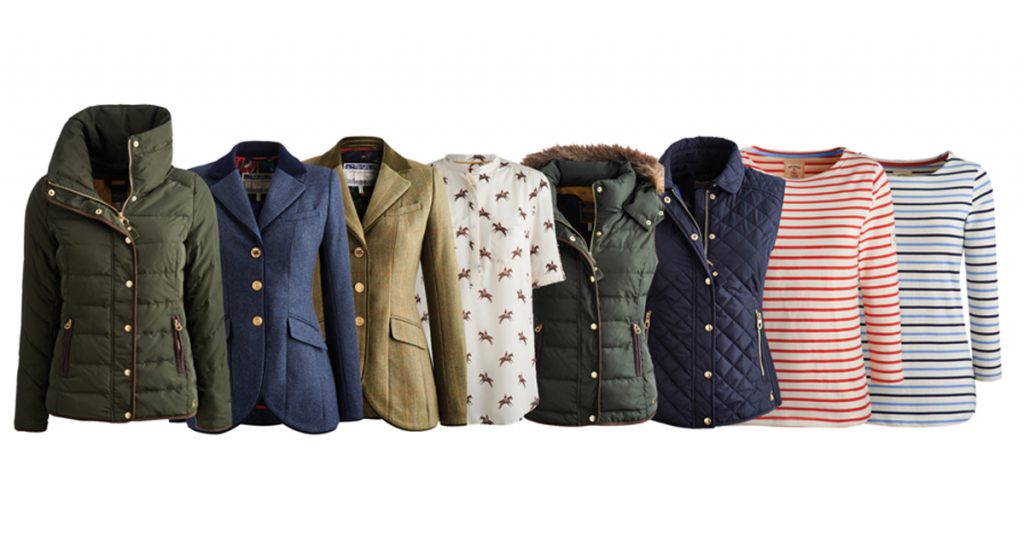 A change of season is always a good opportunity for a change of wardrobe. Joules consistently offers clothing that is functional for wearing around the barn, yet so well styled that it begs to be worn daily for everything you do. This fall's new clothing line is no exception. Take a look at some of the new fashionable Joules equestrian inspired items that are ready to make their way into your closet this fall.
Long Sleeve Shirts – Perfect for days just a tad on the cool side, as well as an under layer for the coldest of days, long sleeve shirts are one of the best fall clothing items to stock up on. Any personal style can be suited with a few colorful fall shirt options; from the Joules Harbor Jersey Top, which has ¾ length sleeves and nautical stripes, to the Joules Cheska Shirt, which is perfect to layer under one of Joules sweaters or vests. If you want to wear your passion on your chest, the Joules Hedgeford Jersey Top has a modern horse graphic printed on soft, comfortable cotton. 
Sweatshirts – Nothing makes us feel warmer or cozier than putting on a comfy sweatshirt, and we bet you'll feel the same when you try a Joules sweatshirt in one of the new fall patterns. If you like stripes, either the half-zip Joules Fairdale Sweatshirt or the button, funnel neck Joules Cowdray sweatshirt may become favorites of yours. More of a plaid person? The Joules Peachy Sweatshirt is available in a new color with signature details to make it unique.
Sweaters –Sweaters don't usually make people smile, but the fun animals included in the new Marsha sweaters will do just that! The Joules New Marsha Sweater with ducks and the Joules Marsha Intarsia Sweater are both super-soft and comfortable. For a preppy look, the cable knit Joules Avelyn Sweater will keep you warm on cold days. It's knit loosely to allow colors from under layers to peek through.
Vests – The ideal layering piece for cool fall days, the vest lets you add that extra boost of warmth to your core. Joules equestrian inspired vests are perfect for the rider and transition easily to outside the barn as well. The Joules Braemar Quilted Vest has a vented back to provide comfort while you're riding and zippered pockets to make sure your essential items, like phone and keys, don't fall out. For a more padded look, the Joules Eskdale Vest has a hood stylishly trimmed with faux fur and an elastic half-belt in the back to make for a shape flattering fit.
Jackets – Whether you're looking for a jacket for fashion or a jacket for function, it is easy to find stylish options for any purpose. Joules equestrian designed blazers like the Joules Parade Tweed Jacket, look like they were made for stylish riding and will look great wherever you wear them. Looking to stop at the barn to check up on your horse on the way to work or dinner? The Joules Fairhurst Quilted Coat has the perfect combination of upscale styling and functional down insulation to keep you warm along with water resistance. If you want even more waterproof protection, the Joules Keswick 3-in-1 Jacket will adjust for any weather you encounter. Convert this jacket that is made for the saddle to be either a waterproof shell, a fleece vest or a complete, warm jacket.
With so many fun, functional and fashionable fall apparel items, it's no wonder Joules equestrian clothing is a favorite of horseback riders. Clear out your summer wardrobe from your closet and make room for all your favorite items from the full line of fall apparel from Joules.
Let us know what your favorite Joules clothing item is in the comments!